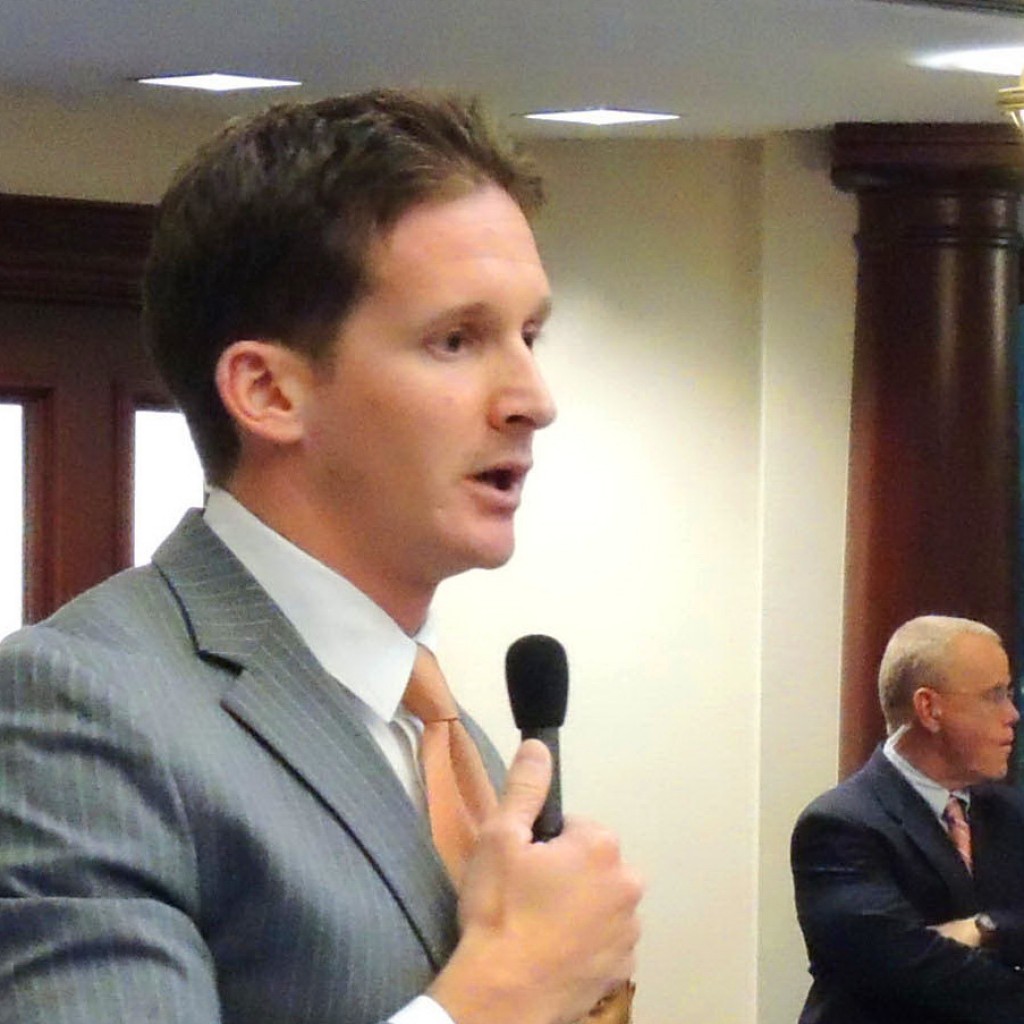 Campus carry will be back, at least according to one co-sponsor of the 2016 legislation.
Rep. Dane Eagle said a bill to allow people with concealed weapons permits to carry their guns on college and university campuses will be proposed again in the next Legislative Session. However, he seemed less sure about the future of a second gun bill (HB 163) that would have allowed concealed permit holders to openly carry their weapons.
The Cape Coral Republican was the keynote speaker at the Tiger Bay Club of Southwest Florida on Wednesday. Eagle used his 30-minute speech to talk about gun legislation, telling those in attendance he wanted to explain the position of the Florida House.
"Guns are a very sensitive topic for many," he said. "When some people see (an image of a gun) they automatically see violence. Others see pride, patriotism and self defense. It's understandable why there is so much controversy. Those beliefs are strong and people have differing opinions."
Eagle co-sponsored the campus carry bill (HB 4001) during the 2016 Legislative Session. The bill would have allowed a person with a valid concealed weapon permit to carry his or her firearm on a college or university campus. The push for the legislation came after a wave of shootings at universities, including a November 2014 shooting at Florida State University.
The proposal cleared the Florida House on a 80-37 vote, but died in the Florida Senate. Sen. Miguel Diaz de la Portilla, chairman of the Senate Judiciary committee, said he would not hear the campus carry bill or the open carry legislation.
Eagle questioned that decision Wednesday, saying he thinks the Senate should have heard the bills.
"I would argue that's not democracy to have one man who stands between the debate and the laws," he said. "There will be room for more discussion. We'll see how it moves (going) forward."
An estimated 1.5 million Floridians have concealed weapon permits, and Eagle said the open carry legislation would have allowed those permit holders to decide whether they wanted to openly carry their weapon. The legislation, which he also co-sponsored, wouldn't have allowed anyone to openly carry a gun, just those people who already have permits.
Florida is one of five states that does not allow people to openly carry their weapon.
"We are the odd man out when it comes to this," he said.
Eagle said it is unclear whether the legislation will return during the 2017 Legislative Session. Both the House and Senate sponsors — Sen. Don Gaetz and Rep. Matt Gaetz — are leaving the Legislature, and Eagle said he's unsure whether someone else will carry the torch. He said he has volunteered to carry the campus carry bill next year if a new sponsor is needed.