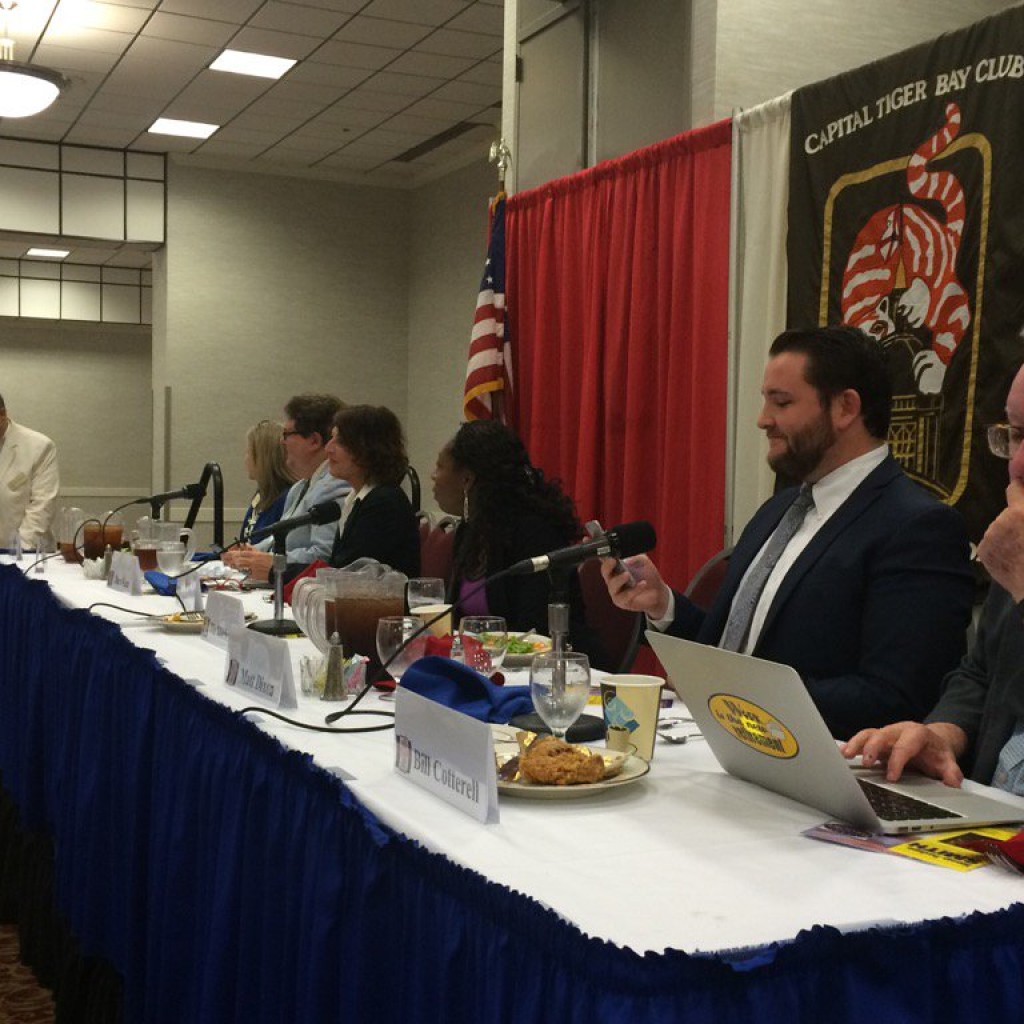 Members of the Florida Capitol Press Corps broke down the 2016 Legislative Session at the Capital City Tiger Bay Club's April meeting on Friday, April Fool's Day.
Reporters Gary Fineout of the Associated Press, Tia Mitchell of the Florida Times-Union, Bill Cotterell of the Tallahassee Democrat, Matt Dixon of POLITICO Florida, and Dara Kam of News Service of Florida answered questions posed by PR pro Christina Johnson, founder of On3 Public Relations.
Much of the conversation was more or less exposition of what went down during the annual lawmaking period, like the modest expansion of Florida's medical marijuana laws, a court-induced reform of state death penalty procedures, and another episode of the perennial mirage that is a comprehensive gaming package.
But a few probing questions brought out the inner political analyst in the seasoned reporters.
As Mitchell and Kam explained, for instance, the problem with settling up on a full-on gaming expansion is once legislators start tweaking one aspect, everyone with a stake in gaming wants to expand their share of the pie as well.
"There are so many facets to it," said Mitchell, recently re-elected President of the Press Corps. "Once you start putting in provisions to benefit the big players like Ghenting and Las Vegas Sands and the Seminoles, then you have second-tier players that say 'You have to put something in there for us or we're not going to go with it."
"But then when you do that, the dog racing and horse racing people, the breeders and the greyhound groups say 'Well we need to be protected, too. In Jacksonville, it's all about the card rooms, which is a whole different issue than slots in South Florida. But then you add more slots in South Florida, and Sen. Joe Negron throws fantasy sports into the mix. So the conversation just inevitably gets too complicated to really deal with," said Mitchell.
"One of the big problems when it comes to gambling is that not only do these entities want to get something for themselves," added Kam, who covers the "vice" beat for NSF. "A former regulator once told me it is the only industry where they care more about what the other side doesn't get than what they themselves get. That makes it even more complicated."
"They want slots and they want blackjack, but they don't want the guy down the street to have slots and blackjack," said Kam, who says she wouldn't be surprised if Gov. Rick Scott and the Legislature simply punts on the Seminole Tribe of Florida issue and lets the courts decide their fate to avoid another go-around on the gaming carousel.
As always when discussing Tallahassee statehouse politics, the budget was also a major topic. The panel largely agreed Scott showed more restraint than some observers predicted, nixing just $256 million after lawmakers essentially ignored the governor's request for $1 billion in tax cuts and $250 million for business recruitment incentives thorugh Enterprise Florida.
Fineout used the tried-and-true "two against one" theory of Florida legislative politics, whereby on major issues there is usually an alliance between the governor and one of the two chambers of the Legislature. The difference is, this year, lawmakers instead banded together to form a bicameral front against Scott.
"What was different this year was that for the first time you had the Senate and the House brokering a deal on the budget, to not include Scott's priorities, and they basically held firm," said Fineout. "But the interesting part was, when people thought Scott would wreak his vengeance using the veto pen, he was basically much more restrained this year than he was in 2015. Even more interesting was that he issued a veto list before the budget was presented, which I had never seen before, and which he stuck to."
"It was a bit of a signal from Scott, the way I view it, that we're going to put behind us what happened this year and just roll forward," added Fineout, saying the Legislature's gambit of "triangulation" successfully neutralized the governor this year.
"For longtime observers, this is not necessarily a provocative idea. The idea that the Legislature would unite and say 'No' to the governor is not novel," Fineout said, mentioning that under Govs. Bob Graham and Lawton Chiles, lawmakers effectively routinely banded together in the pre-term limits area to best the executive.
"Where it's novel is that it happened under the Republicans. That is the change, which we have not seen since the Republicans took over in the 1990s. The Legislature re-asserting its primacy is a marked change in this era," said Fineout.
Dixon said the conflict may have been a teaching moment for Scott, known for his business-inflected style of leadership, wherein the governor finally learned he must compromise in order to move his priorities.
Noting Scott is bringing in a notably less combative Chief of Staff in coming days, Dixon speculated: "I have to imagine there was a conversation there saying, 'Hey, if you light the budget on fire, you're going to make my last two years and your last two years nearly impossible."
"The governor's office and the Legislature have never gotten along that well, but for the first time the governor held off on pressing the nuclear button," Dixon continued. "I don't know if that spells anything different for his last two years, but it was certainly the first time he reacted the way he did in the face of something like that."
The conversation pivoted to presidential politics after a mention of Scott's endorsement of Donald Trump.
"How do you shame a party whose frontrunner…" began Cotterell. He didn't have to finish his sentence to draw laughs and applause from the audience.
Other topics included the Legislative Black Caucuses' emergence as a crucial force in Tallahassee and Speaker-to-be Rep. Richard Corcoran's consolidation of power as the allegiance of rising speakers Rep. Jose Oliva and now Rep. Chris Sprowls may prevent opponents from "waiting out" Corcoran.
Kam said Corcoran's infamously iron-fisted style behind the scenes may lead to a "dangerous" degree of homogeneity and a corollary lack of independent thinking, while Fineout predicted Corcoran will revisit the ambitious "100 Innovative Ideas for Florida's Future" agenda the Pasco lawmaker pushed for as Chief of Staff for then-Speaker Marco Rubio.