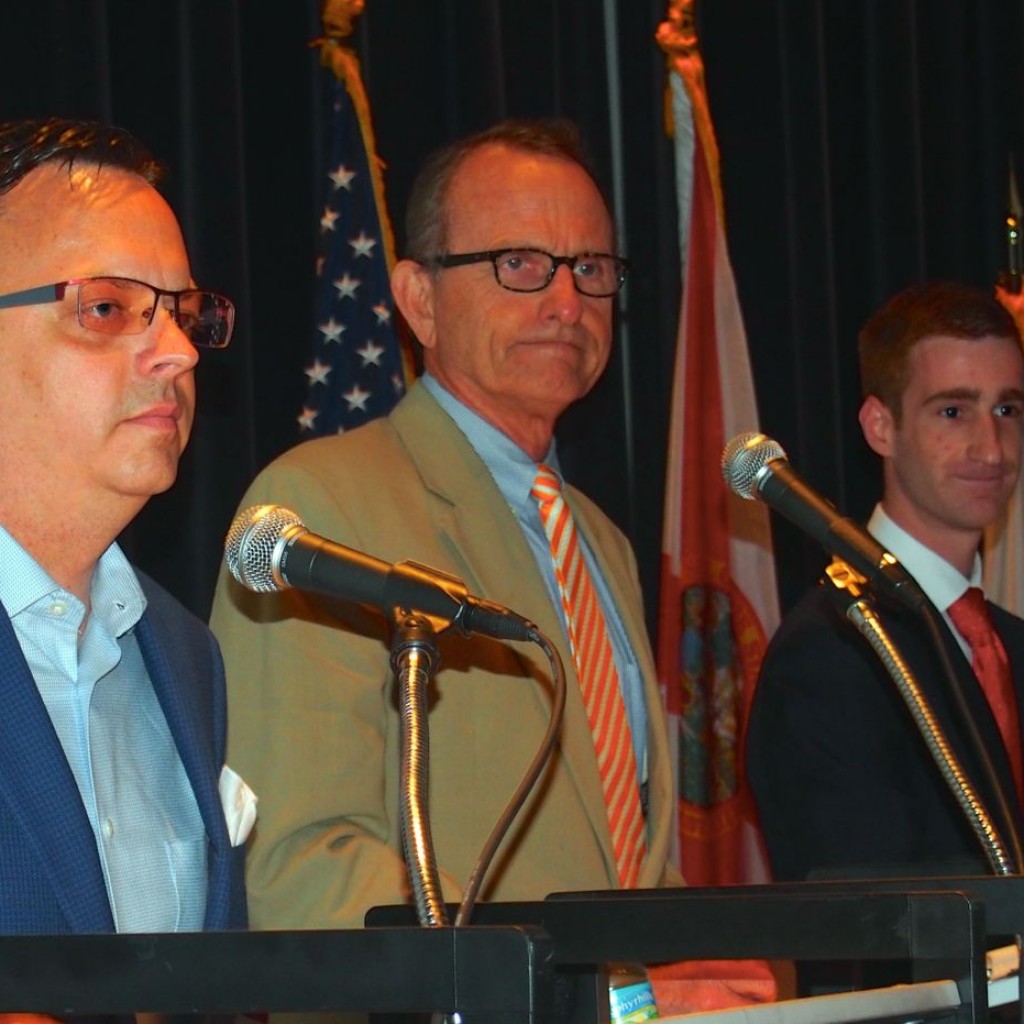 Leading candidates in Orange County's three commission races made it clear Friday they don't like each other: They pursued personal attacks but offered little to distinguish each other on business issues during a debate sponsored by BusinessForce of Orlando.
While Orange County has seen highly contentious business-related issues arise in recent years, notably a petition demanding a sick leave ordinance and efforts to get the county to adopt a "fair wage" ordinance for county contractors, only incumbent District 5 Commissioner Ted Edwards took strong stances.
Edwards boldly took credit for blocking those initiatives, while most of the other candidates sought to explain why they, too, opposed them.
"I  don't think taxpayers pay to fund the government to pay more in wages than the private sector can pay," Edwards said of his opposition to the fair wage proposal.
At a forum that drew primarily a chamber of commerce audience, the issues of growth, support for the tourism industry, business development support, jobs promotion, and opposition to tax increases, all also generally drew softly supportive responses from the seven candidates, with a few exceptions. District 1 candidate Betsy VanderLey spoke about the need to get the Orange County School District more opportunities to locate schools in the fast-growing western part of the county; or when her opponent, Bobby Olszewski, accused her of being "backed by development."
Yet several of the challengers had entered their races inspired at least initially by other issues. They pushed Friday to both express those concerns and to try to define themselves as more than one-issue wonders.
Edwards has three District 5 challengers who entered the race that way.
Timothy McKinney is an east Orange County social services nonprofit entrepreneur who is highly active in helping solve the area's homelessness problems, particularly in the Bithlo area. He sought to portray himself as the open and approachable candidate who knows how to listen, and knows how get the county bureaucracy to serve.
Gregory Eisenberg is an executive in a large student housing operation near the University of Central Florida, drawn by the traffic congestion in sprawling east Orange County. He sought to identify himself as the out-of-the-box candidate who is tired of "stagnant ideas."
Anti-sprawl candidate Emily Bonilla of District 5 was not invited to the debate and  not on the stage. She was, however, in the debate in spirit when several candidates were asked about – and generally, though sometimes softly, denounced – her petition initiative to require unanimous votes to allow new development plans in the sensitive area east of the Econlockhatchee River.
In central and south Orange County's District 3, former retired Orlando police Officer Bill Moore, who's challenging incumbent Commissioner Pete Clarke, spoke mostly about getting more support for the county's firefighters and law enforcement officers and dealing with crime and the mental illness behind many crimes.
Beyond that, Edwards repeatedly defended himself from McKinney's attacks that he was inaccessible to and uninterested in constituents outside of his Winter Park-Maitland suburban base.
From west Orange County, District 1 candidate VanderLey defended herself from allegations from Olszewski that she was simply seeking to replace her longtime political ally, incumbent Scott Boyd, on the county commission.
And after Moore repeatedly referred to the violence and heroin problems in District 3, Clarke snapped back that Moore was grossly misrepresenting the area as crime-ridden.