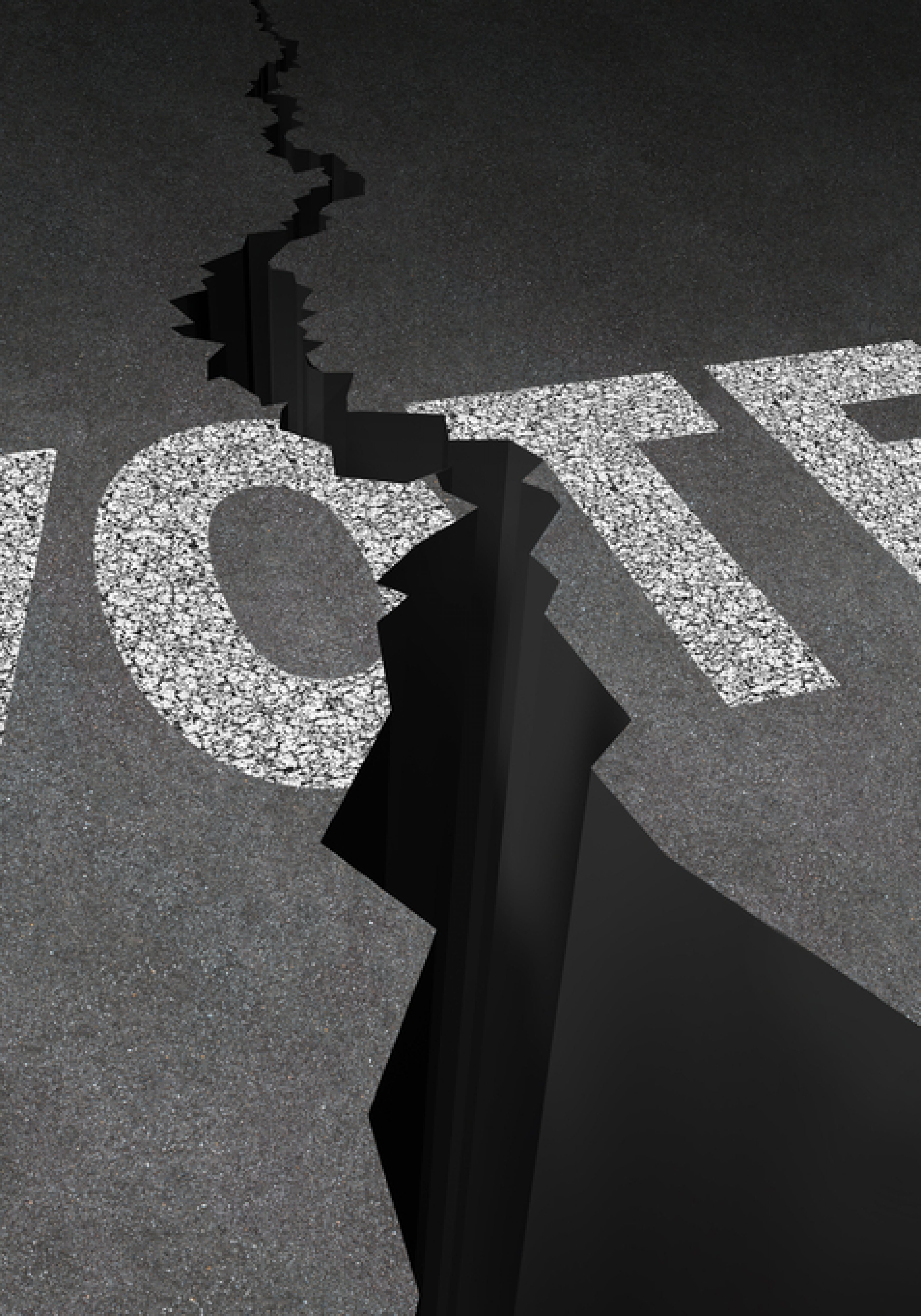 Desmond Meade, the president of the Florida Rights Restoration Coalition, once stood by a set of train tracks, waiting for the train to come. He intended to step in front of the train when it came.
It was only by virtue of the train not coming that day that he didn't.
Instead, he walked over the tracks to the other side and began his life again. Meade, a one-time drug addict and convict, graduated law school in 2014. In his role with the FRRC, he's devoted his energy to helping felons get the right to vote in Florida, which they currently do not have. He attempted to get a ballot initiative, the Florida Voting Rights Restoration for Felons Initiative, on the 2016 ballot to allow felons to vote, but was unable to get the required number of signatures in time.
On Friday, Meade traveled to Washington D.C. to deliver a speech for the Black Youth Vote! event put on by the Florida Coalition on Black Civic Participation, in which he hoped to inspire young people to vote.
The root cause of voter apathy among young black men, he said, is because many of them have close family members or friends who can't vote due to felony convictions at some point in the past. Meade said that tends to create a disenfranchisement with the entire process of voting that ultimately ends up counterproductive.
"When you take away the right to vote from a significant segment of the community, you can create an environment where voting is not important, where some in the community don't see the importance," he said. "Back in the day voting was a family tradition in the African-American community. Mom and dad would take the whole family down to the voting booths. But when you strip the right to vote away, you kind of kill that culture that environment. You've stripped the heads of the household of the ability to vote."
But Meade wasn't about to let those disaffected youths off the hook with an excuse – he called it a "slap in the face" to those who couldn't vote when young people choose not to vote.
"There's so many people that can't vote," he said. "Voting is sacred. Every American should vote. They should feel honored to."
Meade was candid speaking to Orlando Rising by phone, decrying Florida voting laws preventing felons from voting as Jim Crow laws. Much of what he said fell back on a familiar refrain – if America wants to be a true democracy, it has a long way to go in terms of making voting inclusive.
He turned his sights on what he believes are other factors contributing to the low voter turnout and dissatisfaction with the political establishment. One of those was the fact that many Americans do not have time to vote.
"In other countries, voting day is a national holiday," he said. "If this country is serious about having a real democracy, it should be no problem to have a holiday to vote. When you have to work two or three jobs to make ends meet, and then you have to wait four or five hours in line to vote, some cannot afford to take the time off to vote."
Meade also spoke of the steep slope against those who don't have money but want to take a run for elected office. A true democracy, he said, wouldn't make it so difficult for those without millions of dollars to run for office and win.
"If you look at political races, it's not always the best candidate that gets elected," he said. "It's the person that has the most resources. Then there's a person who is better for the job, but they don't have the type of money their opponent has, so they might not even run."
He called for a government-subsidized program to help "regular people" run for elections, and said the only opposition to his cause comes from those with a lot of money who want to keep their power.
"I think it's important to make voting inclusive," he said. "It would make it more in-line and reflective of what comes out of our mouths about how important democracy is."
Marquis McKenzie, an Orlando-based colleague of Meade's, was arrested at age 15 for robbery with a firearm. He speaks about it now, in his mid-20s, with a candid ease.
"We basically just went out and went to rob somebody, and got caught," McKenzie said.
Since his release, McKenzie has been working to better himself, having started his own cleaning company and a youth organization to help troubled teens as he had once been.
He became interested in voting rights because of the revelation that despite the fact that he was paying his dues to society, McKenzie didn't have a voice – he had no say in picking his leaders.
"[There are] a lot of voices unheard, a lot of opinions that nobody cares about," he said. "We're felons. It's like we don't even count, but we have to pay our time, we have to pay our taxes, we have to do everything as a normal citizen, but we don't have a vote. So we can't voice our opinion, which is not fair to me."
He went on to say that he believed letting felons vote would change "a lot," saying the number of felons in Florida who can't vote is nearly 2 million.
"Say those 2 million were voting for just one party," he said. "That gives the other party some kind of eye-awakening – 'what can I do to get those people on my end?' And let's say the government or the politicians, they're comfortable with votes they can get. So they know a percentage of people are not going to go vote, so it's a numbers game."
McKenzie was lobbying hard to get the Florida Voting Rights for Felons Initiative onto this year's ballot, but he and Meade have resigned to waiting for 2018 instead, and they'll have more time to prepare. If McKenzie could vote, though, he said he had an idea of who he'd pick.
"Hillary Clinton," he said. "Just because she's a woman. Sometimes a woman needs to be on top. I feel like she has more experience because of her husband. It may encourage other women."