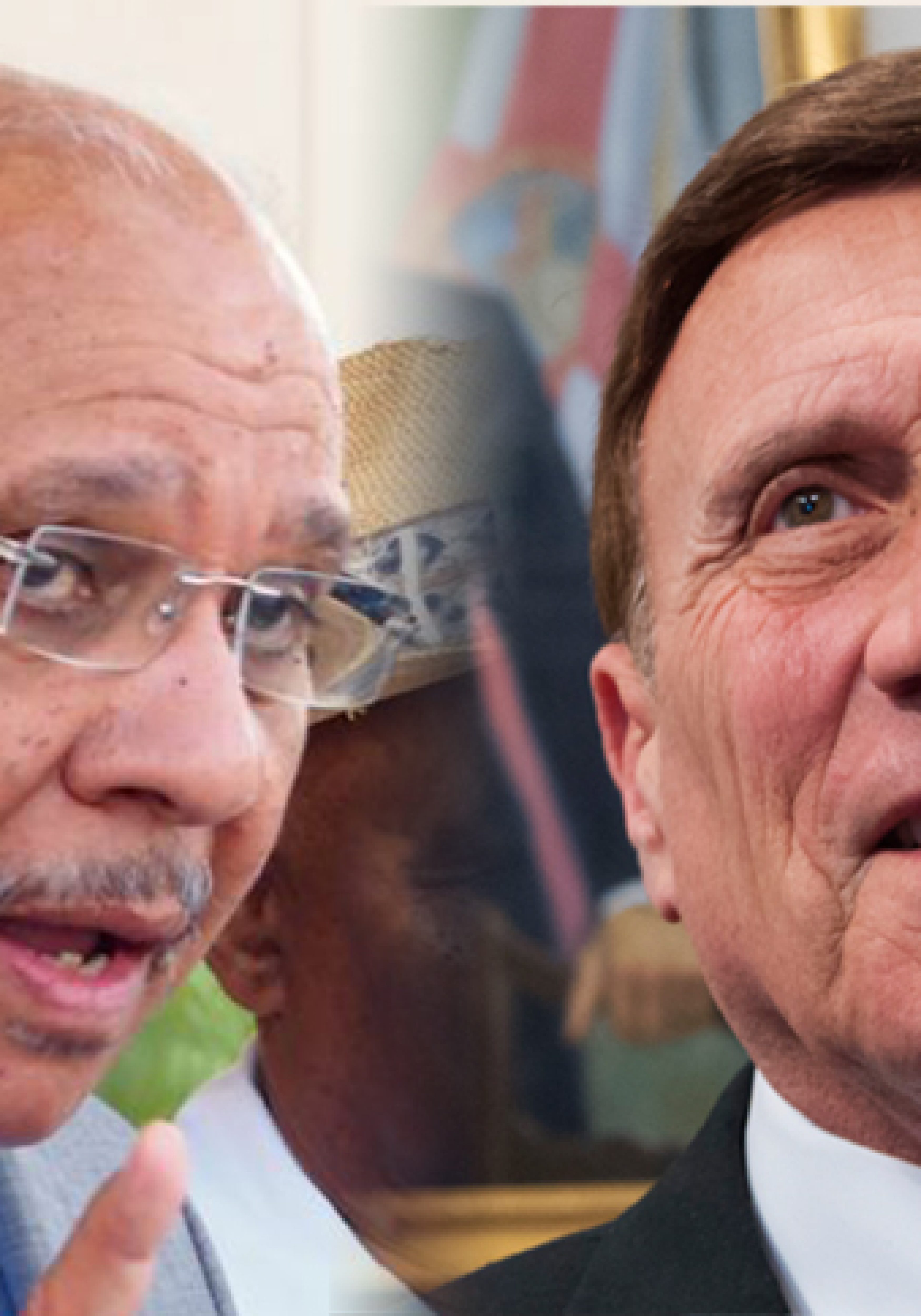 Democratic Florida state Rep. Victor Torres of Orlando called Monday on Winter Park Republican John Mica to do more to help the island and Puerto Ricans as the U.S. territory defaults Monday on its $422 million bond payment, potentially plunging into a new level of economic crisis.
"For all of our citizens, this is a nonpartisan issue. We must unite to push our Congressional leaders: John Mica and all other Republicans, stand and help Puerto Rico. This is a now brainer. You want to run [for re-election?] You wanna get our votes? You better stand with us," Torres said. "This is the vote that is going to count in 2016."
Mica defended his relationship with Puerto Ricans, saying he's probably visited the island more than any other Anglo member of Congress. But he added that he's watching and expecting to support a Republican Puerto Rico bill that would focus on what he called a responsible plan to deal with the governments' debts while keeping investors confident in the government's financial integrity.
Torres, a former New Yorker of Puerto Rican descent, is running for the state Senate. Mica, a 12-term member of Congress, is running for re-election. Their districts do not overlap, but both include large Puerto Rican communities. Central Florida is home to an estimated 300,000-plus Puerto Ricans, with more arriving continuously after fleeing the island and its collapsing economy.
Torres joined a coalition of Puerto Rican and progressive political groups in Orlando Monday to call for Congress and others to provide debt-restructuring relief to the island that would not involve further austerity measures. He and the others contended that Puerto Rico's economic crisis has led to a 45 percent poverty rate, 40 percent of public schools closing, countless doctors fleeing the island and a health care crisis, particularly as the Zika virus takes hold.
They called on all Central Florida political leaders to offer assistance, particularly support for structured debt relief that would not put hedge funds at the front of the line, and would protect citizens from further austerity measures. They also announced a petition drive in Central Florida's Hispanic neighborhoods, with more than 5,000 signatures so far, urging members of Congress to offer more help to Puerto Rico.
Torres called on all of Central Florida's congressional delegation to help lead the island's relief but singled out Mica. U.S. Rep. Alan Grayson, an Orlando Democrat running for the U.S. Senate, already has been outspoken calling for debt restructuring for the island. Mica and U.S. Rep. Bill Posey, R-Rockledge, whose district does not cover many Puerto Rican neighborhoods, have not. Two other Orlando members of Congress, Democrat Corrine Brown of Jacksonville and Daniel Webster of Winter Garden, have essentially moved out of the area because of redistricting.
Among them, Mica, Torres argued, is a particularly powerful member of Congress because of his longevity and leadership within Republican circles. He cited Mica's recent transportation efforts, and then said, "There are other issues we need him to step up and support."
"As a federal representative, this is a time for his leadership to step up and tell he is fellow Congress members from Florida, hey, let's support the Hispanic Puerto Rican caucus who are fighting to try to get this resolved," Torres said.
Most Republicans in Congress have pushed a bill that would create a five-member oversight board to look at ways to restructure Puerto Rico's debts, but without offering some of the safeguards many islanders want, such as protections for pensions. That bill disappeared for a rewrite two weeks ago, and Mica said he expects it to reemerge next week.
The Puerto Rican commonwealth government, Mica said, "has some huge economic and management problems, on a whole host of issues from bad decisions in the past that now have come to haunt them with the debt." He said the answer must not further erode Puerto Rico's credit or it will never be able to attract the long-term investment it needs to rebuild the economy.
"I will not support a direct bailout. But I will support some means in which they can pay off the debt or deal with their creditors in a satisfactory manner," Mica said.
"Further austerity is a problem, but you have to have responsibility. They're going to have to step up to the plate and pay bills. They're going to have to develop a plan to do that and stick to it," he said.
He said he would look carefully at the Republican bill next week before deciding what to do.
But Torres said the Republican bill was unacceptable because it would require Puerto Ricans to sacrifice more, bringing relief to investors, not islanders.
"The resolution they are proposing is not going to work. They need to compromise. They need to work it out. I am sure that if Mr. Mica would step in it could probably help out," Torres said.
Christina Marie Hernandez of Organize Now's Florida Institute for Reform and Empowerment and Jimmy Torres, president of Iniativa Accion, stated that they would work to get Puerto Rican voters in Florida to support those candidates who support Puerto Rico.
The promise might sound more imposing, but for the fact that Florida's Puerto Rican population has a well-documented history of not turning out to vote in large percentages. Hernandez predicted that could change this year because there is a uniting issue for them — relief for Puerto Rico.
"This is a historical moment for Puerto Rico, for Puerto Ricans and for Florida. All three are interconnected in a way that is unique and is creating a perfect storm to decide who takes the White House. And that effect runs down the ticket. We're looking at every level," she said.
In Washington, Democrats were taking a harsher aim at Mica. The Democratic Congressional Campaign Committee has targeted him in his re-election bid this year, under the analysis that Congressional District 7, since redistricting, is much more of a swing district than it has ever been, making Mica vulnerable. However, neither the DCCC nor local Democratic parties have been able to recruit a strong candidate to challenge. Still, the DCCC has continued to attack Mica without a candidate, regularly putting out statements critical of him, including this one, released in April:
"Puerto Rico is slipping further into default, and John Mica is doing absolutely nothing to push the 'Do-Nothing' Republican Congress to take action," Javier Gamboa of the DCCC stated. "John Mica clearly doesn't understand the new makeup of his district nor the families that live there. Central Florida is the home of so many hardworking Puerto Rican families that are worried about the future of Puerto Rico, and it's time for Mica to step up, listen to his constituents."