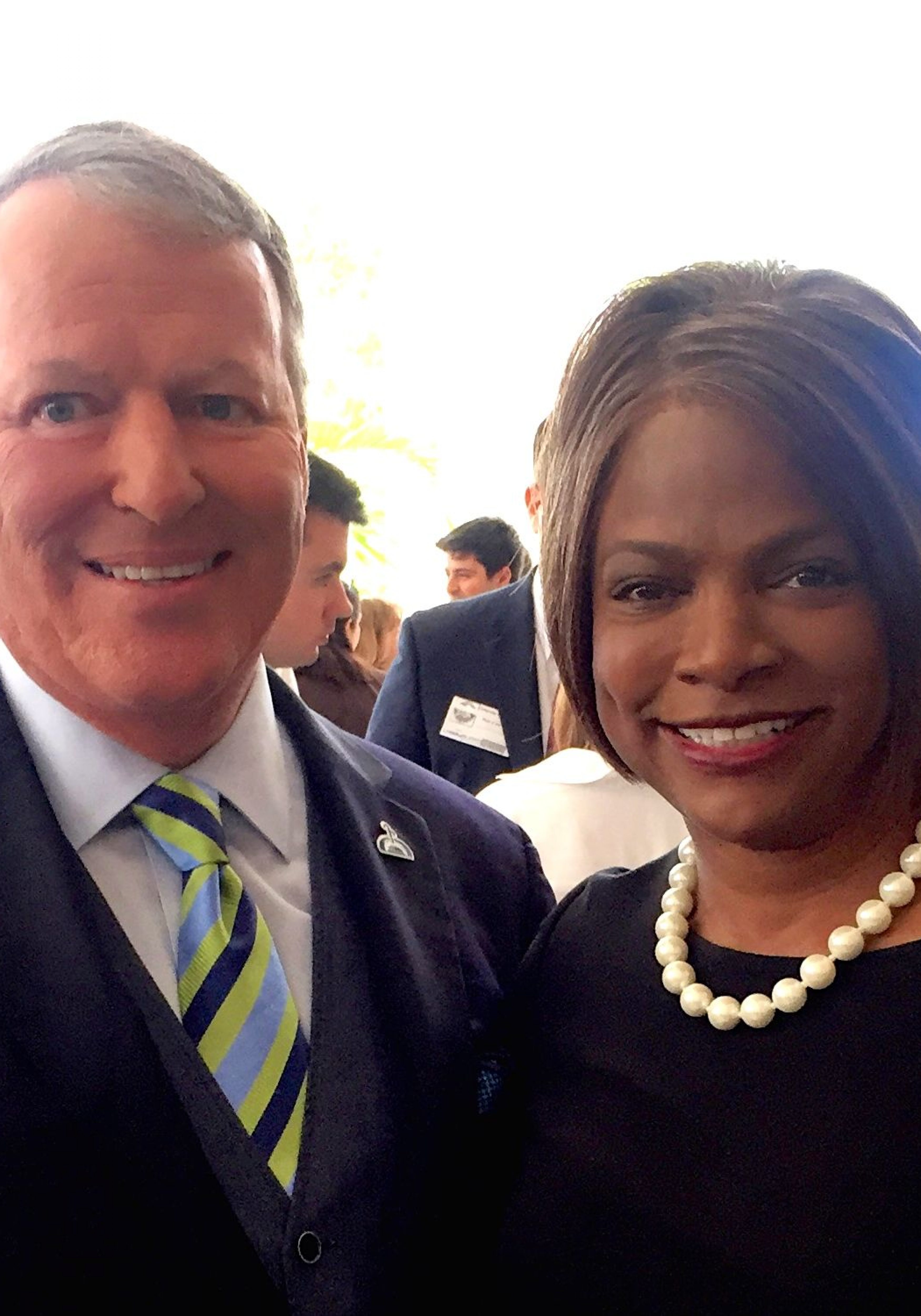 Orlando Mayor Buddy Dyer has endorsed his former police chief, Val Demings, in her Democratic primary run in Florida's 10th Congressional District, her campaign announced Thursday.
Demings, of Orlando, is running against several other Democrats, including state Sen. Geraldine Thompson of Orlando, former Florida Democratic Party Chair Bob Poe of Orlando and lawyer Fatima Rita Fahmy of Orlando. The district covers much of west Orlando and west Orange County, including the suburbs of Windermere, Apopka, Winter Garden, Eatonville and Ocoee.
Because the redistricting flipped the district from leaning Republican to a majority of minority voters and leaning strongly Democratic, the incumbent Republican U.S. Rep. Dan Webster moved to Congressional District 11 to run. Thuy Lowe of Sorrento is the lone Republican entered.
Dyer, who promoted Demings to chief in late 2007, credited her with reducing crime in the city. She retired from the force in 2011, having put in 27 years, That year she ran for Congress in the same district but lost to Webster, by a narrow margin.
"Under Chief Val Demings' leadership, Orlando saw the most dramatic decrease in violent crime in the city's history," Dyer stated in a news release issued by Demings campaign. "I had the honor of working alongside Chief Demings as she implemented programs like Operation Positive Direction, a youth mentoring program that is still in place today and helping to make our neighborhoods stronger. Because of her commitment, Orlando is a better place today. I know she will bring that same passion for her community to Congress and I'm proud to endorse her in Florida's 10th Congressional District Race."
Demings returned the praise for Dyer, who has been mayor since 2003.
"It was a privilege to serve as Chief of Police under Mayor Dyer's leadership," she stated in the release. "As the city of Orlando has grown at a record pace, he has made public safety a top priority. My historic appointment as the first female chief of police shows Mayor Dyer's commitment to breaking barriers for women and minorities at the highest levels of leadership. I'm grateful for the years we worked together to make Orlando a safer place to live, work and visit. I'm honored to receive the endorsement of Mayor Buddy Dyer and look forward to working with him again when elected to Congress."