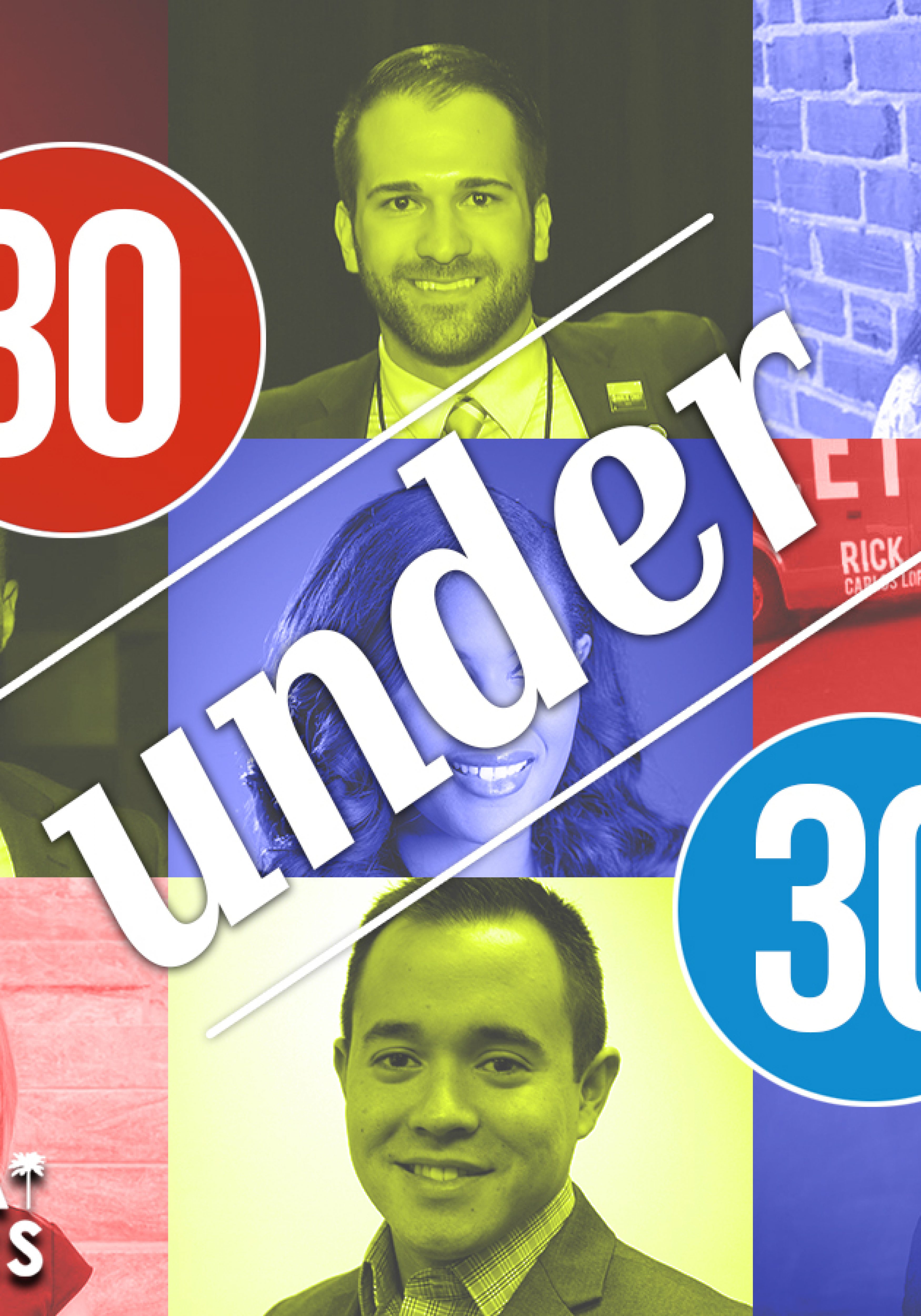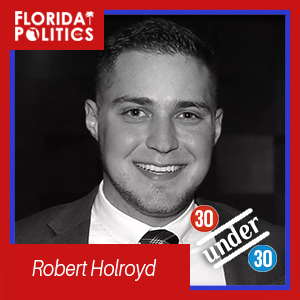 Robert Holroyd was still in his teens when he interned in Tallahassee for former state Rep. Ari Porth. He'd just started college and had attended a teen political forum in South Florida where he met Porth, who is now a judge.
Holyroyd parlayed one internship into the next until he graduated and is now working as an advocate for children with the Children's Services Council.
Here's Holroyd in his own words.
I am (age) … 24 years old.
I live in … Coral Springs, Florida
I got into politics because … my sister Jensen convinced me to attend a leadership program hosted by the mayor of Coral Springs at the time, Scott Brook. At the program, I volunteered to participate as a mock interviewee with the mayor and after the day's session, Mayor Brook approached me and offered me an internship in his mayoral office and the seed of politics took hold. Initially working on the municipal level, I soon discovered my interest in state level government. At a teen political forum in the city, then state Rep. Ari Porth offered me an internship with his district office and ultimately his Tallahassee office when I started college. I always had a passion for community service through my work with the American Cancer Society's annual Relay for Life, and I found that I experienced much of the same satisfaction of being able to serve others working with the government.
One principle I always put above politics is … helping those who cannot help themselves. I believe that those who can do, should do for themselves. I also believe those who cannot, should be given a helping hand until they can. By providing services and the resources necessary for people to improve themselves, agencies like children's services councils are providing youth the chance to be successful, productive citizens. In addition, I am privileged in my current position to serve as the Co-Chair of the Broward Special Needs Advisory Coalition, advocating for a population very near and dear to my heart. Much the same as our youth, providing opportunities to individuals with unique abilities allows them to be the best people they can be.
Person or people who gave me my first shot … in addition to Mayor Brook, I have to thank my longtime mentor and close friend Broward Circuit Court Judge Ari Abraham Porth. Judge Porth took me on as a 20-year-old college student as his legislative aide and provided me with extraordinary opportunities in government and community involvement. Before departing the legislature, Judge Porth introduced me to then-Florida Parole Commission Chair Tena Pate who brought me to her agency where I learned many aspects of management, agency operations and effective skills in advocating.
I've already worked for/on (campaign, issues, etc.) … while working for Mayor Brook, we focused our efforts on encouraging residents to support local businesses through a "Buy Coral Springs" campaign. While serving with then Representative Porth, we focused our efforts on legislation to help special needs populations and criminal justice reform. The latter laid the groundwork for an easy transition to the Florida Parole Commission. I am now fortunate to be back advocating for children and special needs populations in my current role with the Children's Services Council.
When I begin a project or first work on a campaign, I look for … partners to help build a coalition. It is just as important to find out who is opposed to projects and their reasons for their opposition. Collaboration is easily the most effective way to get projects accomplished. It starts with understanding, realizing that you can learn something from anyone. Although that other person may have different views, there are often points of agreement and additional ideas that have the potential to make the overall project better. Often times, the greatest legislation that comes out of session is a result of compromise and collaboration with the incorporation of ideas from the opposing side.
I've been blessed to have these people as my mentors … As I mentioned before, I feel most privileged to have my friend Judge Porth as a longtime mentor. I have been very fortunate to have my predecessor and fraternity brother, current Coral Springs Vice Mayor Dan Daley as one of my mentors. Vice Mayor Daley immediately showed me the ropes of the capitol and to this day provides guidance and direction to help make me a better person. I would be remiss if I did not mention Cindy Arenberg-Seltzer, Brittany Birken, Sandra Bernard-Bastien and Diana Ragbeer, who have all, in my limited time at the Children's Services Council, been instrumental in guiding me in my current position.
The people I most admire in politics are … those who serve to make positive changes on issues about which they feel most passionate. Outgoing Senate President Andy Gardiner and State Rep. Shevrin Jones immediately come to mind when I think of those who display this quality daily. President Gardiner made it a priority this past session and throughout his time in the legislature to help individuals with unique abilities. Similarly, Broward Rep. Shevrin Jones fights daily for children's issues whether it be in his personal or professional life because of his deep passion for helping kids.
One lesson I've already learned is … never discount the little guy. I'll always remember my first session in the capitol as an 18- year-old intern, the lowest level of the political hierarchy, being warmly welcomed to Tallahassee politics by many staffers, legislators, advocates and lobbyists, most of whom probably do not even recall those interactions. At the same time, I'll remember those who did not make the extra effort in making others feel welcome. This is a lesson for anyone. It takes only a moment or a small gesture to make another feel welcome. Throughout my life, I have been fortunate to have strong mentors and role models who have helped me shape my knowledge and my ideas. It is my hope, in some small way every day, to the same for others.
If I wasn't working in politics, I'd be … working in the nonprofit sector. It is remarkable watching the passionate work that those in the nonprofit sector bring to the table every day. Whether it be working with a large organization like the American Cancer Society or Autism Speaks, or one with more of a local connection like Kidz 1st Fund or HANDY (Helping Abused Neglected and Disadvantaged Youth) the great work of these organizations truly does make a difference in people's lives.
In 10 years, you'll read about me … running for local office to serve my hometown. I am a big believer that local government is the most effective government. Statesmen who serve their own communities are those who are most familiar with the challenges citizens face daily. Being the most accessible policymakers provides the greatest opportunity to for citizens to have the greatest participation in government.