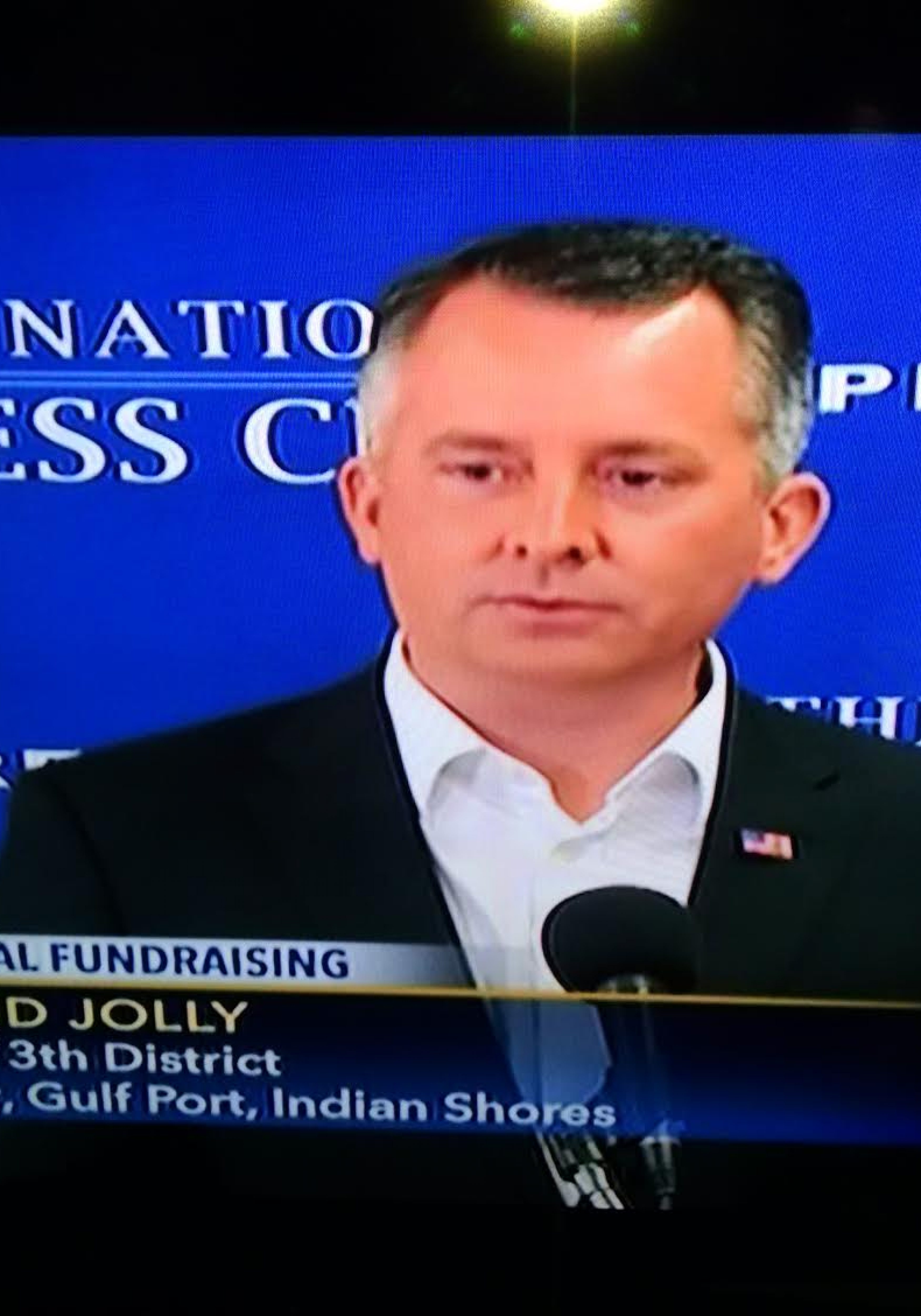 Minnesota Congressman Rick Nolan was one of what were called the "Watergate babies" when he was originally elected to Congress in a huge Democratic class in 1974. He left after 1980, but returned in 2012 after more than 30 years in the private sector. He says lots of things have changed in the three decades in between, and one of them is the excessive money in politics.
"When I served in the past, we did not spend anytime dialing for dollars. It just wasn't done," Nolan said at the National Press Club in Washington, D.C. Monday morning. "The Republicans and Democrats did not have call centers right across the street where you were expected to do that."
Nolan joined Pinellas County GOP Representative David Jolly in discussing the legislation. He's one of just eight members of Congress who have signed on as co-sponsors to Jolly's proposed legislation, which would ban federal officeholders from directly soliciting campaign funds.
Nolan blasted the infamous Citizens United decision by the Supreme Court in 2010, and said the way to get big money out of politics would be to reverse that decision, but also to back Jolly's Stop Act.
Jolly has said shortly after he was elected in the special CD 13 election in the spring of 2014, he was told in a meeting with House Republican leadership that he needed to raise $18,000 a day (a comment denied by the National Republican Campaign Committee). Nolan added today he was by party leaders to devote 20-30 hours a week to contacting potential donors on the telephone, and another 10 hours a week in actual fundraising events.
Jolly is running for a U.S. Senate seat in Florida this year, and his four GOP opponents have blasted the Stop Act as a "gimmick," proposed to generate publicity as he runs for statewide office. Jolly said good policy IS good politics.
"Should we abandon it because we're in the middle of an election? Or should we press forward because the American people are craving this?" he told reporters, saying that he's never poll-tested the issue, but that it's received a great response from voters at town hall meetings.
Jolly admits coming out with his proposal has made it challenging to fundraise.
"When I introduced the Stop Act, I took a pledge to stop direct solicitations," he said. Every political consultant would tell you I'm crazy, and if you look at the fundraising numbers, that's true that's created some significant headwinds, but when somebody suggests that a member of congress is the most influential fundraiser on the team — that if you take direct solicitation out you're hurting yourself on campaign finance, I think that's an indictment of the system."
Nolan said that the current dialing-for-dollars format is "beneficial for incumbency. And that's why in many respects it's hard to get some of your colleagues to change the way we do politics, because it's just not good for the country."
Some Democrats have dismissed Jolly's proposal because they say he's not willing in his legislation to tackle the much bigger problem of campaign finance reform. Jolly says he's pushing congressional reform because he believes members of congress are "shirking" their day job responsibilities. He said he would be "open" to working on bipartisan congressional campaign finance reform.
Nolan added "the future of our country and the future of our democracy" depends on the passage of the proposal,  and he predicted growing support for the Stop Act.
"I am convinced it will become reality," Nolan vowed.