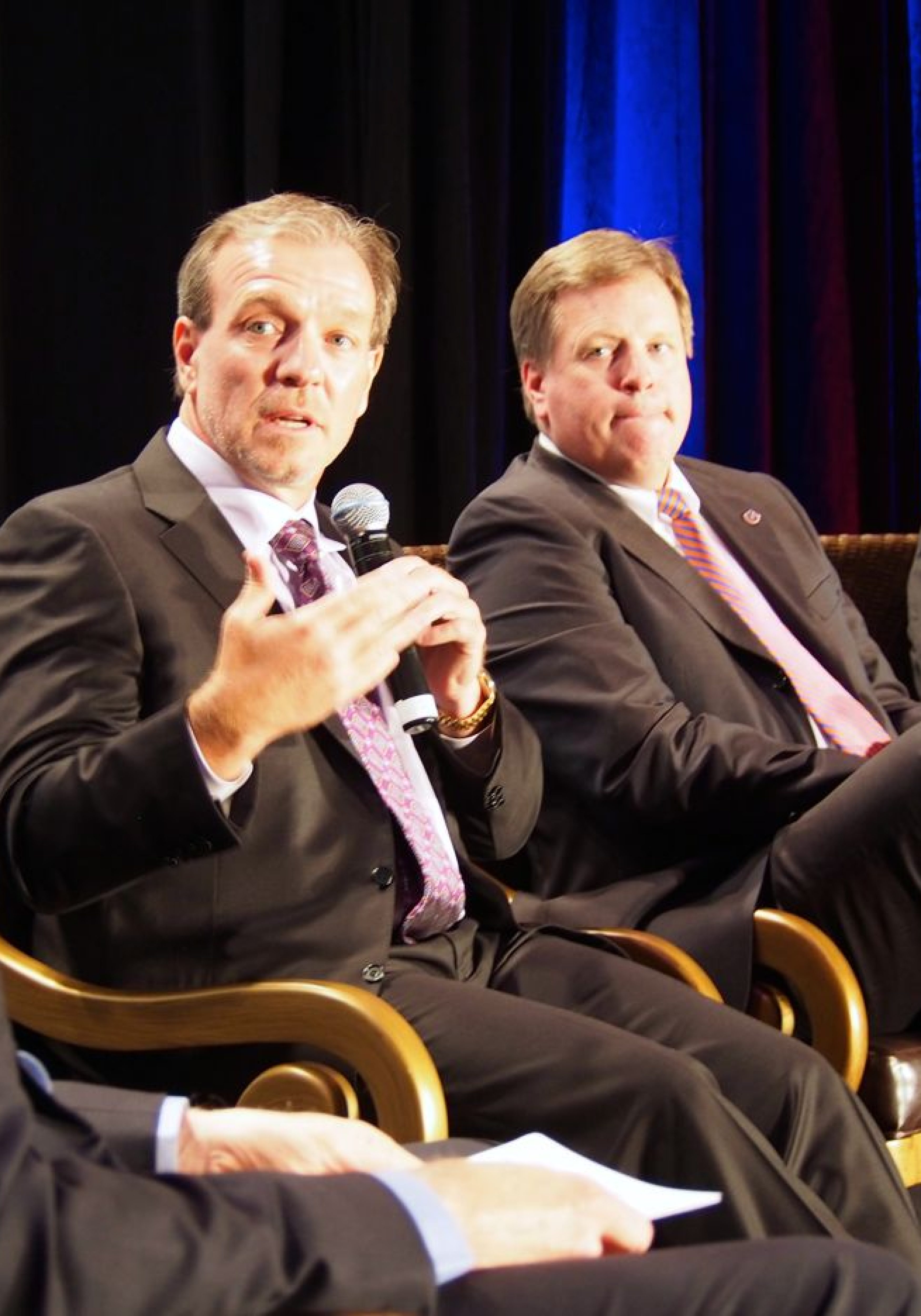 If Florida's top college football coaches actually ran Florida's universities, life mentoring would begin the moment a student arrived and not end for years after he left.
As that student makes his way from high school to finding his place in college, someone would be there to help. As that student strives to understand what might be important in life, someone would be there to help. And as that graduate finds himself, perhaps years down the road, struggling to find his way in the economy, someone would be there to help.
At least for football players.
"They see at the end of the tunnel that there is truly a network of people helping them navigate, how to do it," said University of Miami Head Coach Mark Richt. "A lot of it is [students] just being exposed to things they have never been exposed to before."
Richt was on hand for what might have been a singular event, a teaming of four of the most public and powerful leaders in Florida: Gov. Rick Scott, Florida State Head Coach Jimbo Fisher, Florida Head Coach Jim McElwain, and Richt.
"So we believe, for the first time in history, the big three football coaches of Florida are all in one room," Scott surmised.
The panel was the finale and one of the popular highlights of Scott's Degrees to Jobs Summit at the Loew's Portofino Bay Hotel at Universal Orlando. The two-day summit ­­— which was sponsored by several organizations, including the Florida Chamber of Commerce, The Florida College System Foundation and Universal Orlando — was billed as an opportunity to connect businesses and higher education leaders.
Nothing like having a couple of ball coaches, or three, on hand to keep everyone to the end.
They each had stories of student-athletes, or themselves, needing help to understand college life, to understand who to trust, and how to trust, to find someone who cares, to understand life and understand how they can fit in.
"To me, at the end of the day, that's what coaching is, it's mentoring," Fisher said.
For each of them, a key to their players' success on the field and after college involved getting them plugged in where they fit best.
"At the end of the day, when you talk about the universities, virtually every place is great. And yet there is a fit for the person at each one of our places," McElwain said. "And a certain fit at Jimbo's place. There's a certain fit at Mark's place. There's a certain fit at the University of Florida. Here's the great thing. Everybody has options. Finding that fit, that niche, that's going to help you be successful is what it's all about."
And that might come years after they leave college, so it helps to set up alumni networks, said Richt.
"Sometimes somebody just needs a chance, they need someone to help," Richt said.
As for football, Scott asked which of them was "going to bring the great state of Florida the next football national championship?"
Said Fisher, "Florida State."
Said McElwain, "I have to answer, 'Chomp! Chomp!' to that."
Said Richt, who is just taking over a Miami program that struggled offensively last year: "Yeah, we're working on getting a first down, right now. We'll take it one day at a time."