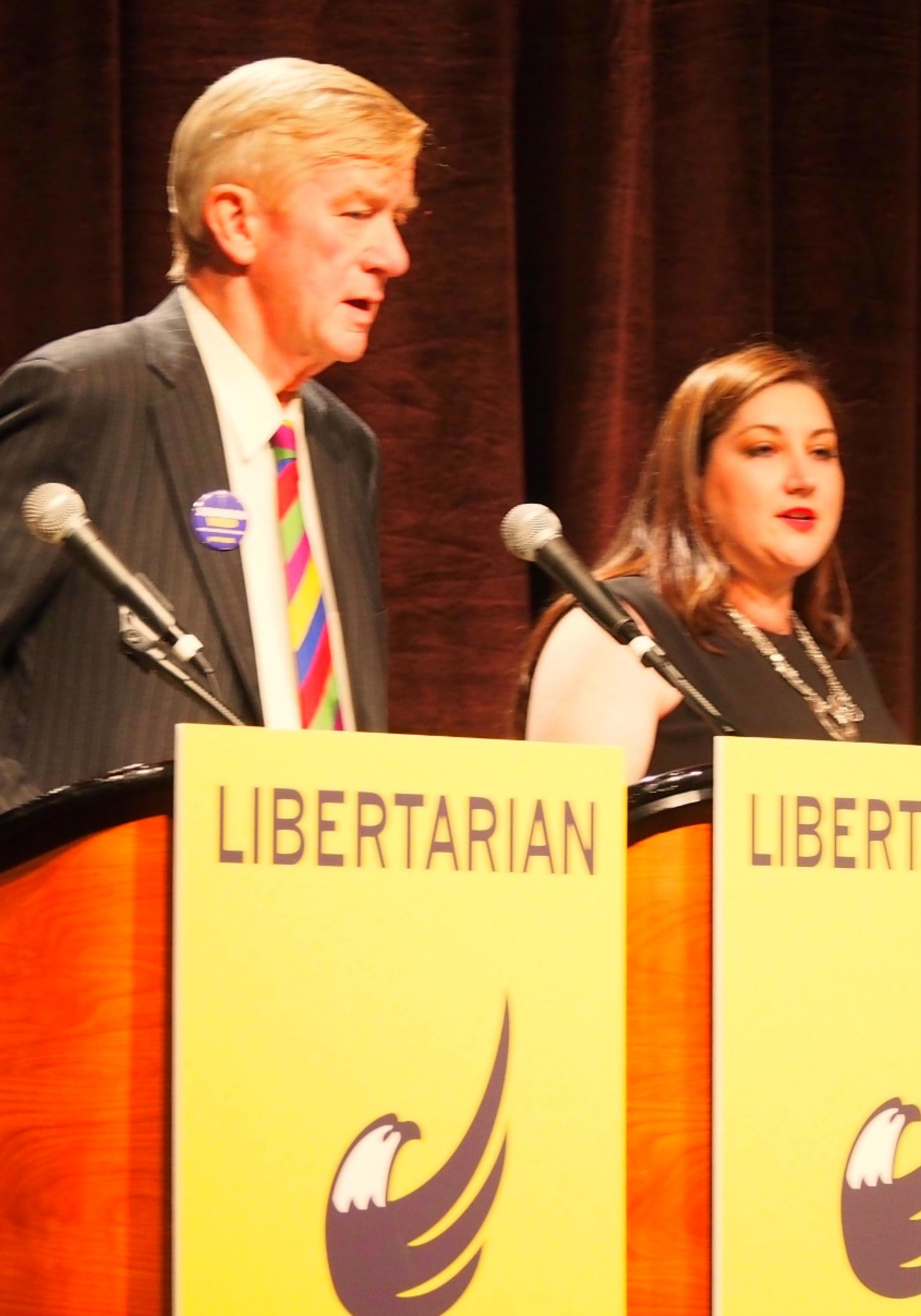 Soul or brimstone or government experience or life experience.
Those are the choices Libertarians will wrestle with Monday when they chose a Vice Presidential candidate for their ticket, after all of them called for revolution in American politics Friday night.
At the Libertarian Party's vice presidential debate in Orlando, former Massachusetts Gov. William Weld would appear to have had the inside track, since the party's presidential front-runner, former New Mexico Gov. Gary Johnson, already has named him as a preferred running mate.
But Friday night Weld was out-souled by New York business consultant Larry Sharpe, outshouted by international activist Will Coley of Tennessee and out-experienced by Missouri lawyer and businesswoman Alicia Dearn of Missouri.
Those four are but the apparent leaders of the 15 candidates seeking the Libertarian Party's vice presidential nomination, which will be decided Sunday after the delegates pick their presidential candidate.
There was mostly agreement about issues. Though while Weld and Sharpe nuanced their intentions from cutting taxes to withdrawing from treaties and international obligations and entanglements that were not peace-oriented, Coley brought fire and brimstone to his pronouncements.
"Hell no!" he shouted when asked about U.S. involvement overseas. "It's not our business! It has nothing to do with us!"
Friday night's debate was only partly about who stood where on issues ranging from international intervention to taxes. Many of the questions focused on what the candidates might do to bring recognition to Libertarian ideals and votes to a party that's never even elected a member of Congress, let alone a president.
Weld's response was much about explaining how he and Johnson both brought Libertarian values — social and economic freedoms — to governors' offices. Weld talked of how he cut Massachusetts' budget in actual dollars, while pushing for gay rights decades before Democrats.
"My philosophy of government is, I want the government out of your pocketbook, and out of your bedroom," Weld said.
Dearn then led the audience toward tears as she described how illness had spiraled her life into living in a dilapidated, boarded-up house before she ad her husband worked their way out of it. No thanks to the government, she made it clear.
She did the same later, as Dearn described how she explained Libertarianism to her hairdresser, by asking her hairdresser how much money she had to spend to get and maintain her license in California.
"I said: 'Libertarians, we think you should be free to cut my hair without asking the government's permission.' She said, 'I can agree with that.' And so did everyone else in the salon," Dearn said.
It's got to be about soul, Sharpe declared.
"We must be authentic. But not just that. It must be a way that is not just the mind, the brain. We've been giving our brains away for 20 years; it hasn't worked," he said. "I want us to give our soul away. I want them to hear who we are, and love us for who we are.
"If we show them our soul, we will win their hearts and minds," he concluded.