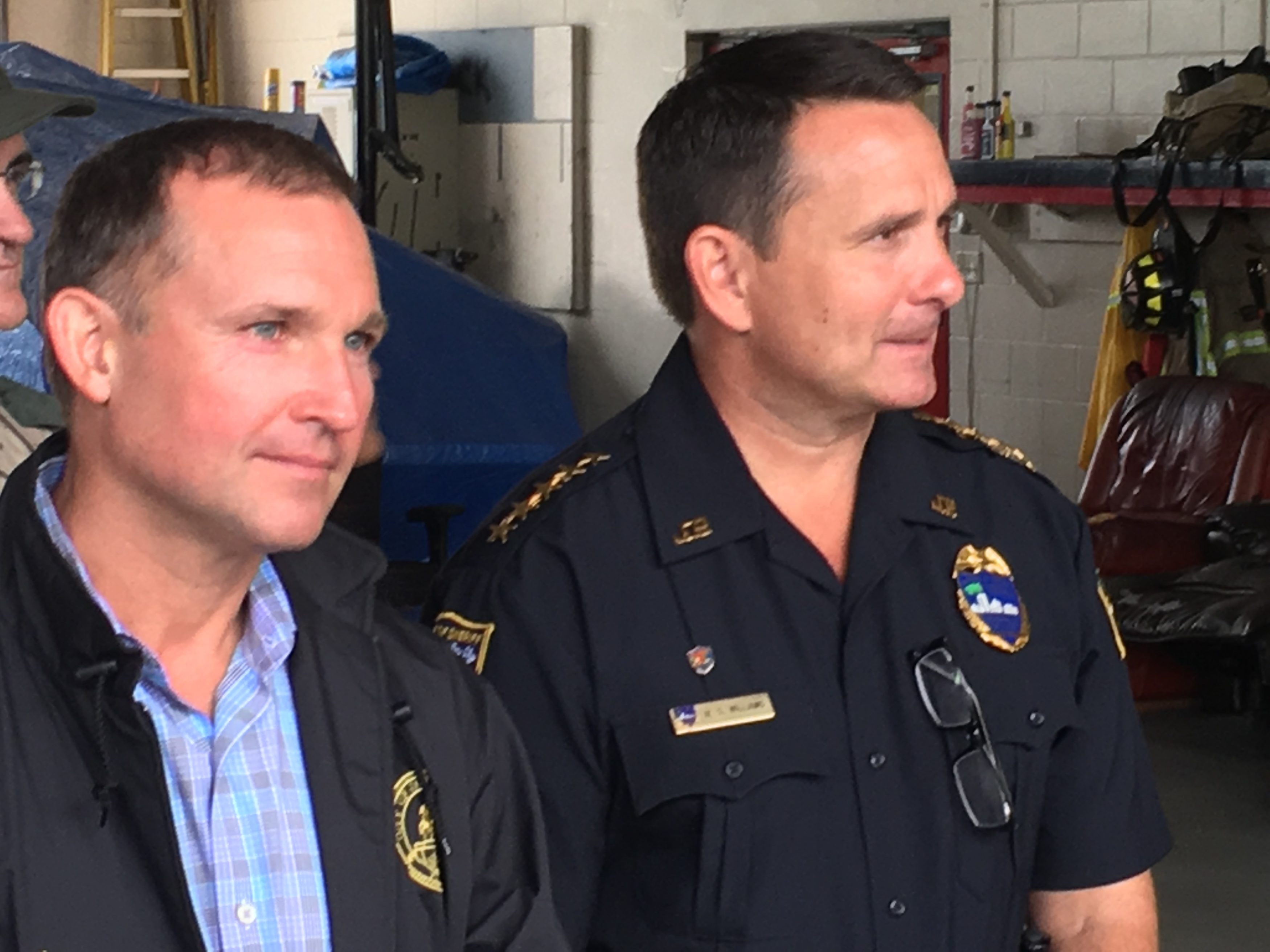 On Monday, the Jacksonville Mayor's Budget Review Committee took a look at the budget of the Jacksonville Sheriff's Office, one of the most compelling sections in a flat budget year.
A $17 million increase in general fund allocation was requested in the roughly $400 million budget.
The highlights:
Red-light camera revenue is down, as a result of driver behavior and the Atlantic/Monument camera being down due to construction.
Overtime is up $1.3 million, a function of right-sizing the overtime budget, and an increase in special events overtime.
Pension costs are up roughly $9.3 million year over year. The unfunded liability portion of the sheriff's office is $70.6 million … double the anticipated revenue, said the city's Chief Administrative Officer Sam Mousa.
The "heart and hypertension" allocation went up $2.5 million, a number offset to a degree by a $1.5 million drop in workers comp. This is, said Mousa, three times the projection.
Security guard services: up $218,000.
General liability insurance: up over $650,000.
Hardware/software maintenance: up $521,000.
A direct purchase of 2,500 Tasers, with no-interest vendor financing, was discussed. $330,000 will be taken out of jail food services to pay for these, a residual fund rollover available because the contract will not be renewed. Meanwhile, the budget will increase by $213,000, a cushion built in because there currently isn't certainty as to which vendor will assume the contract. This led to extended discussion between Mousa and Sheriff Mike Williams, who pointed out a preponderance of Tasers reaching the end of their useful lives. "We can't do without them and we have to replace them," Williams said. Mike Weinstein pointed out replacement like this would have to happen again in five years; the JSO countered there would be a savings effected as a result of the purchase plan.
Helicopter "scheduled engine overhaul" will be $432,000 for a Bell 407. Replacement was considered, but a suitable replacement wouldn't be available until 2018. Williams described the JSO's four-copter fleet as "aged," including one from the Vietnam era. The JSO works toward a lease agreement with Bell for helicopters; a new helicopter is $3.5 million.
Fixed-wing planes will be grounded in the near future. One of them, from 1972, can't be sold because it was a gift. The JSO tried to give it away, but "nobody wanted it," said Williams. Another one was listed at a "rock-bottom price," but elicited no interest.
Enhancement requests followed.
An additional 40 police officers and 40 community service officers were requested, as the JSO looks to restore the 147 police officers and 92 CSOs cut before Curry's election. If needed, a 40 and 20 ratio of officers and CSOs would be acceptable.
The computer-aided dispatch system is at the end of its life. The fire department faces a similar issue. The push from JSO is to re-up with Motorola at a cost of $4.2 million; the anticipated cost is $3.9 million for "limping along, keeping this going." A new joint CAD system with JFRD is the strong preference from the JSO, but it was apparently a negotiable point. "We need the people, but we need the infrastructure too," said Williams. "Even if we don't do 40 and 40 [officers and CSOs] this budget year, we can live with that … [the infrastructure] issues have been kicked down the road," said Williams. There were, apparently, "customer service issues" with Motorola. After extended discussion, CFO Weinstein urged the upgrade.
The long-range move will be joint CAD with the fire and rescue department, with a dedicated physical location. The Ed Ball Building may be the spot, and a tour is scheduled of the open space this Wednesday.
The fingerprint identification system, purchased in 1999, has failing drives and is out of warranty, with the vendor refusing maintenance contracts. A complete system upgrade is needed because of system failures.
A laptop leasing program will allow replacement of 1,400 laptops. The average JSO laptop is seven years old. With heat and the rigors of police work giving them beatings, the hope is for "something of a semi-rugged nature" for officers. "What we have, they fail all the time due to the heat," said Undersheriff Pat Ivey. There would be a recurring $750,000 expense for the leasing program, and there is no ready offset in the budget for this allocation.
IT system refresh, in general, is needed. As is a server refresh — the servers are seven years old, on average, and projected for five years of useful life.
Twenty correctional officer positions, including security for pre-trial facilities, support for a sexually violent predator facility and officers to supervise inmates picking up trash in blighted areas, are requested. There have been "challenges" with civilian supervisors of work crews, including "integrity issues," said Ivey, which requires the staffing. There is no shortage of inmates to do the work; there is a shortage of supervisors, however. An advantage to an in-house supervisor: he can supervise more inmates. A disadvantage to a civilian supervisor: friends and relatives stop by, visit the work crews, and offer everything from contraband to sexual favors, as word gets out they will be in an area.
"If there are going to be any enhancements provided," said Mousa, "I know the mayor is going to want public safety." That said, pension costs and other legacy costs will be the determinant in a very challenging budget year.