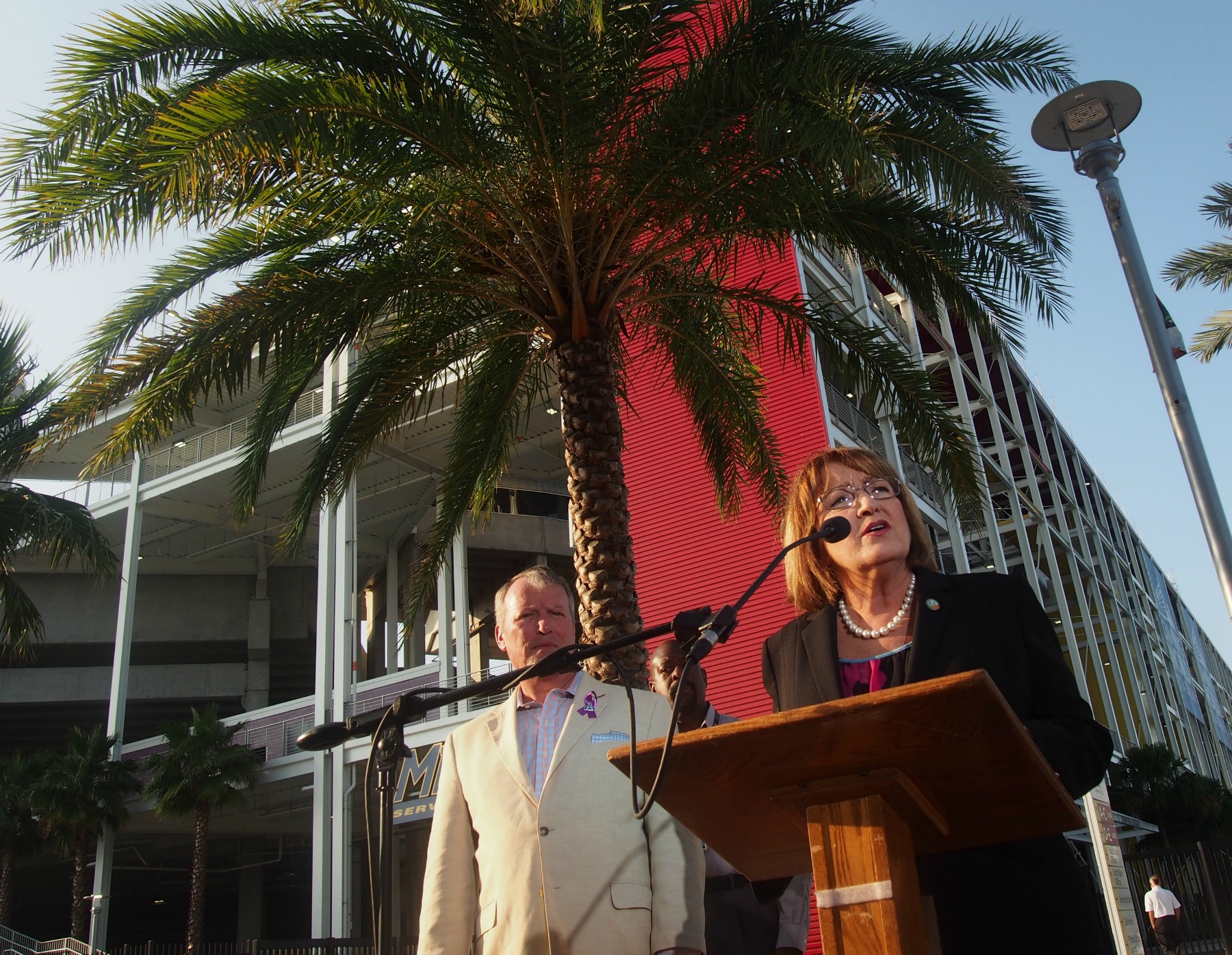 Love is conquering in Orlando.
That's the Day 4 message of Orlando Mayor Buddy Dyer and Orange County Mayor Teresa Jacobs, as the community pulls together a remarkable recovery effort from Bloody Sunday and confronts a third tragedy in five days.
Dyer and Jacobs addressed the city and the world Wednesday morning from outside of Camping World Stadium, formerly known as the Florida Citrus Bowl, to announce the venue is being turned into a one-stop shop for all the needs anyone can think of for the victims of the LGBT Pulse nightclub massacre.
And they do so as contributions to help survivors and families pours into two funds. They do so while confronted with yet another tragedy, the fatal alligator attack on a two-year-old boy at Walt Disney World, coming in the grief shadows of the Pulse massacre and Friday night's slaying of singer Christina Grimmie.
And they do so as a symbol of hatred — the scripturally perverse Westboro Baptist Church of Kansas — sends a contingent to Orlando to protest the funerals and rallies of the 49 gay, lesbian, bisexual, transgendered and straight people shot to death Sunday at the Pulse nightclub.

"It is a call for our entire community to rally behind what we believe in, and that is love and understanding. Tolerance is not sufficient. We need to cherish our differences. We need to cherish our people," Jacobs said. "So I am hoping that we see an outpouring of love from our citizens at every event that we have, to show that support, especially in the face of what we are about to be confronted with."
That love, so far, has raised about $3 million for the One Orlando Fund the city established Tuesday, with the latest $500,000 check coming by way of former U.S. Senator and former Orange County chairman Mel Martinez, from his employer J.P. Morgan.
At the stadium, the Orlando Family Assistance Center is being set up with a long series of booths and private rooms where victims' families can shop for donated services ranging from legal advice to get the deceased's car titles transferred to arranging for burials. Donated services are pouring in for everything from air travel and hotel rooms for victims' families, to child care services.
Everyone, Dyer said, seems to want to find some way to help.
"It's hard to say we might find a silver lining in this terrible tragedy, but the way our community has come together, it has stood united," Dyer said.
And those burials could happen en masse in an area of the city's Greenwood Cemetery, just a couple of miles from Pulse. Dyer said an area is being reserved that could handle all 49 victims, though every family, of course, will decide on their own where to bury their loved ones.
A permanent memorial already is envisioned at Greenwood, visible and accessible from the road. That prospect is only in the idea stage at this point. But like everything else, the responses are coming together so swiftly that weeks are turning into hours, as far as planning goes.
"Today we begin the long road to recovery. We know it is going to be a long road," Dyer said.