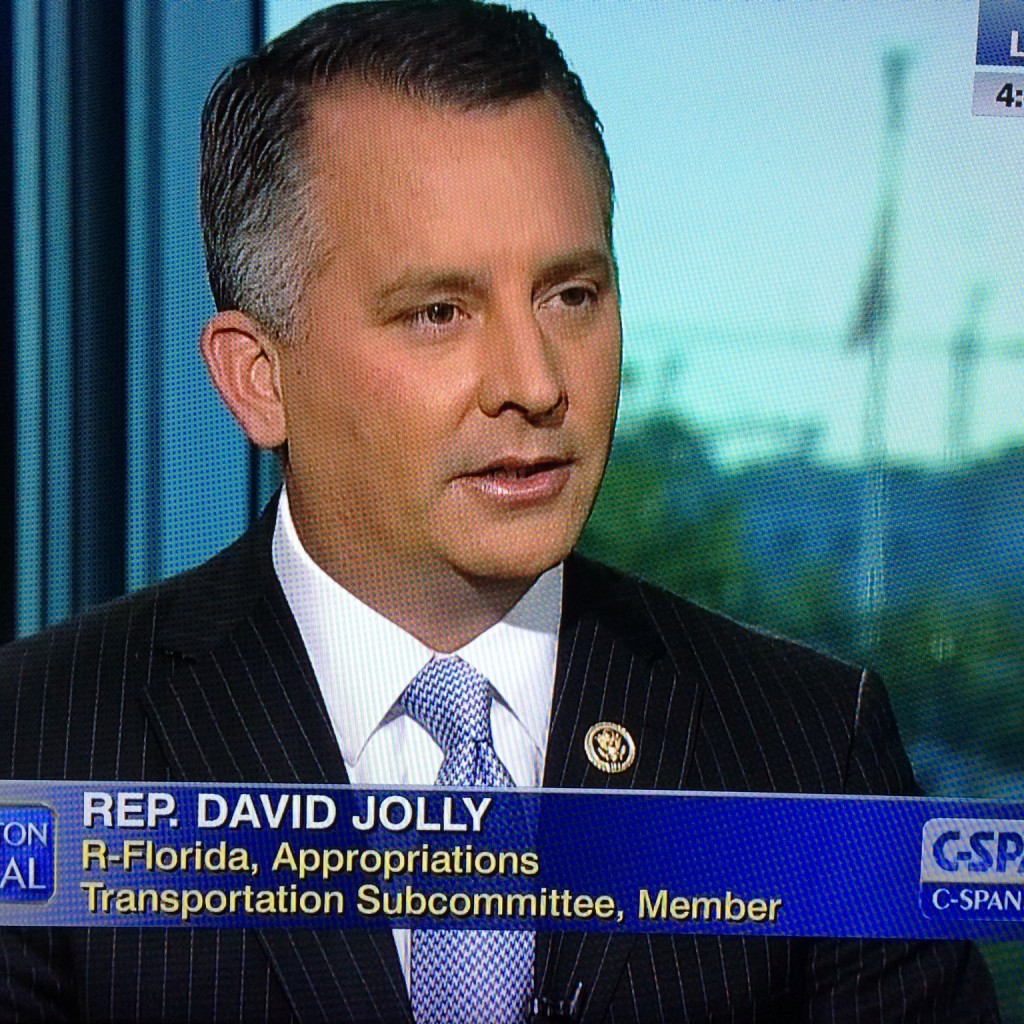 Congressional Democrats have spent the past week in Washington promoting gun control legislation in the wake of the Orlando shooting massacre, in which 49 people were killed and dozens others remain injured. They've complained that they're not getting assistance from many Republicans, but that may be changing.
On Thursday, Pinellas County based GOP Representative David Jolly announced that he has drafted a bill that would protect Americans by closing a firearm background check loophole and prevent potential terrorists from purchasing guns.  The legislation would also provide, for the first time, due process protections for lawful gun owners who are wrongly or mistakenly added to the watch list.
"It is common sense that if you are on a national terror list and can't fly on a plane, you should not be allowed to buy a gun," Jolly said in a statement.  "But the fact is the existing proposal repeatedly pushed by some in Congress to ban firearm purchases by those on the no-fly list is fatally flawed because it provides no due process or recourse protections for innocent law-abiding individuals wrongfully or mistakenly included on the list," Jolly added. "But equally flawed is a posture of inaction.  So let's do something now, together."
Under Jolly's bill, which he says he is circulating to members, a person on the FBI's Terrorist Screening Database would be prohibited from purchasing a firearm in the United States.  If the person attempts to purchase a firearm and is denied because they are on a watch list, they must be notified of their status on the list by the government within 10 days from the time of attempted purchase.  The individual is then entitled to a due process hearing within 30 days before a federal judge at which the government must demonstrate by a preponderance of the evidence that the individual should be on the watch list and prohibit from purchasing a firearm.  The individual is entitled to see all unclassified evidence against them, and the proceeding remains private to protect the privacy of the individual and the interest of the government.
"The fundamental issues are obvious. Law abiding individuals should be protected under the Second Amendment and have the right to purchase firearms. Dangerous individuals should not. And both should be afforded due process under the law," Jolly said.
California Democratic Senator Dianne Feinstein has proposed legislation that would allow the Justice Department to block gun sales to watch-listed individuals, whom she called "known or suspected terrorists," if authorities have a "reasonable belief that the weapon would be used in connection with terrorism."
On Wednesday, Florida Senator Bill Nelson filed legislation to ensure that any individual who is, or has been, investigated for possible ties to terrorism is entered into the National Instant Criminal Background Check System, or NICS, which gun shop owners use to run background checks on prospective gun buyers. And, if a background check is conducted for a prospective gun buyer who is, or has been, investigated for potential ties to terrorism, Nelson's bill would require that the NICS system automatically notify the appropriate division of the FBI.
 Early Thursday morning, Connecticut Democratic Senator Christopher Murphy ended a nearly 15-hour filibuster after Republican Party leaders reportedly agreed to allow votes on two proposed gun control measures. Votes would be held on whether to ban people on the government's terrorist watch list from obtaining gun licenses and whether to expand background checks to gun shows and internet sales.
Whether they will actually win support in the GOP controlled House and Senate is a different question.