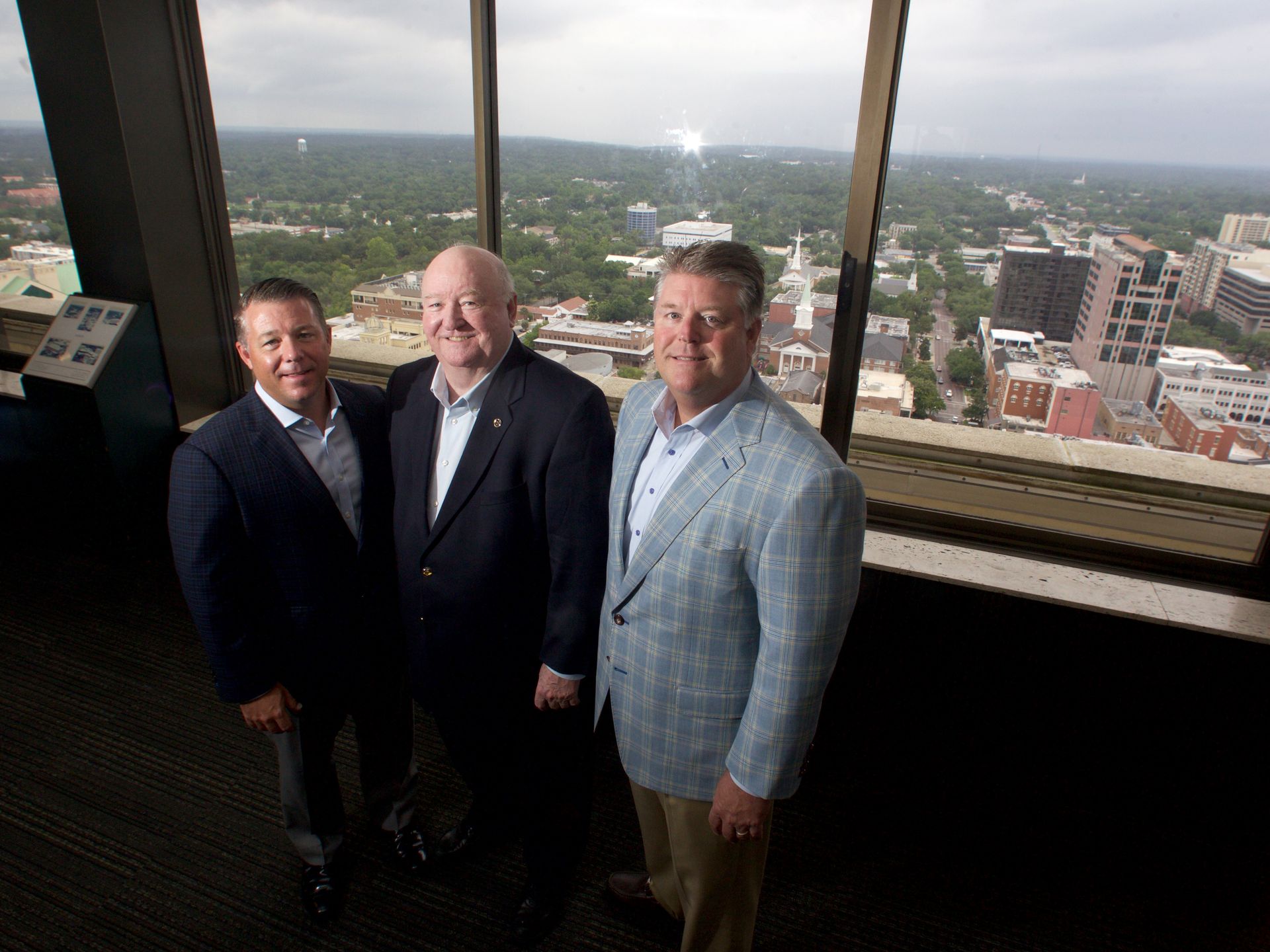 Sunburn – The morning read of what's hot in Florida politics.
By Peter Schorsch, Phil Ammann, Jenna Buzzacco-Foerster, Mitch Perry, Ryan Ray and Jim Rosica.
HAPPY FATHER'S DAY WEEKEND
IN FLORIDA, LOBBYING IS A FAMILY BUSINESS A joint project of Florida Politics and Tallahassee Democrat
Think of it as the family business. Some of Florida's top lobbyists do.
Take Ron LaFace, Jr. He knew early on he wanted to follow in his father's footsteps. He grew up in Tallahassee, and got to see first-hand what life in the process could look like. So when he decided to get into the business, he looked to his dad for advice and to be a sounding board.
"He was a wonderful role model," he said about his dad, Ron LaFace who died in 2012. "He was someone people liked to be around. Everyone wanted to sit at his table."
LaFace is one of several Florida lobbyists who have followed in their fathers' footsteps. For many, the decision to get into the family business was a no-brainer. And the lessons they've learned from their fathers are innumerable. Have a thick skin. Don't make it personal. Never lie. Always listen.
Their names are instantly familiar to anyone involved in the process. The Dudleys. The Smiths. The Guzzos. The list goes on and on.
"There's a lot of family businesses in this company town. But when it comes to lobbying in the Florida Capitol, father knows best," said William Hatfield, the executive editor of the Tallahassee Democrat. "This Father's Day, the Tallahassee Democrat is proud to partner with the team at FloridaPolitics.com to explore the intersection of influence, family and money. Meet the father-son (and daughter) duos that move and shake in Tallahassee."
Here are the stories on the Tallahassee Democrat:
— Fred, Charlie and Chris Dudley: 'Every parent's dream'
— Peter and Marc Dunbar: Politics is the family business
— Candice and Dave Ericks: Daddy, daughter duo
— Gary and Cory Guzzo: A passion for the political
— Ron LaFace, Jr.: In his father's footsteps
— Juhan and Corinne Mixon: Taking over the reins
— Clark and Jim Smith: Taking dad's advice
Their stories can be read here and in Sunday's Tallahassee Democrat.
30 POLITICAL DADS (AND SOME FAMILY), ADMIRED UP CLOSE AND AFAR
This Fathers Day, I want to recognize some (I know I will miss many, many deserving dads) who inspire me — sometimes up close, sometimes from afar — to be a better father.
Benjamin Todd — Why does my wife, Michelle, have such high standards for me. Because my father-in-law has been a rock for her every day of her life.
Patrick Schorsch — No one I know works harder than my brother to give his children a happy life.
Alan Suskey — The man I consider one of my best friends never goes anywhere without his best friend, his Mini-me, Reis Suskey.
Jon Johnson – Bar none, the real deal. Father of eight, six of whom are adopted. He is the gold standard by which all other dads are measured.
Rick Baker – When I need soul-searching advice about how to be a better father, I turn here. He was a very, very good mayor. The only thing he has been better at is being a father.
Bob Buckhorn – Father to two daughters, Hizzoner loves your kids as much as you do. He picks them up. He hugs them. He smells their hair. He's your great Irish uncle you can't wait to visit.
The Capital City Consulting guys — There are only a handful of rules for the dads working at the 2016 Lobbying Firm of the Year: One, wear Arron Gober's suits. Two, work hard and smart. Three, and most important, be a good dad. Nick Iarossi, Chris Schoonover, Scott Ross and Company are some of the most powerful lobbyists in Florida. They're also some of the most doting dads you've ever seen.
The prolific – I have no clue how Michelle and I would handle a second child, yet there are men like former Speaker Will Weatherford, Speaker-to-be Richard Corcoran, Sen. Jeff Brandes and former Tampa City Council candidate Tony DeSisto, among others, who have enough children to field their own basketball teams. Somehow they and their significant others make it work. More power to them. And thank goodness for bulk buying at Sam's Club.
The baseball coaches – Three of the brightest minds in Florida politics are Travis Blanton, Brecht Heuchan, and Marc Reichelderfer. We know how competitive they are on the political playing field. Imagine what they're like when they're coaching their kids' Little League teams.
Kevin Cate – Just once I want to see a picture of Kevin and his family in which everyone is not perfectly dressed and put together. Does anyone ever spill anything inside the Cate home?
Charlie Dudley – I feel like I've been to more high school basketball games than when I played basketball in high school thanks to Charlie's devoted Facebook feed of his son.
Nick Hansen — Somewhere along the line, this once hard-charging political guy decided to slow down and show the world that the best job is being the dad of four great kids.
Ben Kirby – The spokesman for St. Petersburg Mayor Rick Kriseman expresses his love for his children in a poetic, almost lyrical way. Like me, he's an older first-time dad, which, I believe, means you move a little slower than the young bucks. But you make up for with smart parenting.
Darrick McGhee – The way he conducts himself sets a great example for the rest of us. Imagine what it's like to have him as a dad.
Greg Holden, Franco Ripple – Two relatively new dads who appear to be having a lot of fun raising their kids.
Jim Rosica – Florida Politics's man in Tallahassee has more gray hair on his head than a lot of other dads, but he seems to play with his son twice as much as dads half his age.
Darryl Rouson – Raising that many boys is no easy feat for anyone. But getting that many young black men across the finish line is a testament to him and his wife, Angela.
Ron Sachs — By far, the classiest act I've seen this year was the way the veteran PR man was there for his daughters when they lost their mother, to whom he was no longer married.
Tim Stapleton — His son Nicholas may be my favorite kid of see pictures of on Facebook because each photo captures the love Tim has for his boy.
Chris Turner – Haven't seen his skills up close, but the love for his older son and his young daughter beam out from Facebook.
Ryan Tyson — Maybe it's because his wife is an ace photographer, but this guys seems like the awesome dad who spends the entire day with you fishing, then cuddles up with you on the couch.
Rick Wilson — There's not much upon which Rick and I agree, except for a fierce devotion to our children. It says something about him and his wife how much often their older kids come home to just hang out.
***Today's SUNBURN is brought to you by Bright House Networks for Business, your trusted provider of industry leading communications and networking services for any size business – from startup to enterprise, and everything in between. We offer a full portfolio of products and services, including Business Phone and cloud-based Hosted Voice, Business Internet at speeds up to 350 Mbps to fiber-based Dedicated Internet Access, several tiers of high-quality HD Video programming, and an array of advanced cloud and managed IT services. Our solutions are customized to fit your business, your budget and your industry. We own, manage and maintain our network, which means we are 100% accountable; and we're locally based, which allows us to be immediately responsive to our customers. Find out why so many businesses in your area trust their communications needs to Bright House Networks. Learn more.***
IN ORLANDO, THE GRAVEDIGGER'S WORK BEGINS via Anna Phillips of the Tampa Bay Times – For Juan DeLeon, 33, the murders of 49 people in a gay nightclub in downtown Orlando … were an unspeakable tragedy. His wife knew two of the victims from her job at Universal Orlando, and their deaths struck him as most deaths don't. But after a few days, he realized something else. "Oh, I've got to go and dig graves for these people," he said. In DeLeon's line of work, death has a peak season, and summer in Florida is it. He typically digs three to four graves a day, but now more work orders are coming in from Orlando, from Kissimmee, from Clermont. Many of the dead are being sent back to their families in Puerto Rico and Mexico, and a small number are being cremated. But the task of burying victims here in Florida will fall to him and the staff of Quality Vaults Inc. "It's tough to deal with the sorrow every day," he said. "And now with this tragedy, it makes it even harder."
OMAR MATEEN POSTED TO FACEBOOK AMID ORLANDO ATTACK, LAWMAKER SAYS via Richard Perez-Peña of The New York Times – In his posts, the gunman … called on the United States and Russia to stop the bombing campaign against the Islamic State, the extremist group that controls parts of Syria and Iraq, pledged allegiance to the group's leader, Abu Bakr al-Baghdadi and said, "may Allah accept me," Senator Ron Johnson of Wisconsin wrote in a letter to Mark Zuckerberg, Facebook's chairman and chief executive. "You kill innocent women and children by doing us airstrikes," Mateen wrote in one post, according to the senator. "Now taste the Islamic state vengeance." And in what Johnson described as the gunman's final post, he wrote, "In the next few days you will see attacks from the Islamic state in the usa." Mateen frequently used Facebook to search for information on offices of the F.B.I. and other law enforcement agencies, and last month, he searched for information on the couple who pledged allegiance to the Islamic State and then killed 14 people in December in San Bernardino … On June 4, he conducted a Facebook search for "Baghdadi Speech." And Sunday morning, after opening fire at the Pulse nightclub and while a three-hour standoff with police was underway, "Mateen apparently searched for 'Pulse Orlando' and 'Shooting,'" the letter states.
IN ORLANDO, A SON OF A MUSLIM IMMIGRANT RUSHED TO HEAL PAIN CAUSED BY ANOTHER via Damien Cave of The New York Times – When Dr. Joseph Ibrahim heard that the attack at the Pulse nightclub may have been linked to terrorism, he caught himself fearing any kind of link to his own Muslim, Middle-Eastern roots. Please, he thought, don't let Ibrahim appear anywhere in the gunman's name … Ibrahim — who heads the trauma unit at Orlando Regional Medical Center, and generally goes by Joey — had already spent hours repairing gunshot wounds in the bodies of Latino men and women, many of whom were the sons and daughters of immigrants, too. Yanked from bed by a phone call at 2:15 a.m., he was doing what he had trained for. His old friends from his hometown in Tennessee were pulling for him. But it was hard to escape the pairing: the son of one Muslim immigrant from the Middle East trying to save the lives of mostly gay Latinos that another son of Muslim immigrants tried to kill — all in a chunk of verdant Florida built on Disney joy. "Maybe we're a target because of our diversity and tolerance," Ibrahim said after a morning of surgery … "Here you constantly see people from all over the world, and it's wonderful" … all of these issues — the intersecting identities, the struggles for recognition — only make more obvious just how much this most American of places has rapidly changed.
'OUR HEARTS ARE BROKEN, TOO': OBAMA VISITS SURVIVORS OF ORLANDO RAMPAGE via Katie Zezima, Ellen Nakashima and Mark Berman of The Washington Post – While laying flowers at a memorial in downtown, about a mile and a half from the club where the shooting occurred four days earlier, Obama said the city was "shaken by an evil, hateful act" … he and Vice President Biden met with family members of the people slain Sunday … their grief was indescribable. "The Vice President and I told them, on behalf of the American people, that our hearts are broken, too, but we stand with you and that we are here for you, and that we are remembering those who you loved so deeply," Obama said of the meeting. Even as this visit — the latest in what has become a long line of trips he has made to regions rocked by catastrophic gun violence — was underway, discussions continued on Capitol Hill about holding votes on gun-control measures following a nearly 15-hour filibuster on the Senate floor. Obama said he hoped senators who had previously opposed some measures "have a change of heart," saying that the relatives he met …  asked why such killing sprees keep happening.
BILL NELSON SAYS OBAMA IS NATION'S "CONSOLER IN CHIEF," AFTER MEETINGS WITH ORLANDO FAMILIES via John Kennedy of the Palm Beach Post – "What you tell the families is we appreciate your loved one, and they will not be forgotten," Nelson said. Nelson talked with reporters across the street from Orlando's downtown Amway Center, where the president's motorcade passed small groups of onlookers gathered on city street corners. Obama, Biden and other officials also met with law enforcement personnel who stormed the Pulse Sunday morning after Omar Mateen killed 49 people and wounded 53 others. Before heading to Orlando, Nelson had taken part in a 15-hour filibuster led by Sen. Chris Murphy of Connecticut, with Democrats demanding action on gun bills. Nelson said he was urging senators "don't be chicken," and support restricting gun sales. All told, Nelson said he was frustrated and angered by the spate of gun tragedies in recent years — topped by the nation's worst last weekend in Orlando. "How many more times are he and Vice President Joe Biden going to have to go through this. This is like the plague that is upon us."
JOHN MCCAIN: OBAMA IS 'DIRECTLY RESPONSIBLE' FOR ORLANDO ATTACK via Mike DeBonis of The Washington Post – McCain's statement goes beyond the criticism of Obama that has been leveled by his Republican colleagues in the Senate, and it follows remarks made this week by presumptive GOP presidential nominee Trump, who seemed to connect Obama to the attack in an interview and tweeted an article claiming that Obama "actively supported" the terrorist group that became the Islamic State. McCain made his remarks in a Senate hallway to a small group of reporters, responding to a question about the gun-control debate that has flared on Capitol Hill since the shooting … Obama traveled to Orlando with Sen. Marco Rubio to pay his respects to victims' families. McCain answered the question about the gun debate by citing Obama's culpability for the attack through his foreign policy: "Barack Obama is directly responsible for it, because when he pulled everybody out of Iraq, al-Qaida went to Syria, became ISIS, and ISIS is what it is today thanks to Barack Obama's failures" … When pressed by a reporter on the claim that Obama was "directly" responsible, McCain reiterated his point — that Obama should not have withdrawn combat troops from Iraq: "He pulled everybody out of Iraq, and I predicted at the time that ISIS would go unchecked, and there would be attacks on the United States of America," he said. "It's a matter of record, so he is directly responsible." In a statement after the comments were publicized, McCain said he "misspoke."
DAVID JOLLY WANTS TO GIVE DUE PROCESS TO PEOPLE BLOCKED FROM BUYING GUNS via Alex Leary of the Tampa Bay Times – His proposal would prevent anyone on the FBI's Terrorist Screening Database from purchasing a firearm … it requires the government to inform that person within 10 days and sets up a due process hearing. Republicans have opposed Democratic attempt to close the so-called terror gap because they say law-abiding people erroneously end up on the government watch list. "The individual is entitled to see all unclassified evidence against them, and the proceeding remains private to protect the privacy of the individual and the interest of the government," reads a Jolly news release. "The fundamental issues are obvious … Law abiding individuals should be protected under the Second Amendment and have the right to purchase firearms. Dangerous individuals should not. And both should be afforded due process under the law."
ASSIGNMENT EDITORS: Congress members Lois Frankel, Ted Deutch, and Patrick Murphy will hold a joint news conference to urge Congress to pass "commonsense gun violence prevention legislation" in the wake of the mass shooting at Pulse nightclub in Orlando. Also attending is Angela Williams, who lost her nephew to gun violence and is president of Mothers Against Murderers Association. Press availability begins 9:30 a.m. at the U.S. District Court House, 701 Clematis St. in West Palm Beach
WHY THE ORLANDO SHOOTING IS UNLIKELY TO LEAD TO MAJ. NEW GUN LAWS via Jennifer Steinhauer of The New York Times – Senate Republicans are clearly feeling pressure to address the fact that people whose names surface on terrorist watch lists can easily buy guns. But they do not like a bill that Democrats intend to offer next week that would give the Department of Justice the authority to stop people on the watch list and other terrorism suspects from buying a gun. A Republican bill would require the government to delay the purchase of a gun for 72 hours by anyone who is a terrorism suspect, or has been the subject of a terrorism investigation within the last five years, while a review takes place. "If Democrats are actually serious about getting a solution on that issue, they'd join us," said Senator Mitch McConnell … Democrats have argued that the measure, which is approved by the National Rifle Association, is too onerous to have any impact. Even less likely to pass is a measure that would extend background checks on gun buyers — largely because of hotly contested Senate races in a bitter election year. It seems possible that even Republicans who have supported a background check measure in the past will abandon it this time around. But unlike in December, when both measures were defeated, some Republicans have been more eager to find a compromise with Democrats. So far, those efforts have not produced a bill both sides can support. Election-year politics will make a bill to expand background checks an uphill climb.
SPOTTED: Ashley Lukis, penning this op-ed, "Orlando Isn't About Gun Control" for the Wall Street Journal
TRUE LEADERS PROMOTE FACTS, HEALING — NOT THEMSELVES via Scott Maxwell of the Orlando Sentinel – It has been said that crisis reveals character … it has also been true for Florida politicians who have revealed their own true nature as they have stepped into the crisis spotlight — some wanting to help the situation; others eager to capitalize upon it. So far, Orlando Mayor Buddy Dyer has been the gold standard. I don't feel that way about everything Dyer does. But in this case, almost every time Dyer has stood before microphones and crowds, it has been to do one of three things: inform, comfort or protect. Those are the things a leader should be doing. County Mayor Teresa Jacobs has tried to do the same. Other politicians, however, seem all-too-eager to use the event for their own means — to rehab their battered images, net some easy TV time or break promises. Attorney General Pam Bondi — reeling from a string of ethical controversies — stepped in front of cameras to proclaim herself as eager to go after "anyone who attacks our LGBT community." If that's really true, Bondi should slap the cuffs on herself. Alan Grayson had a less egregious, but also self-serving, moment hours after the bullets stopped flying. The Democratic congressman, eager to advance to the U.S. Senate, granted requests for an impromptu nationally televised news conference … even though it was clear he didn't really know all that was going on. Grayson declared that there were 20 dead and then revealed the name of the shooter. Moments later — when Grayson had to stop talking because the official event was beginning — Dyer said the actual number was 50, and federal authorities said that revealing the shooter's name at that time might "jeopardize the investigation." Then there are the politicians who seem to be thinking about using the tragedy to change the trajectory of their entire political careers … Last year, Marco Rubio vowed not to seek re-election to the U.S. Senate. He declared the position beneath him, saying, "We're not going to fix America with senators and congressmen." Rubio seemed to think America's united response to the worst mass shooting in U.S. history was a call for him to launch a new campaign.
RICHARD CORCORAN URGES SUPPORT FOR VIGIL AFTER 'UNFORTUNATE' PRO-GUN MAILER via Steve Bousquet of the Tampa Bay Times – Corcoran … is urging his constituents to attend a vigil in memory of the victims of the Orlando massacre … the event will be from 6:30 to 7:30 p.m. at Sims Park. Participants are urged to bring a single flower to place in a wreath. "We will be standing together as one to show that we will not be defeated but instead grow stronger," Corcoran said … In the past few days, some of Corcoran's constituents received a different message from him: a re-election campaign mailer that shows pictures of bullets as well as two photos of guns, including one in which Corcoran is holding a firearm. Corcoran acknowledged the terrible timing of the mailing and said it was sent June 8, four days before the worst mass shooting in U.S. history. The piece, sent to about 3,200 voters identified as past supporters of the Second Amendment, reflects the majority party's opposition to gun restrictions. In a statement Corcoran said: "The information sent in the mail was created and sent before the tragic events in Orlando. The unfortunate timing of a piece of mail, however, should not shift attention from the tragic and heinous attack by a radical Islamic terrorist. No matter how much some want to use this event to divide us, I remain steadfast in my belief that law abiding Americans must have a Second Amendment right to defend themselves and that we must not give in to the politically correct voices of division."
'WE ARE DEVASTATED,' FAMILY SAYS OF TODDLER KILLED IN ALLIGATOR ATTACK AT DISNEY RESORT via Katie Mettler and Elahe Izadi of The Washington Post – "Words cannot describe the shock and grief our family is experiencing over the loss of our son," the Graves family said in a statement … "To all of the local authorities and staff who worked tirelessly these past 24 hours, we express our deepest gratitude." The sheriff identified the toddler as Lane Graves of Elkhorn, Nebraska. Divers found the boy's body "completely intact" about 6 feet beneath the surface of the massive, man-made lagoon, not far from the area where he was attacked the previous night … Lane's parents watched … as the alligator grabbed their son in the shallows of the lake and dragged him deeper into the water, officials said. The father, Matt Graves, rushed into the water and grabbed desperately for the boy; Graves cut his hand while attempting to wrestle Lane away from the gator but was unable to save his son. Although an autopsy still has to be completed, the sheriff said it is likely that the boy drowned. "The family was distraught, but also, I believe, somewhat relieved that his body was found intact," [Orange County Sheriff Jerry] Demings told reporters … charges are unlikely against the boy's parents because "there's nothing in this case to indicate that there was anything extraordinary" in terms of parental neglect. The attack occurred on the third night of vacation for the family of four from suburban Omaha. They relaxed on the white-sand beach that stretches along Disney's luxe Grand Floridian Resort and Spa, one of the features the hotel uses to entice its guests, and they watched their young son wade ankle-deep into the lake known by vacationers as Seven Seas Lagoon.
***Smith, Bryan & Myers is an all-inclusive governmental relations firm located in Tallahassee. For more than three decades, SBM has been working with our clients to deliver their priorities through strategic and effective government relations consulting that has led us to become one of Tallahassee's premier governmental relations firms today.***
HILLARY CLINTON LAUNCHES $3.5M AD BUY IN FLORIDA AS PART OF BATTLEGROUND BLITZ via Matt Dixon of POLITICO Florida – Nationally, this round of ad buys is focusing on eight swing-states: Florida, Colorado, Iowa, Nevada, New Hampshire, North Carolina, Ohio and Virginia. The first ad focuses on violence at Trump's campaign rallies and his mocking a disabled New York Times reporter. In Florida, Clinton's heaviest focus will be on the 12-county Tampa media market, where her initial ad buy is $1.2 million. The region has 3 million registered voters, 35 percent of whom are Democrats. The market is also home to nearly 830,000 voters with no major party affiliation, by far the most in the state … The Orlando market was not included in the Clinton's buy, likely because of Sunday morning's mass shooting at an Orlando nightclub … Also left off the list was the Miami media market, the second biggest in the state behind Tampa … The next biggest market targeted as part of Clinton's ad buy was the Democratic stronghold of West Palm Beach. Clinton's initial ad buy will drop $575,325 into region that leans Democratic by a 39.6 percent to 22.1 percent margin … Other markets the Clinton campaign is targeting in this ad buy include Fort Myers ($516,785), Jacksonville ($560,105), Pensacola/Mobile ($341,580), Panama City ($197,754) and Tallahassee ($36,200).
NRSC CHAIRMAN ROGER WICKER: CARLOS LOPEZ CANTERA IS A PATRIOT, MARCO RUBIO A LIKELY SENATE CANDIDATE via Adam Smith of the Tampa Bay Times – "It's a profoundly pivotal moment in the political history of Florida," Wicker said of Lopez-Cantera urging his longtime friend to run for the seat Lopez-Cantera has been pursuing for nearly a year. "I think he's showing great character, and it's the sort of character that Floridians can be proud of in their lieutenant governor, because he's put his heart and soul in this race for a year." Lopez-Cantera remains a Senate candidate until Rubio announces a re-election campaign. Wicker said Rubio hasn't confirmed to him he will run again, but that Rubio's friends in Florida believe he will and "indications seem to be that he is headed in that direction." Lopez-Cantera and David Jolly have said they would drop out of the race if Rubio runs (Jolly is expected to announce his own re-election campaign for the U.S. House), and Ron DeSantis implied the same … That leaves self-funders Carlos Beruff and Todd Wilcox, who have said they won't drop out but would be under intense pressure to do so. "If they ask me for my advice I would tell them Marco Rubio puts this (Senate seat) in the lean Republican column, and that is very important," the NRSC Chairman said by phone. "Who is majority leader of the Senate is very important to our country over the next two years. Who sets the agenda is very important."
RON DESANTIS TO RUBIO: MAKE DECISION FAST via Jeremy Wallace of the Tampa Bay Times – Ron DeSantis made clearer during a talk radio interview that he has no interest in running for the U.S. Senate if fellow Republican Rubio decides to run for re-election after all. "Look, Marco's a good Senator," DeSantis told radio host Hugh Hewitt. "Had he announced from the beginning that he was going to run for re-election, I would not have run. I would have supported him … And I just think it's better for everyone if this decision is made sooner rather than later … Even if Marco runs, I mean, he's going to want to have the opportunity to ramp back up. So I know no more than you, and I'll wait and see what happens."
RUBIO WAS DROPPING SIGNS OF A RUN WELL BEFORE ORLANDO via Alex Leary of the Tampa Bay Times – Anyone who has observed Rubio since he left the presidential campaign trail could see that a reversal was possible a while ago. Start with this Rubio tweet from last month: "Flashback to another article quoting a 'longtime friend' saying I 'hate' Senate. Words I have NEVER said to anyone." Rubio began working that argument into interviews. He never publicly said "hate," but dissatisfaction with the Senate was part of his justification for running for president. "I have missed votes this year," he said in a January town hall in Iowa. "You know why? Because while as a senator I can help shape the agenda. Only a president can set the agenda," he said. "We're not going to fix America with senators and congressmen." Rubio told reporters, "I've enjoyed my service here a lot." There were small signs, too: A recently revamped Senate website put a focus on Florida, down to the orange icon filling the O in Rubio. He started highlighting constituent work again. Along came the draft Marco movement, a scripted campaign led by Mitch McConnell that had GOP officials begging Rubio to run again. No less than the party's control of the Senate is at stake, they said, Trump included. That stakes are high but it also set the conditions for a Rubio flip-flop well before Orlando. While the senator's office maintained the "private citizen" talk as recently as [this] week, the potential candidate was wiggling. "Maybe," Rubio told CNN's Jake Tapper, I'd run again if my friend weren't in the race.
STEVE SCHALE: THE 5 QUESTIONS RUBIO MUST ASK HIMSELF via Florida Politics – Do you want to be a Senator? In the constant analysis of political decisions, too often the most important question is left out. Why do you want to go back? When do you want to run again and do you think Trump wins? At this point, I would be shocked if Rubio doesn't seek the presidency again, and honestly, he should. Do you want the hassle of another primary? Carlos Beruff's people are trying to argue they have claimed Rubio's space, and that he should be scared to run against them. This is utterly ridiculous. How confident are you versus Patrick Murphy? Functionally, Rubio has to win. While Richard Nixon proved you can run and lose — and run again for president, that is a harder lift in the modern political world. Is all of it worth the risk? Rubio has been in office, or running for office, for every bit of the last 18 years of his life. I am sure a part of this, even subconsciously, is the fear that if he is out of sight, he is out of mind. And sure, that is a risk. But is it worth the risk of losing? But then again, he isn't asking me!
GABBY GIFFORDS ANTIVIOLENCE GROUP CALLS OUT RUBIO ON TERRORIST WATCH LIST VOTES via Mitch Perry of Florida Politics – "In the aftermath of the San Bernardino tragedy last December, Sen. Rubio failed to stand up to the gun lobby and do the responsible thing. Instead, he voted to protect the loophole that lets known and suspected terrorists legally buy guns," reads the statement by Americans for Responsible Solutions, the organization run by former Arizona Congresswoman Giffords and her husband, Mark Kelly. "Since then, Sen. Rubio has worked hard to confuse Floridians about his vote and has repeated the gun lobby's talking points," the statement goes on to say. "While he talks tough about defending our country from terrorist attacks, the reality is that in the face of the threat of active shooter terrorism, Sen. Rubio voted to protect a dangerous status quo." Although some pro-Second Amendment groups once accused him of being squishy on gun control legislation, Rubio has been a consistent opponent of any proposals in Congress, and he went as far as telling Glenn Beck earlier this year that Democrats secretly aspire to take away everyone's guns. "They are obsessed with gun control because, here's the truth, if the left had their way — they'll never admit this because they don't have the votes to do it and they don't have the public support to do it — but if they could confiscate guns, they would," Rubio told Beck during a January interview.
CARLOS BERUFF HIRES SCOTT'S FORMER CAMPAIGN MANAGER via Marc Caputo of Politico – Melissa Sellers, Gov. Scott's former chief of staff who managed his re-election campaign in 2014, has been hired as a consultant for Beruff's U.S. Senate campaign in a sign that he's prepared to stay in the race even if Rubio reverses course and decides to run for re-election. "The folks in Washington seem to think they will get to choose the Republican nominee, but they will find out differently," Beruff said in a written statement Thursday.
— "Beruff camp trashes 'career' politician Rubio" via Marc Caputo of Politico
ADVOCACY GROUP THAT HAS BEEN SLAMMING DWS ON PAYDAY LOANS NOW PRAISES HER –Allied Progress, the D.C. based advocacy group that has been blasting Democratic National Committee Chair Debbie Wasserman Schultz for months for her support of of payday lending legislation that the group called "disastrous," is now praising her. The group placed an a full page ad in the South Florida Sun-Sentinel applauding her and Congressman Patrick Murphy for now backing the Consumer Financial Protection Bureau's push to rein in the payday loan industry.
"Their decision shows true leadership and an impressive willingness to more carefully consider the plight of the millions who find themselves trapped in cycles of debt at the hands of payday lenders," the ad reads.
Washerman Schultz and Murphy announced earlier this month that they were dropping their support for a bill sponsored by Lakeland Republican Dennis Ross that critics like Allied Progress and the Sun-Sentinel's editorial board said  would delay federal regulation for two years, and could prevent federal regulation in states like Florida that have created their own rules for payday lenders. The issue had become political fodder for Tim Canova, Wasserman Schultz' most serious Democratic congressional opponent since she was elected to her congressional seat in 2004. In March, Allied Progress launched its payday congressional accountability campaign with a television ad, noting the she had received more than $68,000 in contributions from the payday loan industry.  They sponsored two billboards in her congressional district and a mobile billboard in D.C. calling her out as well.
Their work has apparently paid off. The ad in the Sun-Sentinel concluded by noting that "other members of Congress could learn a thing or two from this demonstration of thoughtful leadership."
TALE OF THE TAPE
FLORIDA DEMOCRATS TO PARTY IN HOLLYWOOD THIS WEEKEND — This weekend the Florida Democratic Party hosts its third annual Leadership Blue Gala (formerly known as the Jefferson-Jackson dinner) from the ultra swanky Diplomat Hotel in Hollywood, and party officials say that they've sold well more than 1,100 tickets in advance, with the total attendance figures to be around 1,200 people. Saturday night's events are scheduled to kick off by honoring the victims of the gun shooting massacre in Orlando, with a tribute to their lives, remarks and a moment of silence. Senator Bill Nelson, Congresswoman and Democratic National Committee Chair Debbie Wasserman Schultz and other state legislative leaders are scheduled to speak, leading into the keynote address by New Jersey Senator Cory Booker.
Booker is fresh off his powerful participation in the nearly 15-hour filibuster that Senate Democrats held on Wednesday/Thursday. The marathon public debate called on senate leaders to give the Democrats  a chance to vote on keeping suspected terrorists from having the ability to purchase guns and  require universal background checks, which they will be able to do. Among those expected to attend are some of the state's leading gubernatorial contenders, such as Congresswoman Gwen Graham, Miami Beach Mayor Philip Levine and Tampa Mayor Bob Buckhorn.
'WASHINGTON IS BROKEN,' CLAIMS JOHN RUTHERFORD IN NEW AD via A.G. Gancarski of Florida Politics – "You know me well, and know I can get the job done." Those words close out the first TV ad from former Jacksonville Sheriff John Rutherford, as he runs for the GOP nomination in the 4th Congressional District, a low-key, yet definitive, declaration by Rutherford that he's the man to go to Washington and replace Ander Crenshaw … Rutherford, the frontrunner in the race according to polls, spoke to voters from his home's front steps. "Washington is broken," Rutherford says, "and out of touch with what each of us face here at home … This economy creates more jobs overseas than here in our communities," Rutherford continues, before describing a "military weakened by Obama that puts us all at risk."
BOB POE MAKES $1 MILLION TV BUY IN CD 10 PRIMARY, ANNOUNCES HIV EVENT via Scott Powers of Florida Politics – Poe, a wealthy businessman and former chairman of the Florida Democratic Party, can do that because he loaned $1.2 million to his campaign in January … He also has 30 paid canvassers – and he is paying them $15 an hour as a commitment to what he says should be the minimum wage – knocking on more than 1,000 doors a day in Florida's 10th Congressional District, covering west Orlando, west Orange County and northeast Lake County. "From the beginning, I've been in this race to win it. We're committing the necessary resources to getting our message of economic opportunity out there," Poe stated in a news release. "The voters deserve to know they can choose a true progressive Democrat who walks the talk, instead of just more career politicians." Poe also made national news earlier this month when he publicly disclosed he has HIV … he also pledged the first event in an HIV education program he vowed when he made his disclosure.
FRANCIS ROONEY TALKS POLICY, POLITICS DURING BUPAC MEETING via Jenna Buzzacco-Foerster of Florida Politics – Rooney … will not accept any money from political committees in his bid to replace Curt Clawson in Congress. The pledge is in line with one Clawson, a Bonita Springs Republican, made during his 2014 congressional bid. The former ambassador and longtime Bushfamily supporter also said that, unlike other members of, he would not need to be "perpetually fundraising" if he is elected. "The only people I'm going to worry about is y'all," said Rooney during the Businesspeople United for Political Action Committee (BUPAC) meeting … If elected, Rooney said his top legislative priority would be addressing Lake Okeechobee and the watershed. Rooney said many people who live in Southwest Florida are here "because of the water and the estuaries," and he will do everything possible to look at comprehensive solutions to the area's water woes. He also said he hopes to focus on ways to get "spending, regulation and the tax code" under control. Rooney also said the nation needs to secure its borders, and look at ways to help veterans.
TIM CANOVA RAISES $2 MILLION IN RACE AGAINST DEBBIE WASSERMAN SCHULTZ IN BROWARD CONGRESSIONAL RACE via Amy Sherman of the Miami Herald – Canova … raised $2,054,332.57 since he launched his campaign … he raised money from 58,421 individual donors and the average contribution was $17.16. His campaign did not release information on what percentage of those donations have come from outside of Florida. An analysis by the Center for Responsive Politics of his donations above $200 through March found that the majority were from out of state, however that provides an incomplete picture because most of his donations are below that threshold and therefore the campaign doesn't have to report where the donors live. Wasserman Schultz raised $1.8 million through March and hasn't announced an update on her fundraising. She has been endorsed by Obama and Biden was going to host a fundraiser for her last weekend but it was canceled due to the Orlando shooting massacre.
KATHLEEN PASSIDOMO RELEASES HER IN FIRST SD 28 ADVERTISEMENT via Jenna Buzzacco-Foerster of Florida Politics – The 30-second spot, called "Fed Up," is meant to highlight her position on illegal immigration and repealing federal mandates under … Obamacare. "Southwest Florida is fed up with the federal government's failures, and so am I. But for me, failure is not an option," she said in a statement announcing the ad campaign. "I took action, voting to repeal the Obamacare federal mandate and end sanctuary cities. I look forward to taking that fight to the state Senate and won't stop until the job is done."
IRVING SLOSBERG LAUNCHES 'LET IRV SERVE' TV AD FOR STATE SENATE RACE via George Bennett of the Palm Beach Post – Slosberg … opened a campaign for a newly drawn state Senate seat and cut a 30-second TV ad to support his effort. Slosberg's daughter, Emily Slosberg, has opened a Democratic campaign for her father's state House District 91 seat. Former Democratic state Rep. Kelly Skidmore of Boca Raton is also running for the District 91 seat. Slosberg is running against fellow state Rep. Kevin Rader … for the newly drawn District 29 Senate seat, which includes southern and western portions of Palm Beach County.
WENDA LEWIS WAS SUBJECT OF FDLE CAMPAIGN CASH PROBE via Legislative IQ powered by Lobby Tools – Lewis, an oil executive running for House District 21, was the subject of two-year Florida Department of Law Enforcement investigation over illegal campaign contributions for her boyfriend's 2010 state House run … Lewis was never charged, and her lawyer says the whole case was simply the result of a political novice who didn't understand complex campaign finance laws. According to the FDLE report, dozens of Lewis Oil employees said they were reimbursed for contributions to Remzey Samarrai's campaign … sometimes involved cash-stuffed envelopes, family members unexpectedly finding their names on campaign finance reports and allegations of "organized fraud" against oil giant Chevron. Several employees told investigators that one day in June 2009, when Samarrai was seated in a conference room in the Lewis Oil offices, Lewis gave them each money, one by one, and asked them to walk into the other room and hand it to Samarrai.
LISA MONTELIONE ANTICIPATES 'INCREASING' PUBLIC SERVICE BY RUNNING FOR STATE LEGISLATURE via Mitch Perry of Florida Politics – Although Montelione announced last fall that she would challenge fellow Democrat Mike Reedy in the House District 63 primary election … she didn't officially submit her resign-to-run letter announcing her departure from the Tampa City Council until last week. She wrote she was submitting her resignation with "a heavy heart," and jokingly said … that putting such sentiments on paper to formally resign "was a task and a half." But she quickly took exception to the idea she's hoping to move up and assume more power if she's able to win the primary and then be victorious over Republican incumbent Shawn Harrison in the fall. "It's an increase in my public service so I'm able to represent more people in the area that I've been in for 37 years and work on bigger issues," she said, while taking a break from greeting guests at a fundraiser at the Columbia Restaurant in Ybor City.
— "Mark Black leaves race for HD 12" via Legislative IQ powered by Lobby Tools
— "Democrat Jay Rideout dropped out of House District 85" via Legislative IQ powered by Lobby Tools
FPL CUSTOMERS, BACKERS URGE RATE INCREASE via Susan Salisbury of the Palm Beach Post – Florida Power & Light's quality of service, reliability and contributions to the community were lauded by those representing businesses, nonprofits and average customers, most of whom said the company deserves the $1.337 billion rate increase it's seeking. The Florida Public Service Commission hearing held at the Solid Waste Authority of Palm Beach County is the third of nine being held around the state. The majority of the 50 people who spoke at the podium for three minutes during the three-hour meeting said they were contacted by FPL employees who asked if they would attend the hearing and speak about their experiences with FPL. About 10 attendees spoke against the rate increase, including several who said the hearing was "stacked" with people FPL had hand-picked. FPL is seeking a $1.337 billion, four-year base rate increase. If approved by the PSC it would begin in phases starting in 2017. The total bill for a residential customer who uses 1,000 kilowatt hours a month would jump to $105.45 by June 2019 from $91.84 today.
STUDY PROPOSED FOR LARGE ALACHUA, FRANKLIN CONSERVATION LAND BUYS via Bruce Ritchie of POLITICO Florida – A state council will consider whether to further study five new proposals to conserve more than 62,000 acres across the state. Two of them involve significant planning disputes in Alachua and Franklin counties, while a third would play a role in protecting Corkscrew Swamp in Southwest Florida. The proposals highlight the need for the Legislature to provide more money for conservation land-buying as the state's population grows, said Brad Cornell, Southwest Florida policy associate with Audubon Florida. "We really must keep up with that constant growth with continued conservation," Cornell said. "We need to finish the conservation already on the books." Among the proposals to be considered by the Acquisition and Restoration Council is a conservation easement on 37,495 acres, much of it owned by the Weyerhaeuser Co., in eastern Alachua County. The county in March voted down the company's proposal to develop on 3,380 acres because of environmental concerns.
DISNEY OPENS 'DISTINCTLY CHINESE' SHANGHAI PARK via Paul Traynor and JOE McDonald of The Associated Press – A Chinese vice premier joined Disney CEO Bob Iger in cutting a red ribbon as the park opened, signaling the ruling party's endorsement of the $5.5 billion investment in promoting tourism and other service industries at a time of slowing economic growth. They read out letters of congratulations from the Chinese and American presidents, Xi Jinping and Barack Obama. Shanghai Disneyland gives the Hollywood giant a chance to burnish the brand behind "Frozen" in the world's most populous film market and to revive its struggling international theme park business. "This is one of the proudest and most exciting moments in the history of The Walt Disney Co.," said Iger … The park's opening follows a decade of negotiations, five years of construction and weeks of having over 1 million visitors try out its rides, shops, restaurants and two hotels … The company added China-themed elements and put the emphasis on popular characters at the Shanghai park, while downplaying its American identity. At the entrance, instead of "Main Street USA," it's "Mickey Avenue." Ahead of the opening, Iger said the park was "authentically Disney and distinctly Chinese." In a garden leading to its iconic Storybook Castle, Disney created a "Garden of the Twelve Friends" using characters such as Remy from "Ratatouille" and Tigger from "Winnie the Pooh" as animals of the Chinese Zodiac. Disney says the park's Wandering Moon Teahouse, modeled on a building in eastern China, is the only Chinese-style structure in any of its parks. Analysts expect Shanghai Disneyland to become the world's most-visited theme park, attracting at least 15 million and as many as 50 million guests a year. By contrast, Walt Disney World drew 19.3 million people in 2014.
HERE'S WHO GAMBLERS THINK WILL DIE NEXT ON GAME OF THRONES via Megan Friedman of Esquire – Irish bookmaking site BoyleSports set up a special market to see who might kick the bucket on the show next. It seems like people are expecting Jon Snow to win Sunday night's Battle of the Bastards, as Ramsay Bolton has the highest odds of dying next. Cersei Lannister is next on the list, especially now that the Mountain can't defend her in a trial by combat. Here are the odds for all the major characters: Ramsay Bolton: 1/3; Cersei Lannister: 11/4; Brienne of Tarth: 9/2; Tommen Baratheon: 9/2; Melisandre: 11/2; Margaery Tyrell: 8/1; Bronn: 9/1; Jon Snow: 9/1; Jamie Lannister: 10/1; Tyrion Lannister: 16/1; Theon Greyjoy: 16/1; The Hound: 20/1; Arya Stark: 33/1; Lord Varys: 33/1; and Daenerys Targaryen: 33/1.
HAPPY BIRTHDAY to Brett Doster, Toby Philpot, and Donna Main.