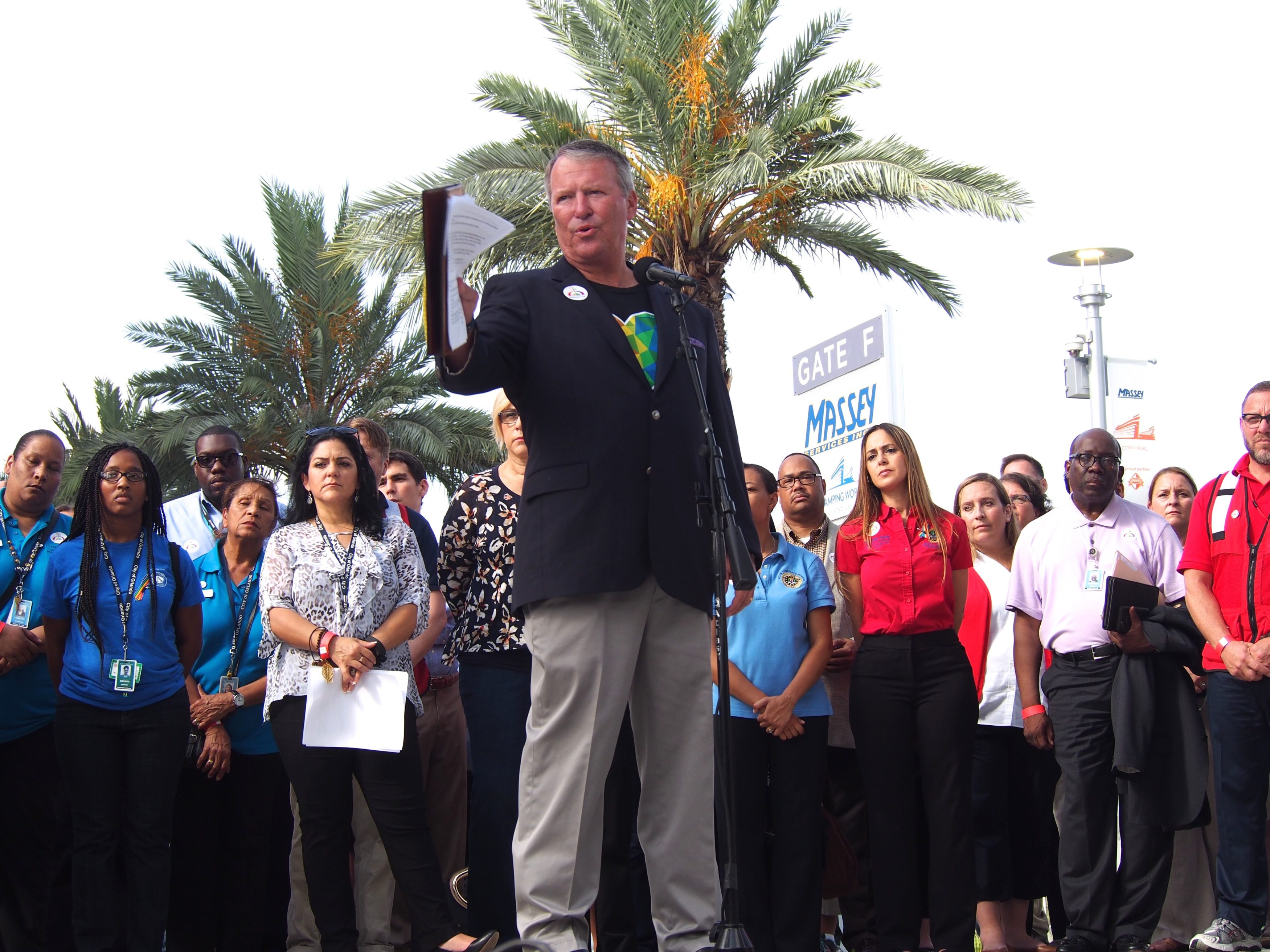 A family of 16 from Mexico reluctantly came to Orlando's Camping World Stadium Thursday seeking burial help for their beloved son, slain in Pulse Sunday night.
The family members were distraught, not knowing what they needed or how even to ask. They came to Orlando's established-on-the-fly Orlando Family Assistance Center with just one request and, and before they left, 27 different agencies had identified needs for the family and met them.
Orlando Mayor Buddy Dyer and a host of representatives of the 35 different services who've set up shop at Camping World Stadium outlined how the center already has helped 94 families — 256 people — on the first day. The center will remain open to anyone affected by the Pulse shooting, through at least Sunday.
"We're showing the world we are, in fact, Orlando United," Dyer said.
The next step, Dyer said, is to arrange procedures and guidelines for the OneOrlando Fund, which already has raised more than $7.5 million. Dyer said the city now intends to get that money directly to families and surviving victims, as soon as possible.
"We're working through that. Many of the communities that have set up these funds have taken weeks and weeks to distribute the funds. We are working through how we can directly distribute the funds, and on what criteria," Dyer said.
In the case of the Mexican family, as with all the families, the FBI provided case management. In their case, the Consulate of Mexico arranged coordination. The American Red Cross provided advocacy and support. The Florida Crisis Response Team made referrals. The State Attorney's Office Victim Compensation Fund provided for the funeral. American Airlines provided for their travel. U.S. Homeland Security resolved immigration and security problems and Immigration & Customs provided immigration support. The Florida Bar provided free legal help and arranged for them to file a Bar complaint. The Salvation Army provided lunch, water and snacks. The Florida Department of Motor Vehicles provided for the transfer of their deceased son's car title. Orange County Fire & Rescue and Barton Regional Hospital provided anxiety and blood pressure medical care. Fourteen other agencies provided everything from child care to grief counseling to repairs for their son's car.
"This family was actually taken to a resident respite room, and folks were brought to them because they were overwhelmed and distraught," said Amy Decker, a volunteer with the American Red Cross.
"It is such a blessing for all the families," Decker said. "What's happening here is everything these people need, through the love and support of the country and the world and the city of Orlando. They're very grateful."
The effort already has provided more than 200 free airline tickets. Eighty-five compensation claims have been filed seeking help from expenses, including claims from all 49 families of the deceased.