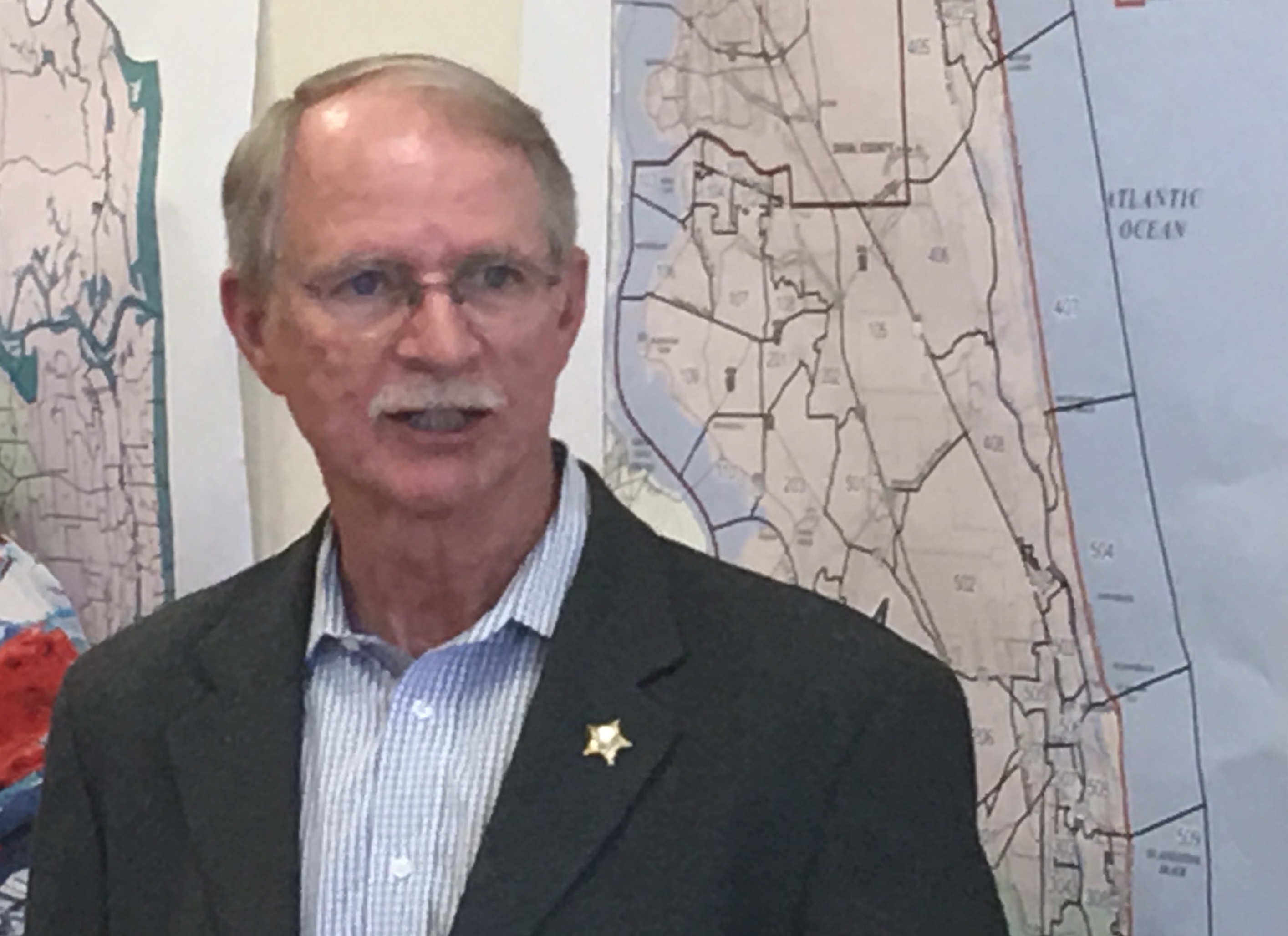 On Friday evening, at his new Congressional campaign headquarters, former Jacksonville Sheriff John Rutherford was beaming with happiness.
His friends and family were on hand, and the small room, full of people there to pick up yard signs and wish him well, felt more like a house party than the opening of a campaign office.
That surge of popular support belied the assertion by at least one primary opponent: that Rutherford was a "coronated" candidate by the elites. He diverges from that take.
"I was picked by the people. Look at the polls," Rutherford said. "I'm blessed to have the support of the people … it goes back to the fact that people know John Rutherford."
Throughout our conversation Friday afternoon, the former sheriff exuded confidence in his chances – and did not shy away from even the tough questions.
One such question related to the distinct possibility that Rep. Ron DeSantis, whose home is now in the 4th Congressional District, may enter the race in lieu of running for Senate if Marco Rubio decides to run for re-election.
"I'm prepared to go against anybody in the race," said Rutherford, who described himself as "in it to win it" and not worried about what might happen if "someone wants to parachute in."
Another such question related to the possibility, floated by some consultants, that a line of attack against Rutherford might involve critiques of increased budgets at the Jacksonville Sheriff's Office during his tenure.
The budget did indeed go up, Rutherford said; personnel was needed to fight a wave of murder and violent crime.
"By 2011," Rutherford said, "the lowest rates of violent crime and murder since 1970" prevailed.
"We were woefully understaffed," Rutherford added, quoting an independent "Matrix" audit that said that the JSO was efficient, effective, and responsive, and that staffing insufficiencies were central to the crime problem last decade.
Along those lines, Rutherford also weighed in on the pension tax referendum.
"If that does not pass," Rutherford said, "nothing else matters in Jacksonville. If we don't take care of this, we are the Detroit of the South."
Rutherford noted that the development of St. Johns County commuter communities for Jacksonville has been happening for some time, eroding a potential tax base going back to 1990.
****
Those who don't know John Rutherford have a fixed impression: a sheriff who knew well how to use the bully pulpit of the media to serve up "tough on crime" messaging, an authoritarian voice.
That's not the John Rutherford of 2016. A reflective man, enthralled with his life, his wife of 43 years, and his grandchildren, he seems intent on running a race his friends and family can be proud of.
His brief remarks to supporters at his headquarters Friday lacked pyrotechnics, instead referencing consensus-building and collaboration.
"In the legislative process," Rutherford said, "you've got to have good relationships on both sides of the aisle."
Rutherford spoke of coalition-building and the need to "build relationships," saying that "if you're looking for an ideologue to [go up to DC and] blow things up, that's not me, that's not [in] my character."
"People want to know you care about them," Rutherford continued. "Being here to help with your problems … that's why people trusted us, worked with us."
****
Rutherford countered the assertion of certain critics that it takes a long time to get into leadership in Washington.
"Got to be there 15 to 20 years to get into leadership? That's not true. If it takes you 15 to 20 years, we don't need you."
He also asserted his commitment to the race, citing the impact he knew it would have on his family.
"It really takes a lot from them when you run. For me to take time from them, you know I'm committed."