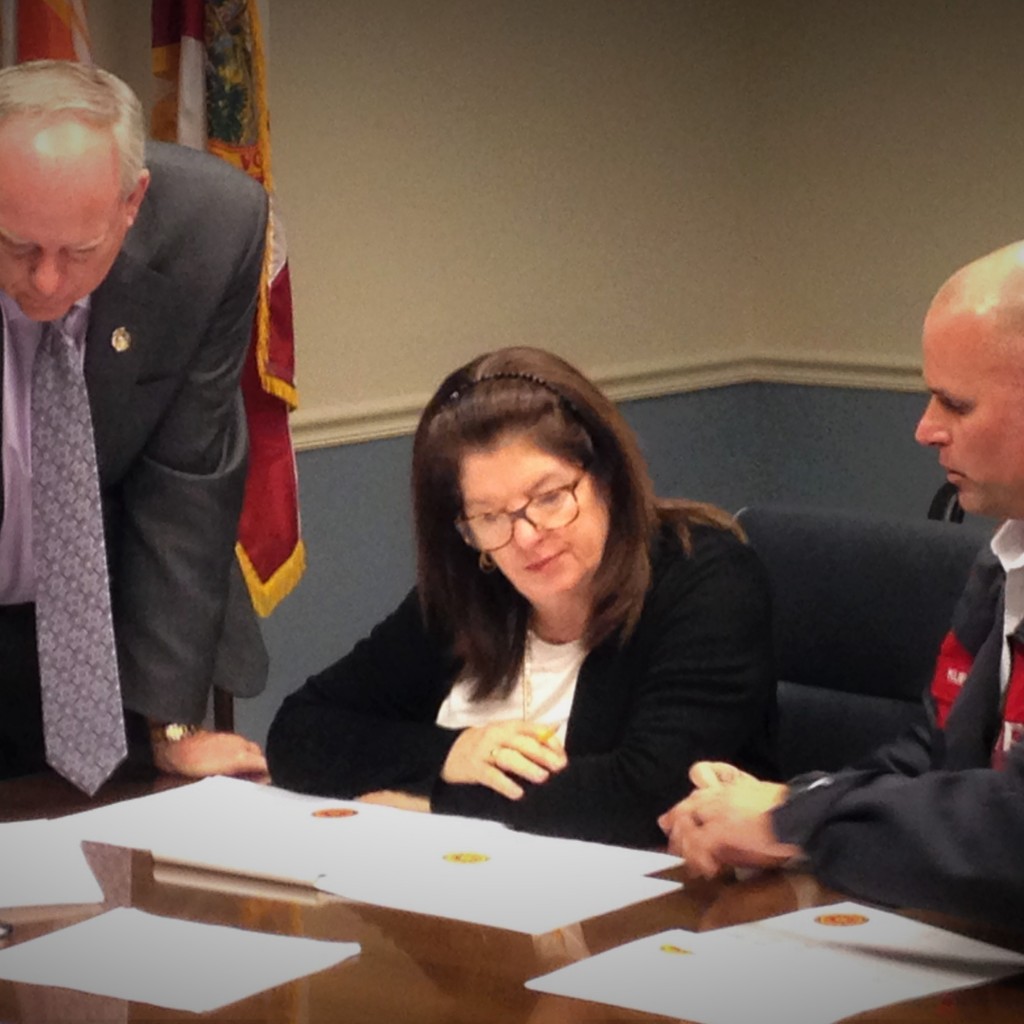 Many of those outside the walls of the St. James Building in Jacksonville won't take notice when Lori Boyer assumes the presidency of Jacksonville's City Council from outgoing President Greg Anderson  in less than two weeks.
Chances are they will feel the effects though, as the second-term Southside Republican seeks to reassert the role of the legislative branch, especially regarding its budgetary and policy-setting responsibility.
She seeks to have the council more involved in boards and commissions, empowering council members to advocate the concerns of their district, and to give the council more of a co-equal role with the mayor's office than it currently has.
The FloridaPolitics.com interview with Boyer addressed a wide range of issues: fulfilling the promises of consolidation, bringing new members of the council into leadership, the Human Rights Ordinance (HRO), capital improvements, vehicles for hire, and the city's financial reserves as global recession looms.
Regarding consolidation, Boyer says "some promises haven't been met," a point she didn't elaborate on, but which clearly relates to Northwest Jacksonville, the Eastside, and other areas that haven't seen tangible improvement in the last half-century.
Council, said Boyer, has a "legislative and policy role" according to the city's charter, one that sometimes gets obscured by "day-to-day bills" that preclude the council from being as proactive as it should be.
Boyer, who wants to see everyone "given the opportunity to move their agendas forward," recognizes that the last year hasn't seen that.
Eleven new members of the body, and what she calls "epic Sunshine Law/public records issues" related to multiple council members texting with the fire union chief on budget night to move money to his budget, got in the way.
As well, she will be training people, via "lunch and learns," on the mechanics of running council offices and performing effectively. and giving them better understanding of everything from Community Redevelopment Areas (CRAs) to the role of the council during states of emergency.
Those lunch and learn sessions will also include "featured districts," in which their representatives discuss the challenges in those individual districts in depth.
The idea: a "big-picture vision," allowing members of the council to "create the future" they were elected to actualize.
****
Boyer's vision of an expanded role extends to committees, which will see changes.
There will now be six standing committees, Boyer says, with both Finance and Rules moved to later in the committee week.
Recreation, Community Development, Public Health, and Safety — yes, that's one committee now — will be split up, with the "Recreation and Community Development" side incorporating concerns related to the Neighborhoods Department.
That committee, and all the others, will have expanded roles: no more five-minute committee meetings under this model. The committee incorporating Neighborhoods' concerns will have regular interface with the Housing department. Public Health and Safety, as well, may explore the feasibility of body cameras for police officers.
The Neighborhood Improvement and Community Enhancement special committee will be relegated to the dustbin of history, its role rolled up into the committee with Neighborhoods and community development.
The idea: to "elevate the stature of other standing committees," to push a "broader vision" where "every neighborhood in Jacksonville is safe and clean."
Meanwhile, expect new blood in "most, if not all, chair positions." These first-term council members will be, Boyer said, "supported by strong vice-chairs" to help conquer the recurring "continuity challenge."
****
Regarding boards and commissions, Boyer says, "plenty of challenges remain," and the council needs to take a role in ensuring that boards, commissions, and independent authorities, ranging from JEA to the Sheriff's Office and the Police and Fire Pension Fund "need to be more on the same page."
Plenty of challenges also remain on the front of the HRO, with legislation expected to be introduced right around the time college football season kicks off.
"Obviously anybody can file any bill when they want," Boyer said.
Given that this has been a "hotly contested bill" twice already, Boyer encourages whoever may file it to lay the groundwork more cautiously than might have been the case in the past.
"Take time to meet with council members and build consensus before filing the bill," Boyer urges as "hearings can be divisive" and laden with "acrimony."
At this point, Boyer's "hope would be that the legislation goes through a normal hearing process," rather than the structure that prevailed earlier this year.
"Is there a consensus? That's Council work. Whoever is thinking about introducing legislation," Boyer said, should "meet with colleagues first."
"For some of us," Boyer said, the sticking points are "all about language," including reasonable exceptions and accommodations.
As well, the previous discussions never got to issues like how other jurisdictions handle similar legislation.
"The dialogue can hopefully happen before the bill is filed."
****
Council was criticized heavily last week for not mentioning the targeting of LGBT victims in its Pulse resolution last week.
"City Council as a body can only act as a body," Boyer said regarding the resolution filed by Bill Gulliford, a historic opponent of HRO expansion.
Boyer noted the resolution was mentioned during the agenda meeting at 4 p.m and filed between 4:30 and 5, which didn't permit much time.
"Our hearts were in the right place," Boyer said. "We stand with you, and support you."
****
Other issues, of course, remain.
One of them: the Vehicles for Hire committee, where Boyer says "some points of conflict have been narrowed," where the rest will be hammered out in standing committees, and "if neither side budges, it's going to come down to who gets 10 votes."
Another issue, probably more important than the fate of Uber, Lyft, and the cab industry: this year's Capital Improvement Plan.
"Last year," said Boyer, "the CIP got a boost from one-time money. We're not going to have that this year," Boyer said, which will impact first-year allocations.
Positive bumps, Boyer said, will be provided through JEA funds; specifically, $15 million earmarked to water and sewer improvements, via the JEA Agreement. And $1 million this year from Florida Inland Navigation District funds.
"Other than those," Boyer said, "it's a decision about borrowing," predicated on questions of "debt affordability" and the greatest needs.
****
With certain indications that the economy is about to turn south, such as a slowing in job creation nationally and an equity downturn, an important question to consider is the reserve policy.
President-Designate Boyer is not overly concerned, saying the council has been "pretty cautious in its reserve policy," ensuring surplus is rolled into reserves.
Important considerations: the "backlog of needs for capital improvements," most vividly illustrated in recent years with the collapse of the Liberty Street/Coastline Drive span.
"At some point," Boyer said, "it makes more sense to address these than to let them deteriorate."