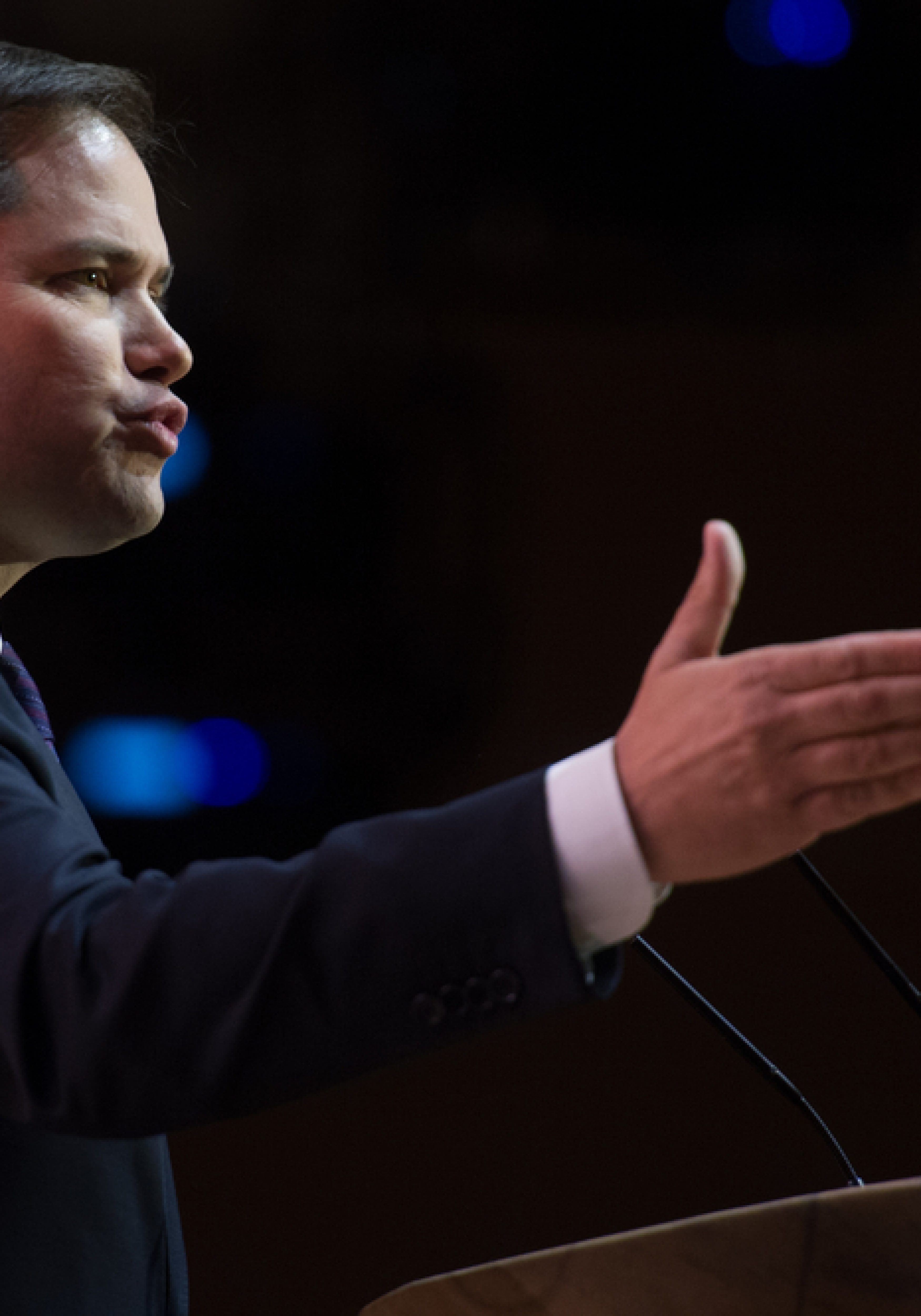 It's official: Marco Rubio is running for re-election.
The Miami Republican announced Wednesday he planned to run again in 2016. The announcement came after weeks of speculation about whether Rubio would seek another term in the U.S. Senate. The decision reverses a pledge to return to private life when his term was over in January.
"In politics, admitting you've changed your mind is not something most people like to do. But here it goes," said Rubio in a statement. "I have decided to seek re-election to the United States Senate. I understand my opponents will try to use this decision to score political points against me. Have at it. Because I have never claimed to be perfect, or to have all the answers."
Rubio announced in 2015 he was running for the presidency. While he was considered by many to be a top contender, his presidential campaign failed to gain steam. He suspended his campaign in March, following a poor showing in the Florida primary.
Rubio received 27 percent of the vote, coming in second behind Republican Donald Trump. Trump won nearly 46 percent of the vote, coming out on top in most of the state's 67 counties.
In his announcement Wednesday, Rubio said: "no matter who is elected president, there is reason for worry."
"With Hillary Clinton, we would have four more years of the same failed economic policies that have left us with a stagnant economy. We would have four more years of the same failed foreign policy that has allowed radical Islam to spread, and terrorists to be released from Guantánamo," he said. "And even worse, if Clinton were president and her party took control of Congress, she would govern without Congressional oversight or limit. It would be a repeat of the early years of the current administration, when we got Obamacare, the failed stimulus, and a record debt."
Rubio said the prospect of a "Trump presidency is also worrisome."
"It is no secret that I have significant disagreements with Donald Trump. His positions on many key issues are still unknown. And some of his statements, especially about women and minorities, I find not just offensive but unacceptable," said Rubio. "If he is elected, we will need Senators willing to encourage him in the right direction, and if necessary, stand up to him. I've proven a willingness to do both."
Political observers have long said the state's Senate race will be one to watch, and Republicans have said it could be key to keeping control of the Senate. A Quinnipiac University poll released Wednesday morning found Rubio was the best bet for Republicans in a general election matchup.
The survey found Rubio would defeat Democrat Patrick Murphy 47 percent to 40 percent. In a hypothetical matchup between Rubio and Democrat Alan Grayson, Rubio would receive 48 percent of the vote to Grayson's 40 percent.
Rubio said Wednesday the Senate is a place "from which you can perform great services for the people you have the honor of representing." He also called the Senate a place "from which great policy advances can be made."
"But as we begin the next chapter in the history of our nation, there's another role for the Senate that could end up being its most important in the years to come: The Constitutional power to act as a check and balance on the excesses of a president," he said. "Control of the Senate may very well come down to the race in Florida. That means the future of the Supreme Court will be determined by the Florida Senate seat. It means the future of the disastrous Iran nuclear deal will be determined by the Florida Senate seat. It means the direction of our country's fiscal and economic policies will be determined by this Senate seat. The stakes for our nation could not be higher."
Rubio's decision, which comes just two days before the end of the qualifying period, has already had an impact on the Republican field. Five Republicans had initially thrown their hat in the race to replace Rubio, but that number is quickly dwindling.
Rep. David Jolly announced last week that he was dropping his Senate bid, choosing to run for re-election in Florida's 13th Congressional District. Rep. Ron DeSantis is also expected to end his Senate bid.
Lt. Gov. Carlos Lopez-Cantera, a longtime friend of Rubio's and a Senate candidate, said he encouraged Rubio to reconsider his decision. Lopez-Cantera said he would not file to run if Rubio decided to get in the race, and on Wednesday made it official.
"As his friend, I know this was a thoughtful yet difficult decision that was made with our country's best interest at heart. Florida needs a principled conservative leader now more than ever, and that is what Marco has been and will continue to be," he said in a statement. "Additionally, as I previously stated, I will not file as a candidate in this U.S. Senate race, continuing my service as Florida's lieutenant governor with Governor Scott focusing on Florida."
Republicans Todd Wilcox and Carlos Beruff both said they plan to stay in the race, regardless of Rubio's decision. In a statement Wednesday, Beruff said he is "not going to back down from the Washington establishment."
"This isn't Marco Rubio's seat; this is Florida's seat. The power brokers in Washington think they can control this race.  They think they can tell the voters of Florida who their candidates are. But the voters of Florida will not obey them," said Beruff. "Like Marco Rubio in 2010, I'm not going to back down from the Washington establishment. They are the problem, not the solution."
Wilcox said he decided to run "because of the complete failure on the part of our elected civilian leadership to solve the problems we face as a nation."
"I am tired of going into the voting booth and holding my nose to vote for the least-worst candidate on the ballot.  We need to elect serious leaders that understand our enemies and our economy," said Wilcox. "I have 27 years of real world experience in national security and the economy, experience that is desperately needed in Washington now more than ever. None of that has changed based on yet another career politician entering this race."
Rubio has already received the support of the National Republican Senatorial Committee. The organization swiftly issued a statement saying Rubio will have its full support.
"Marco Rubio is a valued leader for Florida and for our country, and I welcome his decision to ask voters for the opportunity to serve once again," said Sen. Roger F. Wicker, the chair of the NRSC. "Senator Rubio has made a lasting impact when it comes to standing up against the failed Obama agenda and has articulated a clear vision for making our country safer and more prosperous. His campaign will have the full support of the NRSC."
The decision to run for re-election means Rubio will have to spend the next few weeks campaigning across the state.
The Republican primary is Aug. 30, but vote-by-mail ballots will be sent to military and overseas voters on July 16. Elections officials will begin sending vote-by-mail ballots to domestic voters beginning July 26.
While Rubio may be the most well-known candidate in the race, he could face some challenges. According to the Quinnipiac University poll released this week, 45 percent of Floridians said they approve of the job he is doing in the U.S. Senate; while 44 percent said they disapproved.
Rubio said he made the decision after discussing it with his wife and their four children while in West Miami for Father's Day.
"There was one path that was more personally comfortable and probably smarter politically. But after much thought and prayer, together we chose to continue with public service; to continue down the path that provides the opportunity to make a positive difference at this critical and uncertain time for our nation," he said. "In the end, there was simply too much at stake for any other choice."
__
Reporter Scott Powers contributed to this report.