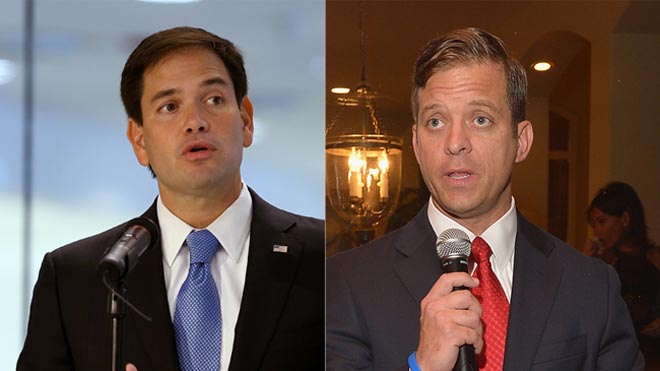 Shortly after Marco Rubio officially announced he would be running for re-election to his U.S. Senate seat, his good friend Carlos Lopez-Cantera said he would be dropping out of the race.
"I want to thank all of my supporters in this campaign, and I want to congratulate and thank Marco for his decision to pursue re-election to the U.S. Senate," he said in a statement. "As his friend, I know this was a thoughtful, yet difficult, decision that was made with our country's best interest at heart. Florida needs a principled conservative leader now more than ever, and that is what Marco has been and will continue to be. Additionally, as I previously stated, I will not file as a candidate in this U.S. Senate race, continuing my service as Florida's lieutenant governor with Gov. Scott focusing on Florida."
When the stories began circulating earlier this month that Rubio was thinking seriously of reversing himself and getting back into the race, one of the most serious barriers to doing so appeared to be his friendship with Lopez-Cantera. Though Rubio had never officially endorsed the lieutenant governor and a man he has known for 20 years, he never shied away from making positive remarks about his candidacy, and in fact hosted a fundraiser for him in Washington.
And Rubio said this about CLC earlier this year in Miami:
"I want to introduce you to a really good friend of mine and someone who could very well be — thanks to [and] with your cooperation — he could be the next Senator from Florida taking the position that I'm going to leave because I'm going to be president. His name is [Lt. Gov.] Carlos Lopez-Cantera," Rubio said.
But momentum continued to build for Rubio to re-enter the race, with Senate Republicans urging him to do so.
Then came the shooting massacre in Orlando in the early morning hours of Sunday, June 12. While both men visited Orlando later that day, the two had a conversation, according to Politico, that led CLC to tell Rubio that "you should reconsider running for your seat."
The idea that Rubio was using the Orlando tragedy as a pretext to get back into the race was "despicable," said South Florida Democrat and Senate candidate Patrick Murphy over the weekend.
That led to the last 10 days of Rubio being asked almost daily if he would get into the race. Rubio said late last week that he would spend time with his family in West Miami over the weekend to make his decision, which came Wednesday morning.
"I spent nearly a year on an incredible journey campaigning for this race, and I know firsthand the investment of time, energy and resources that go into this, but this race is bigger than any one person," Lopez-Cantera said in his statement. "It is critical for Florida, and for the future of our country, that a Republican with the ability to make a difference on the critical issues facing our state and nation wins this seat, and Marco has demonstrated that ability time and time again. With that in mind, I encourage Carlos Beruff and Todd Wilcox to do what is right and unite behind Marco's re-election so we can ensure that we have the best candidate with the best ability to represent all of our families in the U.S. Senate."
For now, Lopez-Cantera will go back full time to his day job, serving as Florida's lieutenant governor. Rumors have been percolating that he may consider a statewide position, like chief financial officer in 2018, but that is pure speculation at this point.