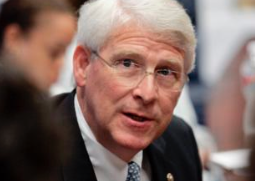 For more than a year, Republicans in the U.S. Senate played no favorites among candidates running to replace U.S. Sen. Marco Rubio, but now that Rubio has decided last-minute to seek re-election that changed swiftly.
The chair of the National Republican Senatorial Committee, Roger Wicker of Mississippi, quickly declared Rubio will have "the full support of the NRSC."
"Marco Rubio is a valued leader for Florida and for our country, and I welcome his decision to ask voters for the opportunity to serve once again. Sen. Rubio has made a lasting impact when it comes to standing up against the failed Obama agenda and has articulated a clear vision for making our country safer and more prosperous," Wicker said in a news release issued by the NRSC within the hour of Rubio's announcement.
There may not be many left to choose. Last week, partly anticipating Rubio's entry, U.S. Rep. David Jolly of Seminole withdrew from Florida's Republican U.S. Senate primary race. Lt. Gov. Carlos Lopez-Cantera departed Wednesday. U.S. Rep. Ron DeSantis of Ponte Vedra Beach is expected to get out. That would leave businessmen Todd Wilcox of Orlando and Carlos Beruff of Bradenton.
Wicker turned attention to Florida's Democratic primary fight, led by U.S. Reps. Patrick Murphy of Jupiter and Alan Grayson of Orlando.
"While Marco is already in a strong position to win, Democrats are currently locked in a bruising primary that will produce a weak nominee and cost millions of dollars," Wicker stated. "The Democrat establishment has gone all-in for Patrick Murphy, who has fabricated every piece of his resume except for the fact that he is a sitting Congressman and holds his office thanks to a family fortune. Alan Grayson is, in a word, unelectable. Neither candidate is a match for Marco Rubio, and I will be proud to have him as a member of our Republican majority for years to come."