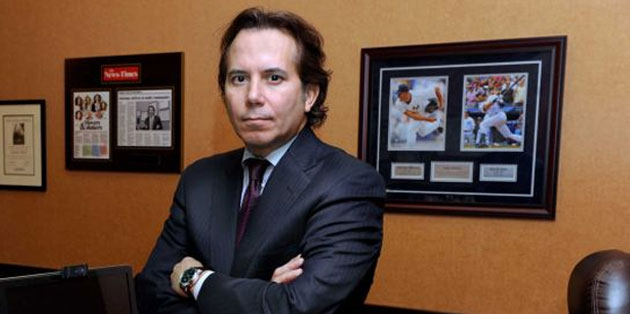 As the deadline for state legislative candidates expired at noon on Friday, there were four Democrats on the Aug. 30 ballot in the Senate District 19 race that encompasses both Hillsborough and Pinellas Counties. Three all relatively well known — Ed Narain and Darryl Rouson currently serve in the Florida House, and Betty Reed previously held Narain's HD 61 seat.
Add to that mix one Augie Ribeiro, 52, the Chief Executive Officer of the law firm of Ventura, Ribeiro & Smith, who has only lived full-time in St. Petersburg for the past three years, and has never run for political office.
Ribeiro says that it was after he attended a candidates forum in South St. Pete earlier this month that he came away convinced that he could offer something different to the voters in SD 19. "I listened to their answers, and I came home, and I had a discussion with my wife, and I said, 'I think it's time for us to step up.'"
Ribeiro's wife is Dr. Sarah Lind, who served as deputy mayor of Schools and Policy for the city of St. Petersburg for Rick Baker back in the aughts. She also worked at Gibbs, Lakewood and St. Petersburg high schools. She's the reason Ribeiro left the Northeast to come to live, work and play in the 'Burg.
A recent poll of the SD 19 contest showed Narain and Reed splitting the Hillsborough vote, allowing Rouson to catapult to the top of the field. While Narain has the endorsements from eminences in the Tampa Democratic machine like Kathy Castor and Mike Suarez, Rouson has countered with the public support of nearly every elected Democratic official in Pinellas County.
There is also the fact that the district consists of a strong minority makeup, something that doesn't faze Ribeiro, the son of Hispanic immigrants from Portugal who emigrated to New York City (he grew up in Lower Manhattan). He says his cultural values are aligned perfectly with the district.
"As a civil justice lawyer, I've represented thousands of people of minority families," he says, adding that he speaks Spanish and Portuguese fluently. Among the cases he's been involved includes representing several Pinellas County cities after the BP oil spill in 2010. He also created a team of high-profile national attorneys to go against General Motors for its ignition-switch recall.
Ribeiro says he won't take campaign contributions from the insurance industry, payday lenders or utility companies in Florida in his campaign, and later in the conversation says the money that he will invest in the campaign will come only from himself, friends and family.
"I'm not going to be susceptible from any influence from corporate lobbyists," Ribiero says, "and I think my record of fighting big corporations is how I'm going to represent the kids and the families of this district in Tampa, when I fight against the entrenched interests that have hurt the health, education and welfare of this district."
When asked about the issues he cares about, Ribeiro speaks passionately about public education, which he calls the "fundamental pillar for the American Dream."
"It troubles me that education is on a downward spiral," he says. "It troubles me that 15,000 children in this district go to the bed hungry every night."
Ribeiro believes one should be inspired to get into the political arena, and he believes with his leadership qualities, he can fill that bill.
Nevertheless, the challenge is significant for him.
With the district's demographics overwhelmingly Democratic leaning, the winner of the Aug. 30 primary is the likely next state Senator from SD 19. The winner will take on Republican John Houman in November.