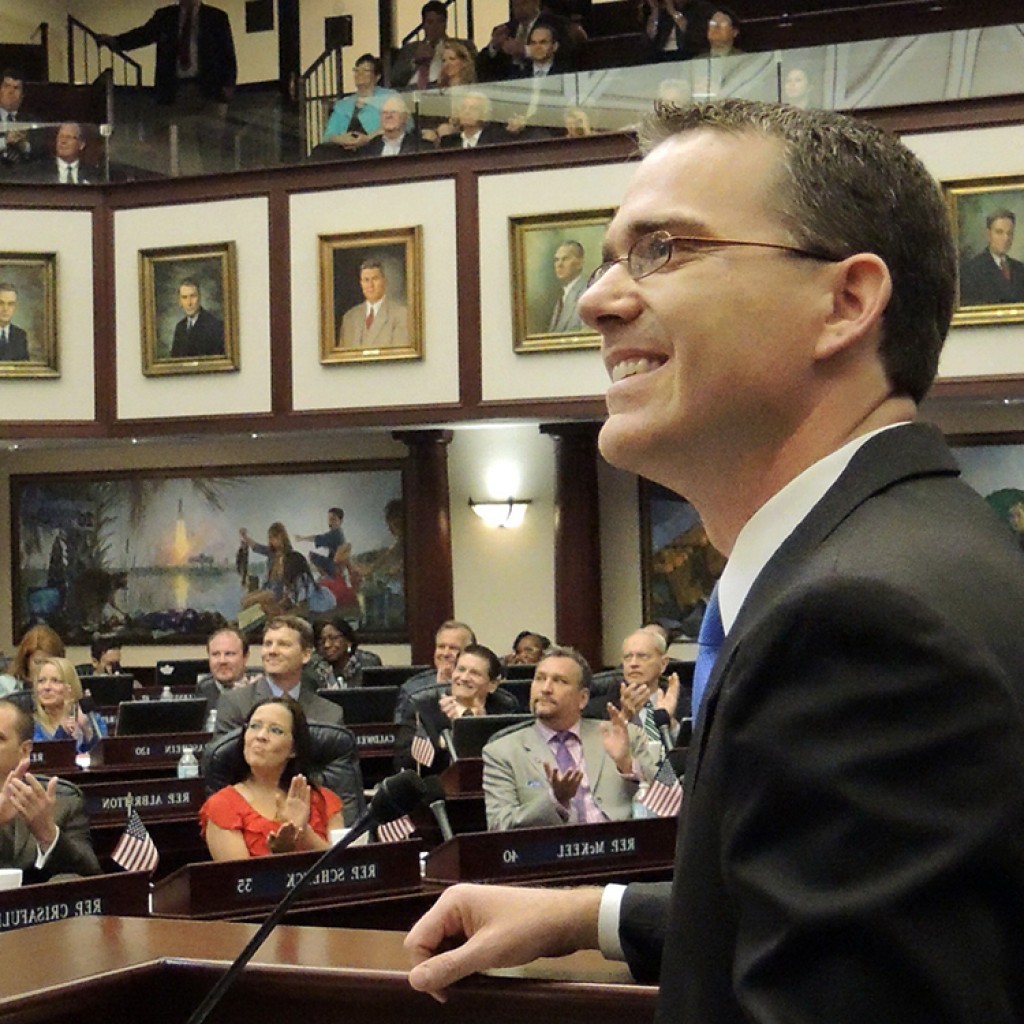 In what has been a frantic last day of filing and qualifying for Florida House of Representatives, Republican state Rep. Eric Eisnaugle of Windermere appears to have won re-election in House District 44.
More than five hours after the close of qualifying, Eisnaugle's anticipated Democratic opponent, David Trotter of Orlando, has not qualified. If that holds up through the late processing of Friday's candidate filings, Eisnaugle will be unopposed and automatically returned for another term.
Eisnaugle had little to worry about anyway. He represents a solidly Republican district in west Orange County, and he had about $85,000 in his campaign fund at the end of May while Trotter had not raised any money.
Eisnaugle's apparent re-election comes during a busy time that saw incumbent Republican state Rep. Larry Metz of Yalaha in House District 32 also appear to win another term as no one else has qualified; Republican state Rep. Jennifer Sullivan of Mount Dora pick up a primary opponent in House District 31; Republican state Rep. Jason Brodeur of Sanford lose his Democratic challenger but still wind up with an independent challenger for November in House District 28; and Democrat Carlos Guillermo Smith appears to lose his Republican challenger but still have an independent challenger in House District 49.
The only other candidate who filed in District 32, Tommy Hayfield of Leesburg, did not qualify.
Sullivan will face Theo Bob, a Republican from Eustis. The winner will face Robert Rightmyer, an independent from Apopka, in the HD 31 general election in November.
Brodeur has no primary opponents but will face independent Steve Edmonds of Oviedo in HD 28 in November. Democrat Julia Coakley of Winter Springs said Friday she is withdrawing, and Libertarian Franklin Perez of Oviedo has not qualified.
Smith, of Orlando, will face Shea Silverman of Orlando in HD 49 in November. Republican candidate Martin Collins of Orlando has not qualified.
In other Central Florida races:
Republican incumbent State Rep. Scott Plakon of Longwood will face Democrat Fred Marra of Lake Mary in House District 29 in November.
Republican incumbent state Rep. Bob Cortes of Altamonte Springs will face Democrat Ryan Yadav of Winter Park in House District 30 in November.
Republican incumbent state Rep. Mike LaRosa of St. Cloud will face Democrat Benny Valintin of Kissimmee in House District 42 in November.
House District 43 will have a three-way Aug. 30 Democratic primary between incumbent State Rep. John Cortes, former state Rep. Ricardo Rangel and Sara Shaw, all of Kissimmee. The winner will face independent Gilbert Soule of St. Cloud.
House District 45 will have a five-way Aug. 30 Democratic primary with the winner taking the seat. The qualified candidates are Kamia Brown of Ocoee, Kelvin Cobaris of Orlando, Greg Jackson of Orlando, William Jusme of Orlando, and Peter Pham of Orlando.
Democratic incumbent state Rep. Bruce Antone will have an Aug. 30 primary challenge from Sheena Meade of Orlando. There also is a qualified write-in candidate assuring a November general election, Treminasha Holmes of Orlando.
Republican incumbent state Rep. Mike Miller of Orlando will await the winner of a three-way Aug. 30 Democratic primary between Beth Tuura, Clint Curtis and Henry Lim, all of Orlando.
House District 48 features a Democratic primary between Amy Mercado and Alex Barrio, both of Orlando. The winner will face independent Gus Martinez of Orlando.
In House District 50, state Rep. Rene "Coach P" Plasencia will face George Collins in an Aug. 30 Republican primary. Democrat Sean Ashby will await the winner in the November election. All are from Orlando.