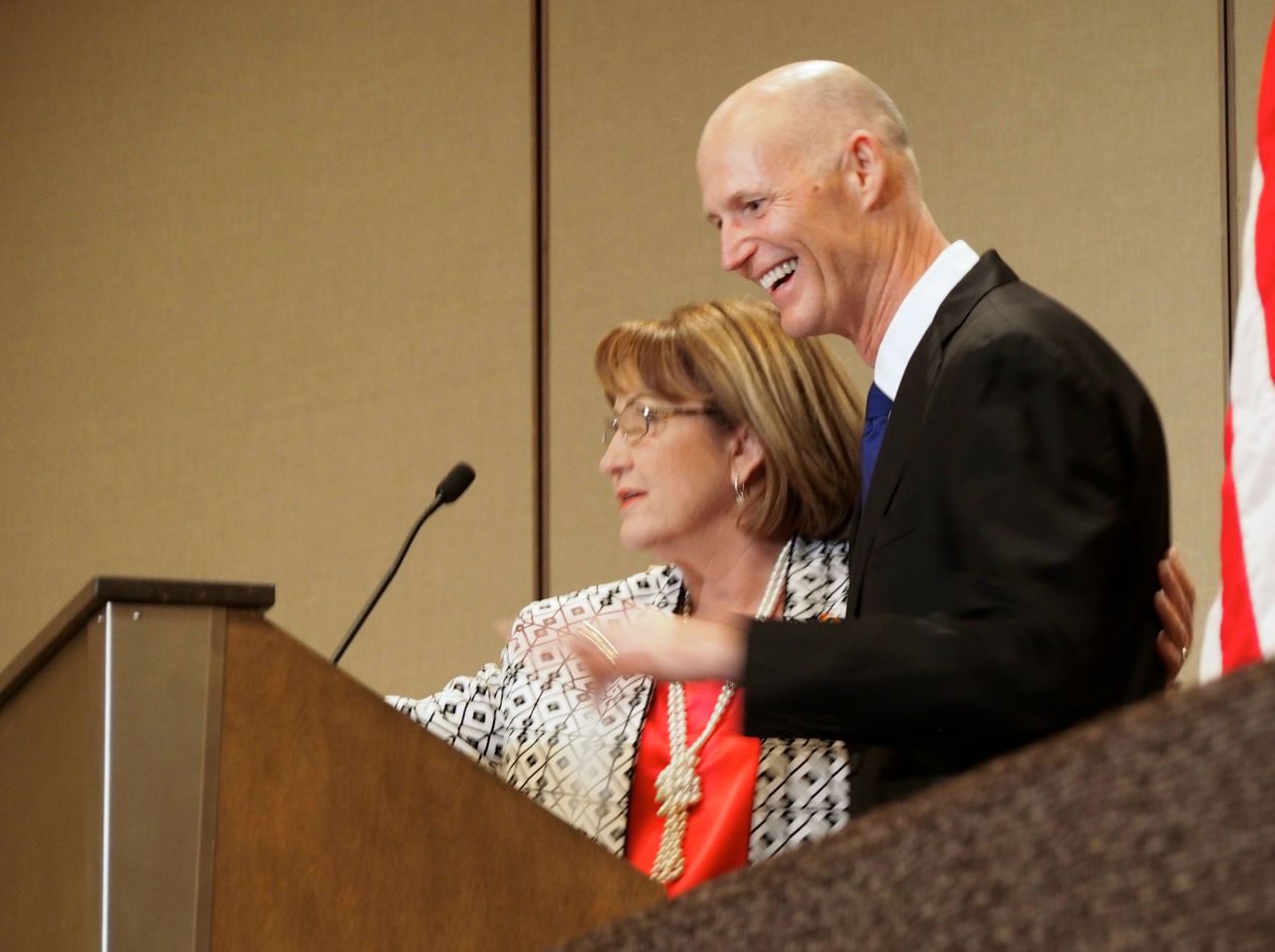 Orange County Mayor Teresa Jacobs gave Gov. Rick Scott high praise Wednesday for his response to Orlando's Pulse attack and said more Republicans need to step up to embrace the LGBT community.
Jacobs' comments came first in introductory remarks for Scott at the Florida Association of Counties meeting in Orlando, then in a discussion later with FloridaPolitics.com.
"To have the governor come and show the support that he showed, touched me," Jacobs concluded.
Jacobs' comments came a day after Orlando City Commissioner Patty Sheehan blasted Scott and other Republicans for not previously supporting the LGBT community before June 12 massacre at the city's popular gay nightclub, and then for "straight-washing" the tragedy by, as much as possible, ignoring the gay-hatred angle.
Jacobs would not address Sheehan's comments directly, saying she considered Sheehan a friend and someone she has always respected, even when they disagreed. But Jacobs said the governor she worked with in the weeks after the Pulse shooting deserved praise.
Both Jacobs and Scott are Republicans. Sheehan, a Democrat, also broadly criticized Republicans, including Scott and U.S. Sen. Marco Rubio, for not supporting the gay community, then expecting to be welcomed by that community in the time of a ferocious attack on it. Sheehan's comments reflected widely discussed concerns in the LGBT community since Pulse.
Jacobs said she would not discuss Scott's past record. But she said the governor did not warrant criticism for how he responded to Orlando's gay community's having been attacked.
"The governor actually used the term 'gay,' and talked about our gay community and supporting our gay community. I was a little bit surprised because I didn't expect that from him. And for him to be open and embracing and supportive and for his actions during over a week and a half of support, that was …," she said, unable to finish the sentence.
Jacobs also has received criticism for her past record on LGBT rights. She said the criticism has distorted her record, and she asserted she has always expressed support for the gay community.
"I think people have known what's in my heart and I've been very open about that," she said. "But our governor is often seen through the lens of news conferences. To see him on the ground, talking to families, it never came across to me that there was even one ounce of indifference or bias in the way he approached this. And the way he talked about the need to support and be there for our gay community, that is a side of him I haven't seen before … in actions, and words and deeds, that's how he responded."
At the same time, Jacobs did not disagree with Sheehan's broader assessment, and said more Republicans need to now embrace the LGBT community.
"A lot of people would like to not focus on the attack on the LGBT community. A lot of people would like to not talk about that. Was it a terrorism attack? Yes. Was it a hate crime? Yes. Has there been persecution against the LGBT community not just for decades, but for centuries? Yes. A lot of people don't want to acknowledge that, especially a lot of Republicans," she said.
"As a Republican, I think it's time for us to start talking about this. I think it's time for us to use this … to feel, and to recognize we're all human beings and we all deserve to be loved and protected and respected. And we have to have equal rights. And we shouldn't be discriminated against because of who we love," she continued. "That's just not right."
Scott, too, declined to comment on Sheehan's remarks given on a nationally broadcast satellite radio talk show on SiriusXM.
On Wednesday, he continued to describe the Pulse attack, in which ISIS-pledging Omar Mateen killed 49 people and wounded 53, first and primarily, as a terrorist attack, by radical Islam. "The enemy is ISIS. The enemy is radical Islam. The enemy is evil. That's what it is," Scott said.
But he also called it "obviously" an attack on the gay community and an attack on the Hispanic community.
"Let's remember what happened here. This shooter, this terrorist, attacked our gay community, attacked our Hispanic community. We have families that have lost their loved ones and their lives will never be the same," Scott said. "Now, what has our community done? What has our state done? What has country done? They have come together. This is a time of unity. This is a time we say, 'How can we help everybody who has been impacted by this? How can we take this opportunity to improve our society?' That's what we need to be thinking about every day."