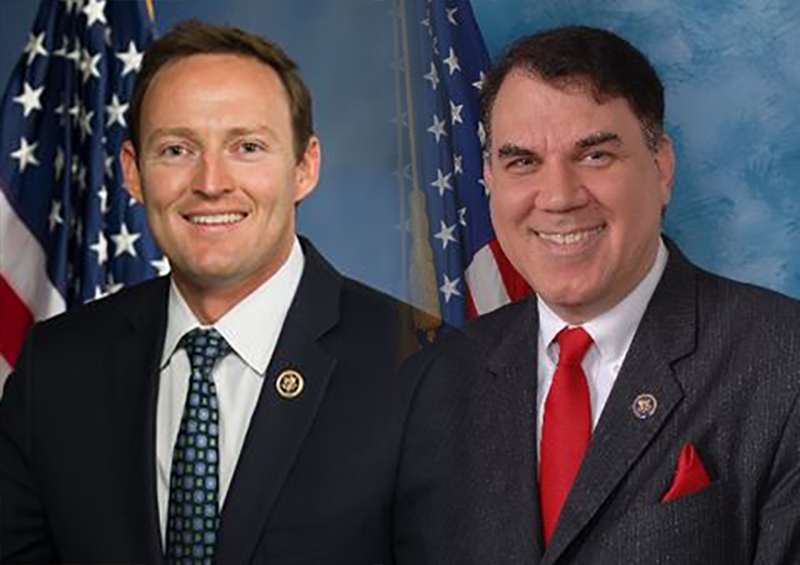 There's less than two months to go before the extremely competitive Democratic primary for U.S. Senate takes place, yet no debates have officially been scheduled between the two major candidates in that race, Patrick Murphy and Alan Grayson.
That may be changing though.
Or maybe not.
FloridaPolitics.com has learned three NPR affiliates in the state — WUSF in Tampa, WMFE in Orlando and WLRN in Miami — are attempting to hold radio debates between the primary candidates for both the Democratic and Republican parties during the first week of August at the studios of WMFE. The debates would be made available for every public radio station in the state to broadcast.
And the two Bright House all-news stations in the state — Bay News 9 in Tampa and News 13 in Orlando — also have expressed interest in hosting similar forums. But both media groups say they must make a determination on whether to plan such events by Friday.
WMFE News Director Catherine Welch says she's waiting on Murphy to say if he'll participate, and says the deadline for him to respond back to her is tomorrow.
Mike Gaudreau, senior director for news for Bay News 9 in Tampa and News 13 in Orlando, also says he's working on potential logistics for a Senate primary debate for both the Democratic and Republican candidates before the Aug. 30 primary.
"We'll likely reach a final decision by the end of the week," Gautreau says, adding his stations are checking with all of the candidates who polled more than 5 percent in the most recent poll conducted by the two Florida television stations. That means that Pam Keith would be included in a Democratic primary, and Dwight Young would be invited to debate Marco Rubio and Carlos Beruff in a GOP forum.
Gautreau wouldn't mention any names specifically, but said a factor on whether or not his stations will broadcast such debates depends on "candidate interest."
"Both candidates face serious questions, so Rep. Grayson has agreed to take part in several media-sponsored debates to discuss his record and plan to give seniors a raise," says Grayson campaign manager Michael Ceraso. "Patrick has been elusive, evasive and continues to exaggerate his resume. If Murphy's team isn't competent or honest enough to field debate offers, the Grayson campaign will gladly supply times, dates and locations where Patrick can show up and defend his fabricated past and unknown plans."
Joshua Karp, a spokesman for the Murphy campaign, wouldn't specifically address the issue regarding these two specific debate opportunities, but does say Murphy wants to engage with Grayson.
"Patrick is looking forward to debating, because Floridians deserve to hear the candidates' values and vision for Florida," Karp said last Friday. "There is no question, hedge fund manager Alan Grayson has a lot to answer for when he debates Patrick Murphy, a champion for the middle class and a fighter for Florida families."
Murphy's campaign has been rocked in recent weeks by some critical reporting. Specifically, a two-part investigation by Jim DeFede of the CBS affiliate in Miami documented serious allegations about the Jupiter congressman's resume and work history as a small businessman and CPA. Team Murphy pushed back hard refuting the allegations in the report, but the story gained new life as footage was quickly used against him in negative ads produced by his political opponents.
Grayson said last Friday that he'd be "happy to participate" in any debates while appearing on WMNF 88-5 FM radio in Tampa.  In the caustic style for which he's known, the Orlando area representative got personal in explaining why he doesn't believe Murphy wants to go mano a mano with him under the klieg lights.
"I can explain my positions and what I have to offer the electorate, and Patrick has put a bag over his head," Grayson told WMNF's Rob Lorei. "He's become a bubble boy. And it's understandable why. I mean, every time he opens his mouth he tells some kind of lie or embarrasses himself. It's just pathetic."
Not so pathetic are Murphy's fundraising numbers. On Thursday, his campaign said he raised $2.4 million in the second quarter, and has over $7 million cash on hand.
The Florida Democratic Party says they'd like to see some debates happen soon.
"While the responsibility lies with the campaigns to organize debates with media partners, the Florida Democratic Party would be happy to see our Senate candidates debate ahead of the Aug. 30 primary," said Allison Tant, chair of the Florida Democratic Party.
We should know by early next week if these two forums will take place or not.