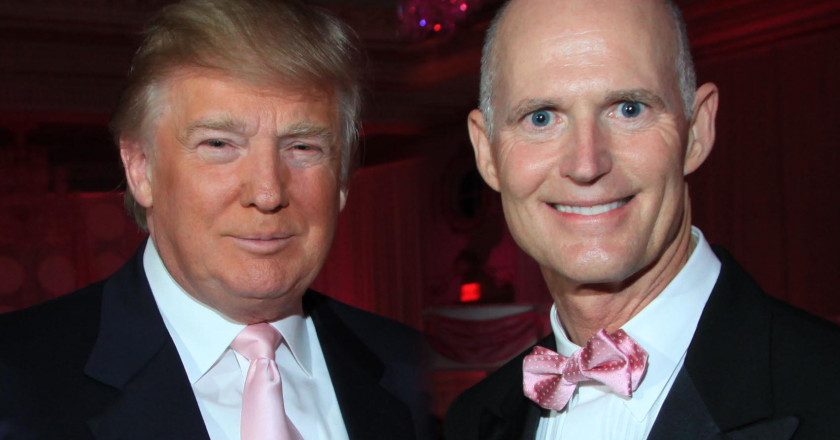 Rick Scott is basically as awful as Donald Trump in so many ways. But before Floridians start petitioning Trump to introduce Scott to a presidential election turnout and an embarrassing loss before Scott runs for U.S. Senate in 2018, read all eight reasons.
8) Cons. Scott didn't build his $300-some million fortune with a fraudulent university, but he did help build a company that defrauded Medicare and Medicaid by way more, paying a record $1.7 billion fine.
7) Muslims. Scott was offending Muslims and Hispanics long before Trump descended down the escalator at Trump Tower. Scott put some of his first campaign dollars into fearmongering about Muslims in "Obama's Mosque" near Ground Zero in 2010. Also, mic cut.
6) Hispanics. Similar to Trump, and despite all evidence, Hispanics love Scott, according to … only Rick Scott. Scott claims he "won" the Hispanic vote in 2014, despite actually losing it by 20 percent.
5) Little Marco. While Trump's insults are infamous, Scott is doing his part in Florida. He backed Trump over Rubio (and Jeb!) and is now working against Rubio in his U.S. Senate race, supporting mini-Trump Carlos Beruff, best known for unapologetically calling President Obama an "animal."
4) Smarts. Trump could own Anderson Cooper's "RedicuList" segment, but Scott once got on it for insulting "everybody's intelligence" trying to defend himself for using on-duty cops at campaign events.
3) Votes. Trump needs turnout to be as depressed as Jeb! after South Carolina. Scott has been hard at work, rolling back civil rights reforms that allowed nonviolent ex-felons to vote.
2) Money. Scott won in 2014 by outspending his opponent on TV by $33 million. Romney lost Florida by less than 1 percent in 2012, but only outspent Obama by $17 million. An extra $16 million might have bought 29 electoral votes.
1) Florida. Trump can't win without Florida, and Rick Scott knows how to win here.
___
Kevin Cate owns CATECOMM, a public relations, digital, and advertising firm based in Florida.