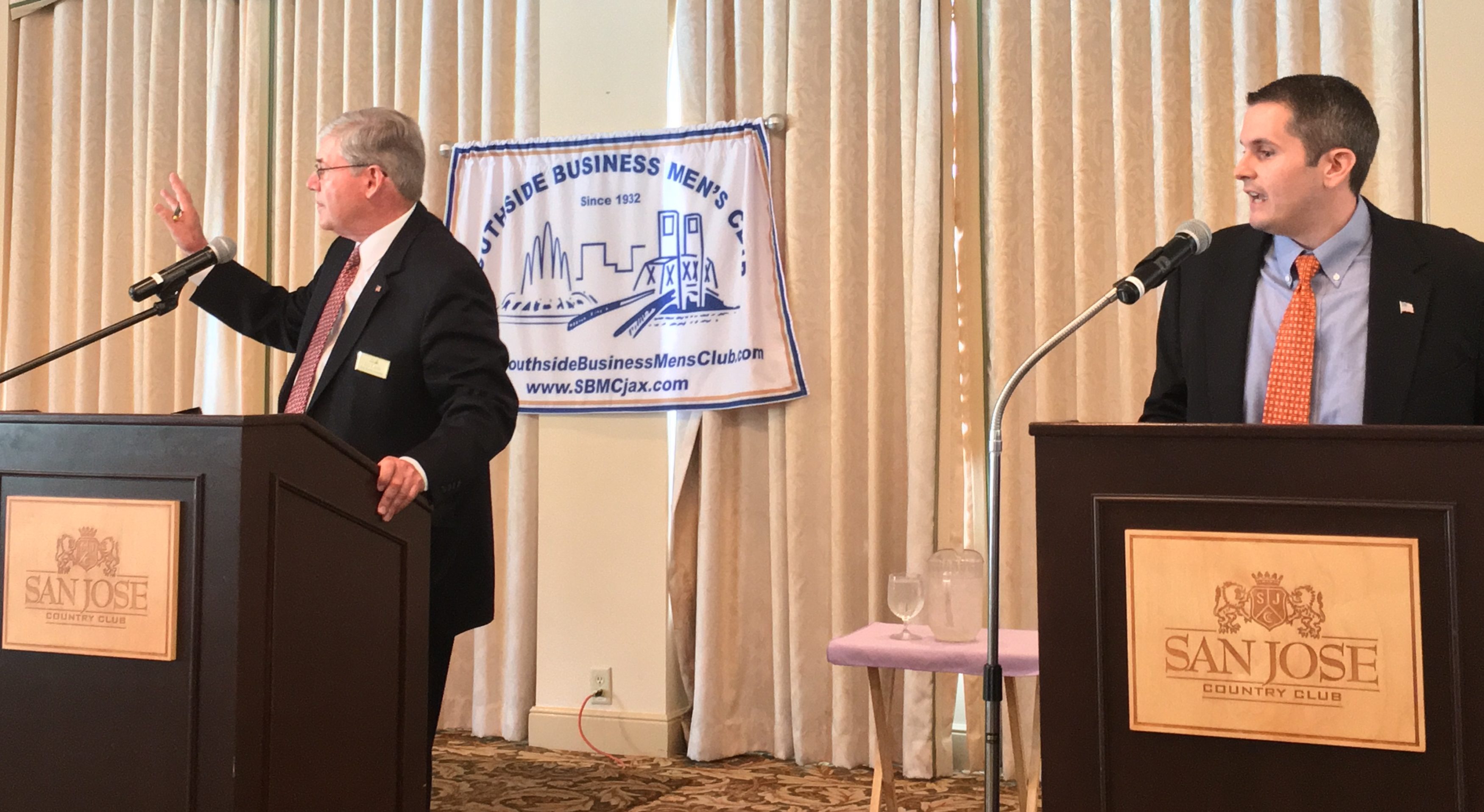 The San Jose Country Club hosted the Southside Business Men's Club debate between House District 16 Republicans Jason Fischer and Dick Kravitz Wednesday.
Fischer and Kravitz have, combined, more money than candidates in any other Northeast Florida House race, with over $300,000 between the two Republicans. Fischer has more on hand and a PAC to boot.
Beyond that, the contrasts: Fischer, a 21st century Republican, versus Kravitz, who has been running for office, and winning, since Reagan was president.
With a sharp robocall out in HD 16 already questioning Fischer's bona fides, it was expected that there would be fireworks in this one. And the candidates delivered, on issues such as Common Core, the HRO, Fischer's choice to resign his school board seat, and an email Fischer claimed to have gotten from Kravitz, which was apparently intended for Kravitz's campaign manager, that laid out the veteran's plan of attack.
After introductions, in which Kravitz stressed his membership in the SBMC, his position as a "citizen-legislator," and a general agreement on taxes being burdensome, the discussion moved to education … appropriate given Fischer just left the Duval County School Board.
Fischer vowed to file a bill to repeal Common Core, refuting a claim in the Kravitz robocall.
Kravitz noted Fischer "supported a Common Core program called Engage New York," a "liberal program" that included the teaching of Islam in schools.
Fischer rebutted, saying the assertion was not true.
"It is a lie and a disgrace to your legacy," Fischer said, asking him to take back the comment.
Kravitz did not.
He instead talked about his legislative stint, in which the Legislature changed the funding formula to benefit Northeast Florida in a way it didn't previously, purposely dialing down the heat.
Gun violence and the 2nd Amendment were up next.
Kravitz touted his A-plus rating from the NRA, saying "it's not guns that are the problem; it's people."
"We don't need to be hyping up the public taking away their guns," Kravitz said.
Fischer touted his A rating from the NRA and his "pro-gun" rating from United Sportsmen, saying "the national debate has been driven by radicals on the left, trying to take away our guns."
Both men oppose a special session of the Legislature, and support open carry. Kravitz started carrying after being threatened after a city council meeting years ago; Fischer would "sponsor the bill" in the Legislature, if needed.
Medicaid expansion came up next.
Fischer is "against socialized medicine" — Obamacare — and even "the SCHIP program, which my opponent supported in 2004."
The State Children's Health Insurance Program (SCHIP) is a partnership between the federal and state governments that provides health coverage to uninsured children.
Kravitz described Medicaid as a "broken system," replete with fraud, "bankrupting our state."
"We need to change it. Get the private insurance involved," Kravitz said, "and let them pay into the system."
Soon enough, the candidates asked each other questions.
Fischer asked Kravitz about an email sent to him March 28, 2016, in which Kravitz laid out his plans to "attack him."
Kravitz said that was a lie, saying Fischer was not in the Navy, and that he gets an "A-plus rating for deception."
"Show them where it says you were a civilian," Kravitz said. "Have the people look on your LinkedIn. It says U.S. Navy."
"It's hard when you deal with someone who tells lies and mistruths," Kravitz said, noting that Fischer left the school board early.
"The claims that you're making are absolutely untrue," Fischer said, noting Kravitz "collects $24 an hour as a door greeter at the supervisor of elections" while Fischer doesn't want to take a government paycheck to serve on the board while campaigning every day, and is complying with Resign to Run.
Charter schools came up next, with Kravitz noting Fischer gets money from charter school interests, and that Fischer would not recuse himself from a charter school case.
"Why didn't you recuse yourself when your [top supporter and fundraiser] is a lobbyist for Charter Schools USA?"
The discussion moved to HRO-style protections.
Kravitz does not "think there is discrimination against the LGBT community," and the process itself is "too politicized and political," with no need to change laws on the local or state level.
Fischer essentially agreed.
"I don't think that we should be changing the law on that here in Florida," Fischer said.
The conversation turned to special interests, with Kravitz noting that most of his contributions come from his own zip code.
"Nobody has ever owned me or my vote in anything in the city council or the Florida House," Kravitz said.
Fischer noted he bucked the unions in his school board race, noting over $100,000 was spent against him four years ago.
The closing statements were tough.
Kravitz laid into Fischer for his "lack of political experience" and a "push poll with false pollsters … who use questions to evoke a particular response."
"Don't be fooled by his attempt to undermine my pro-business and conservative record," Kravitz said.
Fischer noted "personal attacks" from Kravitz, adding that "I've said what I plan to do," regarding tax cuts and "getting rid of Common Core," while his opponent attacks him.
"I hope that you walk away from this with the clear understanding that there is one person in this race telling the truth," Fischer said, contrasting his approach with the old-school ad hominem style of his opponent.
A chippy debate, indeed.