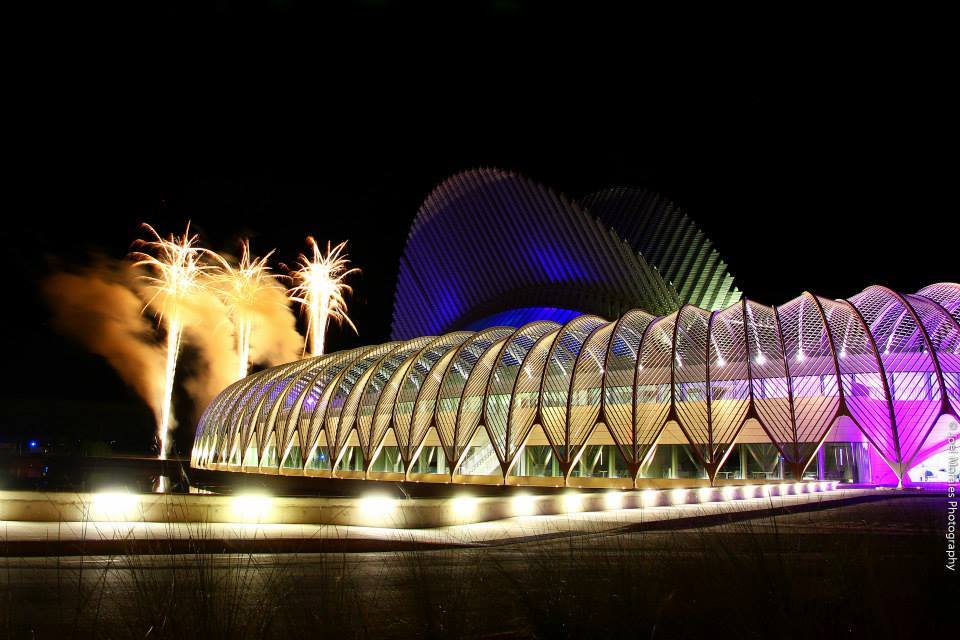 Two years after first opening its doors and with a current student enrollment blossoming to over 1,200, Florida Polytechnic University is about to embark on its most ambitious year since it began under political turmoil nearly a half-decade ago.
The Lakeland facility that focuses on engineering and technology with a goal of having 20 percent of its graduates going into entrepreneurship, could be a fully accredited university as early as June of next year.
The school, whose iconic design can be seen just south of Interstate 4 west of downtown Lakeland, recently was awarded a "candidacy for accreditation" status by the Southern Association of Colleges and Schools Commission on Colleges (SACSCOC), one of the nation's leading accrediting bodies.
University President Randy K. Avent shared the news with about 100 students, faculty and staff during a recent gathering at the Innovation, Science and Technology (IST) Building.
Being a candidate for accreditation means the university has "demonstrated through narrative and documentation its compliance with core requirements as well as certain comprehensive and federal standards," said a recent university announcement.
Among those requirements:
Offering degree programs compatible with the school's stated mission,

Having adequate full-time faculty to ensure the quality and integrity of its academic programs,

Providing support programs that promote student learning and enhance student development,

Having a sound financial base and demonstrated financial stability and

Demonstrating a process for ensuring continuous improvement and institutional effectiveness.
The second step in the accreditation process is next. The university must complete and submit a compliance certification that shows it has implemented all core requirements, comprehensive standards and federal requirements.
Getting to this point was no easy task. Last year, when efforts to gain accreditation began, the paperwork prepared by the university took months to complete and filled 16 boxes. Accreditation is taken seriously by universities. A lot depends on it. Accreditation is a recruiting tool to draw top-tier students and faculty.
Currently, the school is not allowed to accept federal grants, including Pell grants, because it is not accredited. Once it is, those federal grants will be accepted, said the school's communications director, Crystal Lauderdale.
"And that will open us up to more out-of-state students," Lauderdale said, "as well as international students."
The school doles out almost $2.5 million a year in scholarships, and accreditation may relieve some of that financial burden if students can receive grants elsewhere.
The path to accreditation began years ago when the school was first proposed amid a bit of a firestorm in the Florida Legislature. Some lawmakers fought to make it a separate public university, while others wanted it to be part of the University of South Florida. Eventually, Florida Poly became the state's 12th public university, and the only one to focus solely on science and technology. The school began with a student enrollment of 550 in 2014 and admissions this fall are expected to rise to about 1,244 when classes start on Aug. 22, Lauderdale said. The first class to graduate is projected to receive diplomas in January, she said.
One residence hall is complete for on-campus students and the second, under construction for two years, will open its doors to greet new students when classes start in August, she said. In all, 700 students can live on campus in the two housing units.
"It's really all coming together next year," she said.
Florida Polytechnic University, with a staff of about 200 including 57 faculty members, is the state's only public university dedicated to the science, technology, engineering and mathematics (STEM) curriculum. It was created to be both a rigorous academic institution and a resource for high-tech industries.
There are two colleges on campus: The College of Innovation and Technology and the College of Engineering. Both offer bachelor's and master's degrees.
Graduates, Lauderdale said, represent "a pipeline of talent to fuel the economy, with skill sets to serve in the highest demand industries."