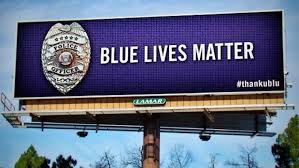 Following the killing of five officers and wounding of seven others at a protest in Dallas Thursday night against police shootings in Minnesota and Louisiana, two Florida House Republicans running for office this fall proposed "Blue Lives Matter" legislation on Friday that would alter the state's definition of a hate crime to include law enforcement officers and firefighters.
The proposal was announced separately by Ocala House Republican Dennis Baxley, who is running for the state Senate in District 12, and Polk City House Republican Neil Combee, running for re-election in House District 39.
Both men say they would file their bills in their respective chambers later this year if they win office in November.
"Last night's attack that took the lives of five Dallas police officers who were protecting the rights of citizens to exercise their right to peaceful assembly is absolutely despicable," said Baxley in a statement. "Our hearts break for their families and for that community. This tragedy hardens my resolve to fight the dangerous and growing disdain for law enforcement that is seeping into our culture.
"In the Florida Senate, I will do everything in my power to protect them, equip them, and honor their service."
"This is a simple issue. Those who protect us deserve protection," added Combee. "When they leave their families to keep ours safe, they should know we appreciate the dedication and the sacrifice."
The legislation is modeled on a Louisiana law recently signed by Gov. John Bel Edwards that will go into effect next month. The bill expands the state's hate crime statute to include the targeting of police officers, firefighters and EMS personnel. Opposing it was the Anti-Defamation League, who claimed that it weakens existing hate-crimes laws by adding more categories of people who are already better protected under other laws.
Combee, whose father was a Lakeland police officer and father-in-law worked for the Polk County Sheriffs Department, said there are too many people on social media who think it's OK to attack or kill police. "I'm not going to stand by and not do something," he said.
Combee blasted the mainstream media's coverage of the violent encounters between the police and citizenry, such as the incidents in Minnesota and Louisiana that took place this week.
"They're doing more harm than they are good. It seems like the information they put out is put out to create a narrative that just isn't true," he said Friday afternoon. He cited a study conducted by Washington State University professors called "The Reverse Racism Effect," that found that officers took significantly more time to fire their weapons if the subject was black.
"If they put the actual correct, complete numbers out there, it blows up a lot of the idea that there's just this all-out assault on minorities, which is just not the case," Combee said.
Combee is running for re-election in HD 39, which includes northern Polk and a portion of Osceola counties. He faces Democrat Victor Sims in November.
Baxley is seeking the District 12 seat in the Florida Senate, where he's running against House District 33 Rep. Marlene O'Toole and David Gee in the Aug. 30 GOP primary, which includes southern Marion, Lake, and Sumter counties.