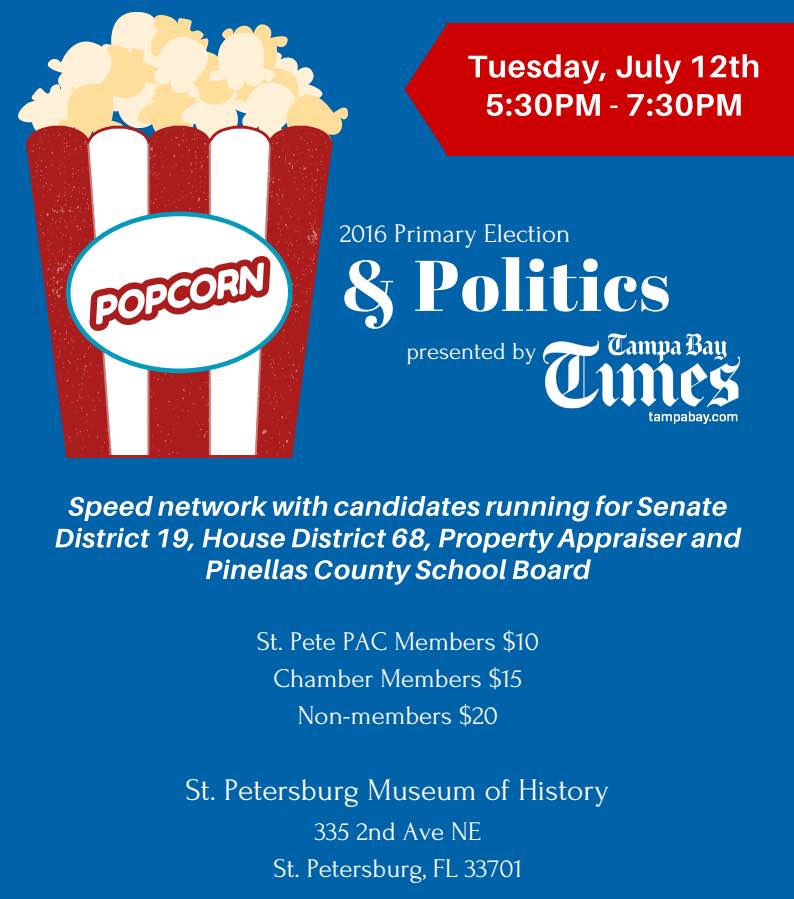 'Tis the season.
It's that most wonderful time of the year when candidates running in this fall's elections begin to make the rounds at candidate forums, hob nobs, straw polls and Tiger Bay debates. It's at these events candidates can begin to distinguish themselves from their opponents with a quick retort — or a regrettable gaffe.
Tonight, the St. Petersburg Chamber of Commerce is hosting "Popcorn & Politics," an event it bills as a speed network opportunity with candidates running for state Senate District 19, House District 68, Pinellas County Property Appraiser and School Board.
Presented by the Tampa Bay Times, Popcorn & Politics gives attendees valuable time with the candidates running for these key local offices. The way it works is candidates rotate from table-to-table where they will "speed network" for several minutes with Chamber members.
Here are five reasons I'm looking forward to at tonight's event.
1. "Popcorn & Politics" is an important event for the Chamber itself as the organization continues to upgrade its purely political operations. Executive Director Chris Steinocher has done a yeoman's job leading the Chamber out of the dark financial situation he inherited. Now, he and his political attache, Travis Norton, are working to bolster the Chamber's political strength. It will be interesting to see how well-attended "Popcorn & Politics" is by Chamber members.
2. The mostly white Chamber of Commerce gets to meet the candidates running for a state Senate seat that will likely be held by an African-American. While much of the Chamber's attention, politically speaking, is focused on state Sens. Jeff Brandes and Jack Latvala, whoever succeeds Arthenia Joyner in the state Senate seat that bridges Pinellas and Hillsborough will be a key player in many of the issues important to the Chamber. As it happens, there just isn't as much interaction between many Chamber members and the SD 19 candidates as there is in other races. "Popcorn & Politics" is a solid opportunity to change that.
3. To see which Democrat running in House District 68 is the Chamber membership's favorite. The primary in HD 68 is probably the most interesting race in Pinellas politics. Ben Diamond and Eric Lynn are both strong candidates with significant resources at their disposal. While many Chamber members won't be able to vote in the Democratic primary, some can — and it remains to be seen which of these two candidates is the preferred choice of the local business community.
4. To determine if there is a real race for Pinellas County Property Appraiser. It's not the sexiest of posts, but property appraiser is a key position in a market like Pinellas that sees a high volume of real estate transactions. Former state Rep, Jim Frishe is hoping his name ID from his time in office is enough to hold off Mike Twitty, who seems to be the cool kid in class. The only poll we've seen of this race, to be decided in the Republican primary, shows Frishe in the lead, but Twitty closing quickly. In the final weeks of campaigning, could Frishe vs. Twitty become Pinellas' equivalent of the heated Hillsborough Clerk of the Court race?
5. To not fall asleep when talking to the candidates for Pinellas School Board. Here's the irony: the local newspaper won a Pulitzer Prize for exposing the institutional problems in five (predominately black) south Pinellas schools, yet the attention given to the candidates running for the school board that oversees them barely registers. Want to keep schools from becoming "failure factories"? Then elect better School Board members.
"Popcorn and Politics" begins at 5:30 p.m. at the St. Petersburg Museum of History. It's open to non-members, although there is a $25 cost for a ticket.