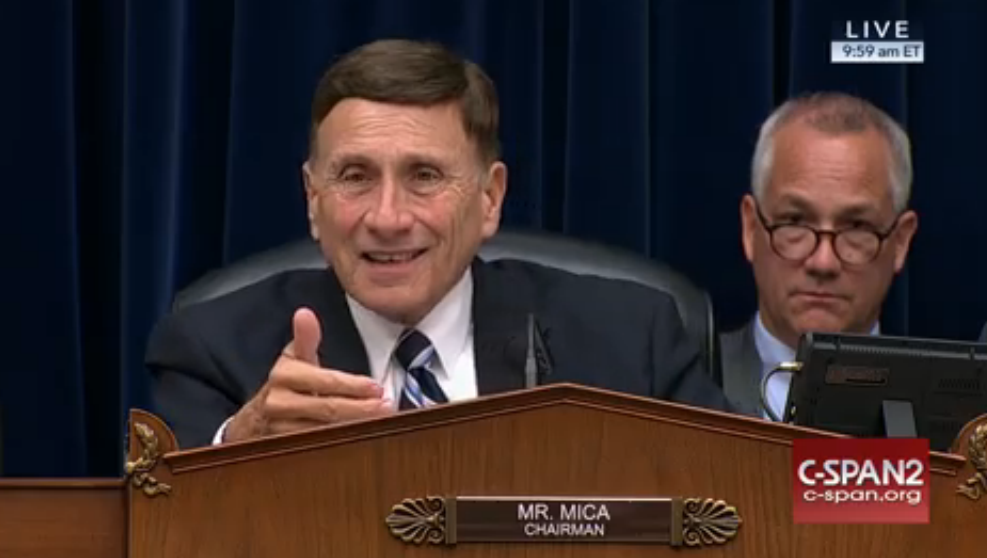 Whose fault was it that Orlando did not qualify for federal funding to shore up anti-terrorism efforts the past few years? U.S. Rep. John Mica called a congressional hearing Friday to see, and several officials concluded it was at least partly because of Congress.
Mica was not entirely convinced and countered with several reasons why he is convinced the federal Urban Area Security Initiative Grant Program under the Department of Homeland Security should have done more to provide funding to Orlando for law enforcement training and tactical equipment before the June 12 massacre at the Pulse nightclub.
Mica, a Winter Park Republican, and U.S. Rep. Ron DeSantis, a Ponte Vedra Beach Republican, co-chaired the joint hearing of their two subcommittees of the House Oversight and Government Reform Committee Friday.
The hearing included testimony from Orange County Sheriff Jerry Demings and Orlando Police Chief John Mina, who both said they needed — but were denied — more federal money in the past several years for anti-terrorism training and equipment.
The Orlando area received $44.5 million of such funding through the Urban Area Security Initiative between 2002 and 2012. Since then, the Department of Homeland Security had ranked the City Beautiful's needs for the money too low, and other cities got antiterrorism grants while Orlando did not. Mica, DeSantis, Demings, Mina and others have been adamant that Orlando's risks as a terrorist threat — made real by the June 12 murder of 49 people and wounding of 53 others at the popular gay nightclub Pulse — were underrated by the department, costing it crucial training and equipment it could have used that day.
After all, Orange County is home not just to 1.3 million residents, but to 66.1 million tourists a year, daily doubling the county's population and creating so-called "soft targets" all over the metropolitan area, Demings pointed out.
But Brian Kamioe, assistant administrator of grant programs for the Federal Emergency Management Agency, which scores the rankings of top potential terrorism targets, testified legislation Congress passed for 2013 tied Homeland Security's hands. Language put in the funding bill that year, and in most years since, explicitly limited the grants to only certain numbers of highest-ranking cities, and expressly forbade the department from making exceptions in cases, such as Orlando, that might have had other factors.
When asked what could be done about it, Kamioe responded that Congress could give the department more discretion on how to award the grants, mainly to allow the Homeland Security secretary to be able to override the numerical scores FEMA and intelligence agencies work up for the cities.
Demings and the fourth witness, Walter Purdy, president of the Terrorism Research Center, a Washington nonprofit, independent think tank, agreed with that, and Mina did not disagree.
"Some discretion should be given to the secretary to determine where that line is drawn," Demings said.
"Maybe if the secretary of Homeland Security had more discretion, maybe some of those funds would be able to be allocated to maybe those tier-two cities and regions that need some of these things," Purdy said.
Mica conceded "perhaps more could be done" to provide discretion, but he countered with his convictions that FEMA and the Department of Homeland Security were using faulty ranking formulas that needed to be updated.
Kamioe insisted the formulas accounted for Orlando's tourists. But Mica said the weighting must somehow be flawed, declaring that clearly, the process failed. He also expressed outrage that as much as $1 billion in grants given some cities dating back as far as 2011 still hadn't been spent yet. He added that if a city can't spend its federal grant promptly, the money should be recirculated to other cities needing grants.
There also was a widespread concern from Mica, DeSantis, Mina, Demings and Purdy, that the nature of terrorism in the United States has changed to soft targets such as nightclubs, and that the Department of Homeland Security's assessments must change as well.
"Somewhere … we are missing the mark," Mica said. "We missed the mark dramatically in Orlando. Again, Mr. Purdy pointed out we've had San Bernardino, Boston, my community; they're hitting soft targets.
"Somehow the threat assessment isn't dealing with the reality of what they are doing to us. They're coming at us in soft targets. We said we are a soft target. Look at the death toll list from Orlando. These people came from all over," Mica continued.