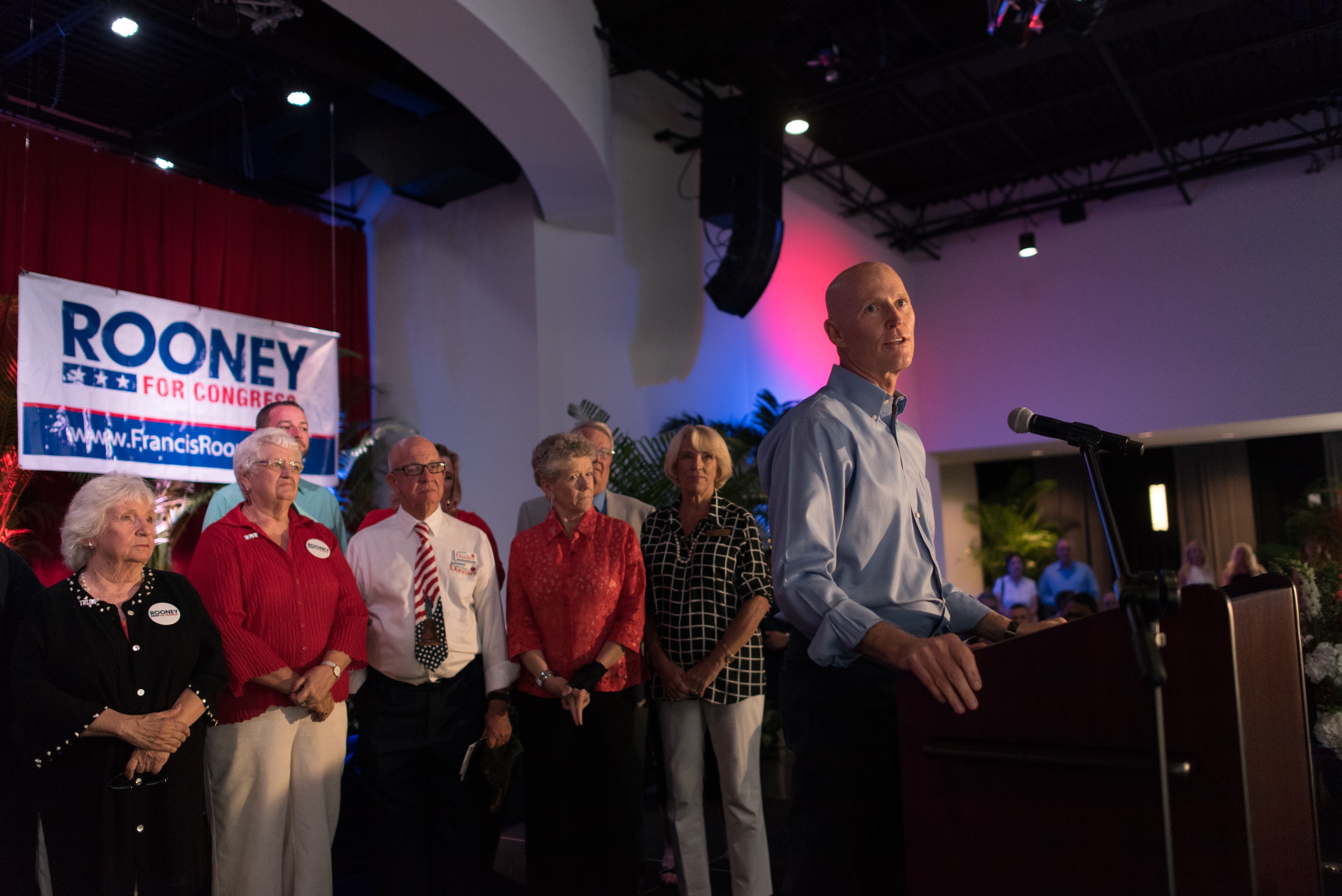 Gov. Rick Scott publicly proclaimed his support for Francis Rooney on Friday, saying the Naples Republican would stand up for Southwest Floridians' in Congress.
"I will be proud to have Francis Rooney as my congressman," said Scott during a fundraiser in Bonita Springs. "He's going to defend what we all believe in."
Rooney is vying to replace Rep. Curt Clawson in Florida's 19th Congressional District. Rooney will face Chauncey Goss and Dan Bongino in the Aug. 30 Republican primary.
The endorsement marks the first time Scott has endorsed in a primary. He was considered an outsider when he first ran in 2010, and much of the Republican establishment backed his Republican opponent. Scott went on to win the primary, and has shied away from picking a candidate in primary races because of his experience.
"He's a business person, he's not a career politician," said Scott. "He will show up in D.C., and he'll represent each of us. He's going to make sure we grow jobs in this community, in this district, in the state and in the country."
Rooney said the two men have been friendly for years. They live just a few minutes away from one another, and their families have become friends. Rooney and his wife, Kathleen, were selected to chair Scott's inaugural committee in 2010.
This race marks the first time Rooney, the former ambassador to the Holy See, has ran for public office. Much like Clawson did in 2014, Rooney is expected to pour a significant amount of his own wealth into the race.
"I'm running for Congress because, like you all, I care about our country. I'm running because I care about you and your families, and I care about mine. I care about our kids and grandkids and I want them to have the same opportunities we have all had," said Rooney. "That's not going to happen unless we get rid of the slick talkers of the political class and the perennial candidates seeking public life instead of public service. We need real, serious change to take our country back from them."
Campaign finance records filed with the Federal Election Commission show Rooney outraised and outspent his opponents in the second quarter of 2016. All told, his campaign raised more than $2 million since May. He received $510,795 in contributions, and his campaign $1.5 million. Rooney spent more than $1.15 million during the fundraising period. He ended the fundraising period with $852,119 cash on hand.
Goss — the son of former CIA Director Porter Goss, who represented Southwest Florida in the U.S. House — raised $195,837 during the fundraising period. The Sanibel Island Republican gave his campaign $24,600, campaign finance records show. He spent $30,021 since jumping in the race in May, and ended the fundraising period with $165,815 cash on hand.
Bongino, a former Secret Service agent, raised $84,289 since jumping into the race in June. Records show Bongino spent $39,048, and ended the fundraising period with $45,241 cash on hand.
The three men will face off in the Aug. 30 Republican primary. While Democrat Robert Neeld qualified to run in CD 19, the district is solidly Republican and is unlikely to win.