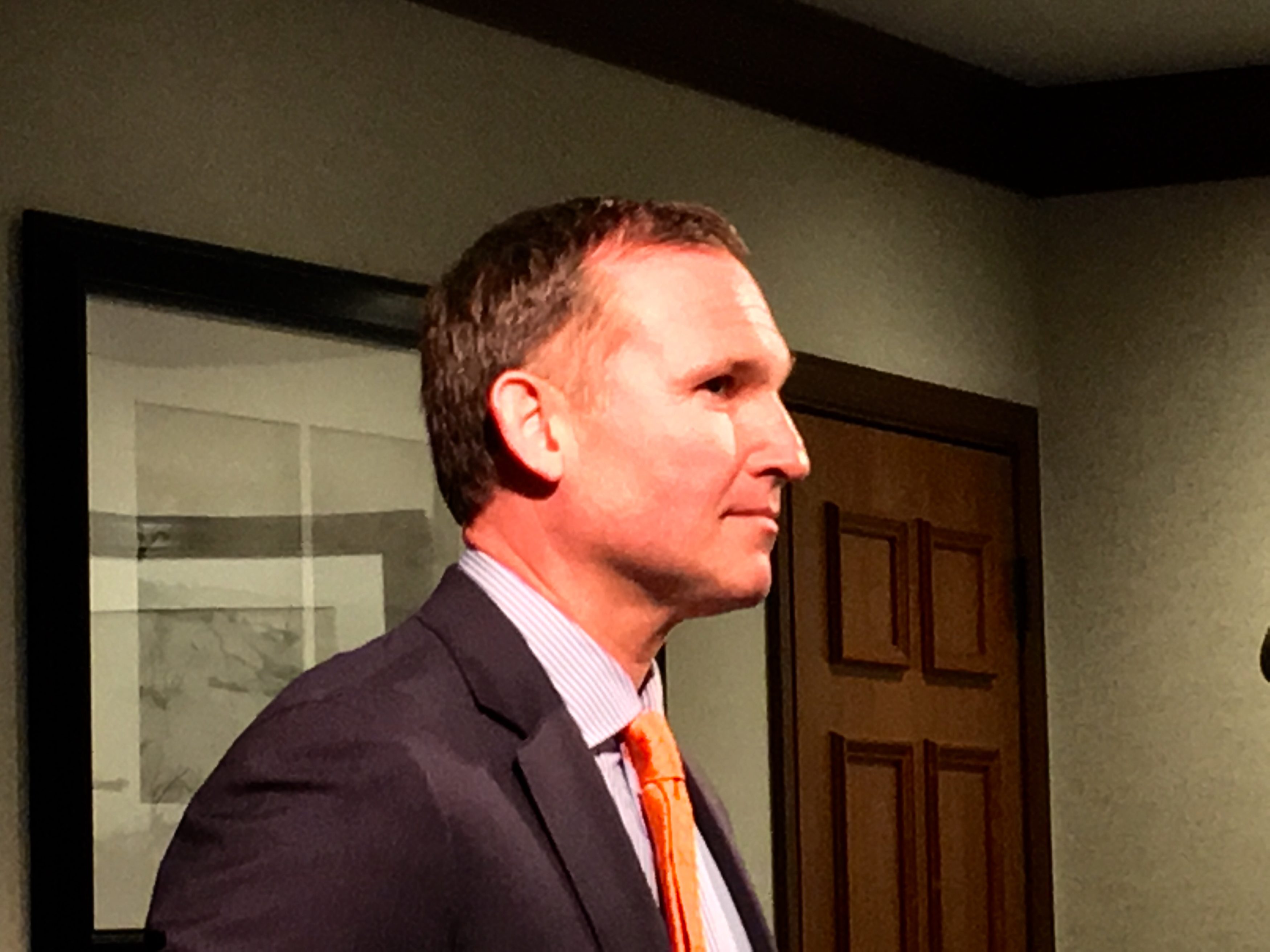 As promised ahead of Monday, Jacksonville Mayor Lenny Curry's second budget was lean and devoid of much in the way of enhancements.
A few city departments did come out ahead.
The Jacksonville Sheriff's Office will get 40 new police officers and 40 new community service officers, which augments the 40 of each provided in the current year's budget.
As well, $3.5 million will be earmarked for pension costs, if the referendum to extend the Better Jacksonville Plan tax past 2030 to pay down the $2.7 billion unfunded pension liability does not pass Aug. 30.
Police and fire also will get a $2.7 million replacement of their end-of-life 911 system. The JSO will get $1.9 million to upgrade its outdated fingerprinting system. And $21.5 million of new money will be earmarked for police and fire vehicles.
And, in response to community and police asks, there will be money for body cameras in the new budget.
While fire won't get the 120 new employees desired, there will at least be a buildout for Fire Station 56, augmented with an expiring $1.5 million grant.
A couple of other significant enhancements: a new insect control helicopter, based on the fact that the current ones are uninsurable.
As well, via the $83.3 million capital improvement plan (with $33.8 million in cash), drainage will get money. The breakdown is $6 million for countywide drainage rehab, $6.8 million for the Lower Eastside Drainage Project, and $2.1 million for the Trout River/Moncrief drainage projects.
And $11.5 million will be earmarked for the Trail Ridge Landfill Expansion and $3 million for Jax Ash Site Pollution Remediation.
These expenditures, said Curry, were rooted in needs.
The public safety spending, he said repeatedly, was based on campaign priorities, coupled with the sheriff letting Curry know his department's needs. As he said in his press availability in response to a body camera question, "when [the sheriff] asks me for personnel and equipment, I take it seriously."
Regarding hiring more police officers, Curry said the new officers are necessary because cops currently don't have "time to do their jobs."
"They simply don't have the time they want to have," Curry added.
However, outside of public safety and attempting to fulfill promises that have never been delivered in underserved communities, there were a lot of No's in this budget.
— No to downtown development projects, including Berkman Plaza, the Laura Street Trio, and the Shipyard rehab project.
— No to restoring 13,000 previously cut library hours.
— No to additional fire stations and no to 120 additional fire personnel.
— No to increased countywide grass mowing.
— No to additional code enforcement officers.
— And No to road resurfacing and sidewalk repairs beyond minimum mandates.
A measure of the fiscal rectitude in this budget: the ax falling on the profligate nature of Friends of Hemming Park.
In the Mayor's Budget Review Committee, the thought was that the city would advance $250,000 toward FOHP, with an additional $250,000 contingent on matching fundraising.
Curry said no even to that. His offer is a flat $250,000, to be paid monthly, which will force the nonprofit to strip its high-overhead management model to the bone.
When asked how FOHP would take the cut, Curry smiled and said "we'll see."
Curry's remarks, both in council chambers and to the media, were predicated on the need to pass the pension tax referendum on Aug. 30.
At the press conference, he brought up a group of African-American community leaders, including Gary Williams, a minister at Hopewell Church, Nat Glover, Pastor John Guns and Reverend John Allen Newman.
Williams said he did not vote for the mayor, but did support the pension tax referendum, to address "critical needs" in the community, including areas given short shrift from the Better Jacksonville Plan.
Meanwhile, Curry noted now-familiar pressures from pension costs, which currently take up 27 percent of the operating budget, up from 9 percent in 2009.
"We continue to do more with less," Curry said, noting the city has almost 800 fewer employees compared to 2009, despite having 7,000 more people than seven years ago.
Regrets? Mayor Curry had a few, and one was mentioned.
"I would have liked more money in the Jacksonville Journey," Curry said of the program which will stay essentially flat year-over-year.
The Journey helps at-risk youth, as well as "youth that made some bad decisions."
"They need to know we care about them," Curry said.
The new budget shows just a $35 million uptick in general fund spending, from $1.058 billion to $1.093 billion.
There will be, if the budget is approved as-is, fewer than 100 new hires: from 7,109 to 7,206 employees.
Some help is on the way in the new budget, in terms of revenue: state shared revenue is up almost $11 million, to $162 million in the proposed budget. Property tax revenue, meanwhile, is up roughly $25 million, to $560.9 million.
That $36 million is offset by the uptick in general fund spending.