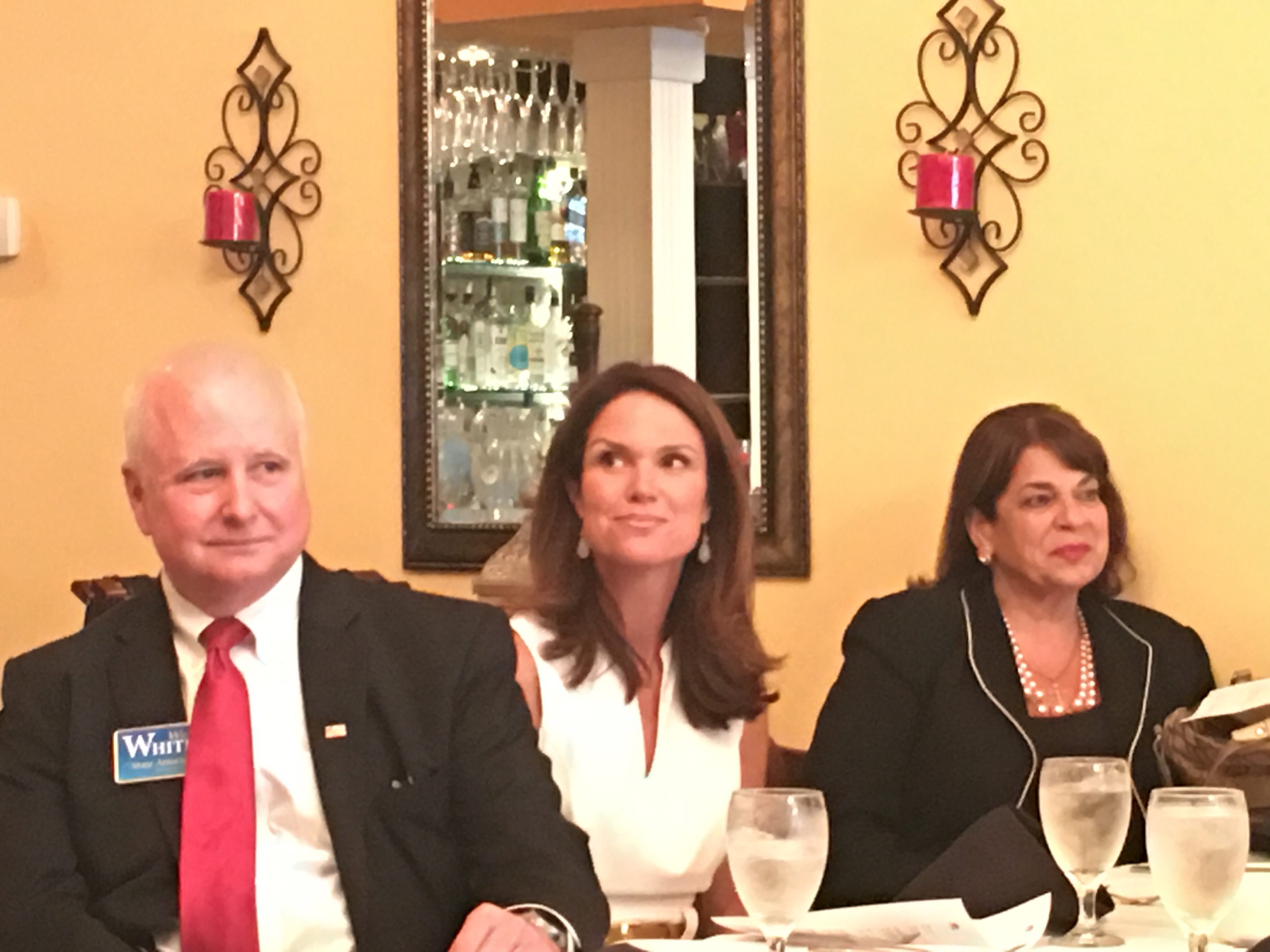 The roadshow for 4th Circuit State Attorney Angela Corey and opponents Wes White and Melissa Nelson moved to a college campus in downtown Jacksonville Tuesday night.
The race has been well-publicized and has well-established contours: Corey, the embattled incumbent who is struggling with fundraising and perception down the stretch; White, a supporter in her first election in 2008, an opponent in 2016; and Nelson, the choice of the donor class, who runs on reforming the office.
However, this forum had some key differences from such as Tiger Bay and the Mandarin Community Club. Topics ran the gamut from the closed primary to police shootings of citizens and racial disparities in the administration of justice.
The forum, sponsored by the NAACP, D.W. Perkins Bar Association, 100 Black Men, and other African-American community groups, saw a full auditorium and a police presence atypical for these forums, with officers stationed at each entrance to the stage and at doorways at various points in the evening.
And somehow, the State Attorney mentioned "Martians" when discussing the closed primary.
****
The intros, familiar to those on the SAO forum circuit, had little variance from previous editions at first.
White stole the show, when he described himself as a "beneficiary of white privilege [his] entire life," a "son of the south" who knows white privilege is wrong.
"I hope tonight we can get real and talk about the criminal justice system," White said, as it relates to African-Americans.
The crowd murmured in reaction.
****
The first topic: "unreasonably high bonds."
White got first crack, saying that "we have unreasonably high bonds … at levels to force pleas … in my opinion."
"Once you're in jail," White said, "you're going to have a much more difficult time with your defense."
Corey noted reforms from her office, including reform of the bond schedule and the use of ankle monitors.
"I think we're on top of situations like that, but there's always room for improvement," Corey said.
Nelson noted that "it is the state attorney's job by statute to determine reasonable bonds," taking issue with Corey saying that it was the job of the defense bar to let her know where improvement could be make.
"There are national criminal justice reform groups proposing bond schedules that make sense … so that bonds are not unreasonable," especially regarding those who have committed low-level crimes and are not flight risks.
White then rebutted, stating opposition to "bond schedules," since every situation is different, adding an anecdote about a "young black man who spent 589 days in jail … a direct infringement to their life, liberty, and pursuit of happiness."
****
The topic moved to unequal treatment of African-Americans in the criminal justice system, and the perception of mistrust that creates.
Corey noted her dedication to "mitigation," saying there is "no disparity based on race and gender."
"The only time race would be an issue is if someone committed a crime while evidencing prejudice."
Corey said the issue was a "communications problem," blaming it on "the media [that] has perpetuated a lot of this."
"I wrote a ten-page letter to the NAACP," Corey said, offering to explain situations.
"I fully expect my two opponents to make a big deal out of this to play on your emotions," Corey added.
Nelson was up next.
"I take issue with the idea that I am here preying on your emotions. I am running for State Attorney so that we can solve problems together … that perception, whether right or wrong, is real," Nelson said.
"What we need to start doing is have real conversations and build consensus," Nelson said. "What I intend to do is start to build bridges … by earning the community's trust … by always acting honestly."
"I will be transparent about how and why the office reaches decisions. And I will be accountable to each of you," Nelson said.
White then uped the ante, saying "blacks are the low-hanging fruit of the criminal justice system," given "the economic disparity of the black community" and the issues delivered.
"If you can not afford the attorney of your choice, you are on your way to jail, and then on the way to prison," White continued.
Corey fired back, saying that her office diverts cases, has cut juvenile cases in half, and has cut down on prosecutions.
"It is reprehensible for him to suggest there is a quota system or we make more money based on who we prosecute," Corey added.
****
The closed GOP primary came up next, a primary closed by Corey's former campaign manager filing the paperwork for a sham candidate, hiding behind the Brinkman ruling to pull it off.
The question: How do we trust Republicans? Should this race be non-partisan? And thoughts on the voters disenfranchised?
Nelson reframed the question as one of "do you trust your elected state attorney."
Saying Corey was guilty of "gamesmanship," Nelson said "I read the comments of your elected State Attorney and she said it's no big deal to switch parties. I think it is."
"If the State Attorney is running on her record, why is it that she doesn't want to bring her record to the whole circuit … she has denied accountability … and blamed it on her campaign manager."
"When you're in charge, you're accountable," Nelson said, getting applause.
Corey noted that "Democrats took this case to the Supreme Court and made it case law," adding that "a primary is supposed to be intended for a party."
"Your pandering is ridiculous," Corey said to Nelson, before itemizing the myriad closed Democratic primaries.
"I follow the law," Corey added. "If you go to the State Legislature and want Martians to vote in this race, that's the way it will be."
"Where have you all been for seventeen years to say this is wrong in the Democratic primary?"
White then japed: "are there any Martians in the room?"
White then talked of "hypocrisy" and how Corey taught "120 lawyers in the State Attorney's office to game the system."
White got applause.
****
The topic then moved to Jacksonville's "aggressive" prosecution of juveniles as adults.
Nelson kicked it off, noting that she represented Cristian Fernandez in private practice, which helped her to get an "even more keen awareness" of the SAO.
"The decision we reached could have been reached sooner if the office of the State Attorney had been motivated," Nelson said, to reach an equitable resolution.
Corey noted that she started her career in juvenile, and that it is a myth that the circuit leads the state in juvenile direct files.
"I'm sorry but when they get guns or hurt and kill their two year old brother," Corey said, she couldn't push for leniency.
She then itemized cases of youthful violent offenders, noting that "we have a lot of young black men being killed, and I don't mind going tough on the people killing them."
"Extortion has no place in the criminal justice system," responded White, referring to the offer to plea for juveniles or face adult charges.
****
Police brutality followed: the topic, not the practice itself.
A recurrent issue of contention: the SAO seeming predisposed to "protect the police" rather than investigating police misconduct in an impartial way.
The question: should another agency investigate police officers involved in violence against citizens? And what about body cameras?
Corey noted that her office has prosecuted 30 police officers, "some of whom have gone away to prison for a very long time."
"I just gave you a statistic that I'm sure you weren't aware of. We work with the integrity unit [of JSO]," Corey said, noting that one target of prosecution was the police chief of Atlantic Beach.
Corey indicated support for body cameras as an aid toward investigation.
White noted "the community's belief" is that the SAO will "always support an officer," even to the point of giving the officer a "free pass."
White believes that body cameras and community review boards are necessary for investigation.
"I think those decisions need to be held up in public and reviewed in public," White said, noting a "lack of trust" that is leading to "storm clouds building across the country."
"You will never have a question whether Wes White is in the tank with political leaders, with the police, or the money people," White said.
Then Corey noted that "it's interesting that a man who took the stand to defend George Zimmerman would sit here and talk about how much he cares about black lives."
Corey noted that her office does a "thorough investigation before we file charges."
Then White fired back, saying "it's easy to slander and slur someone," saying that he "defended a process [he] believes in" and that the State Attorney "should not be overcharging" and should not obscure evidence.
"The rights of due process need to be extended to all citizens," White said, with Corey making a reference to White's emails, as decorum broke down before closing statements.
****
"I have been incredibly troubled over the last few weeks over what's going on in our nation," said Nelson. "We need to do better … and we can do better … by restoring integrity, transparency, and fairness to the office of the State Attorney."
And the incumbent got the last word. And it was nothing new, a recitation of her 34 1/2 year legacy, including many forays into trying to get justice for African-American victims.
"I do this without regard to race, creed, and color," Corey said, before namechecking John Guns and Rudolph McKissick, which got some catcalls from the crowd.
And there you have it.