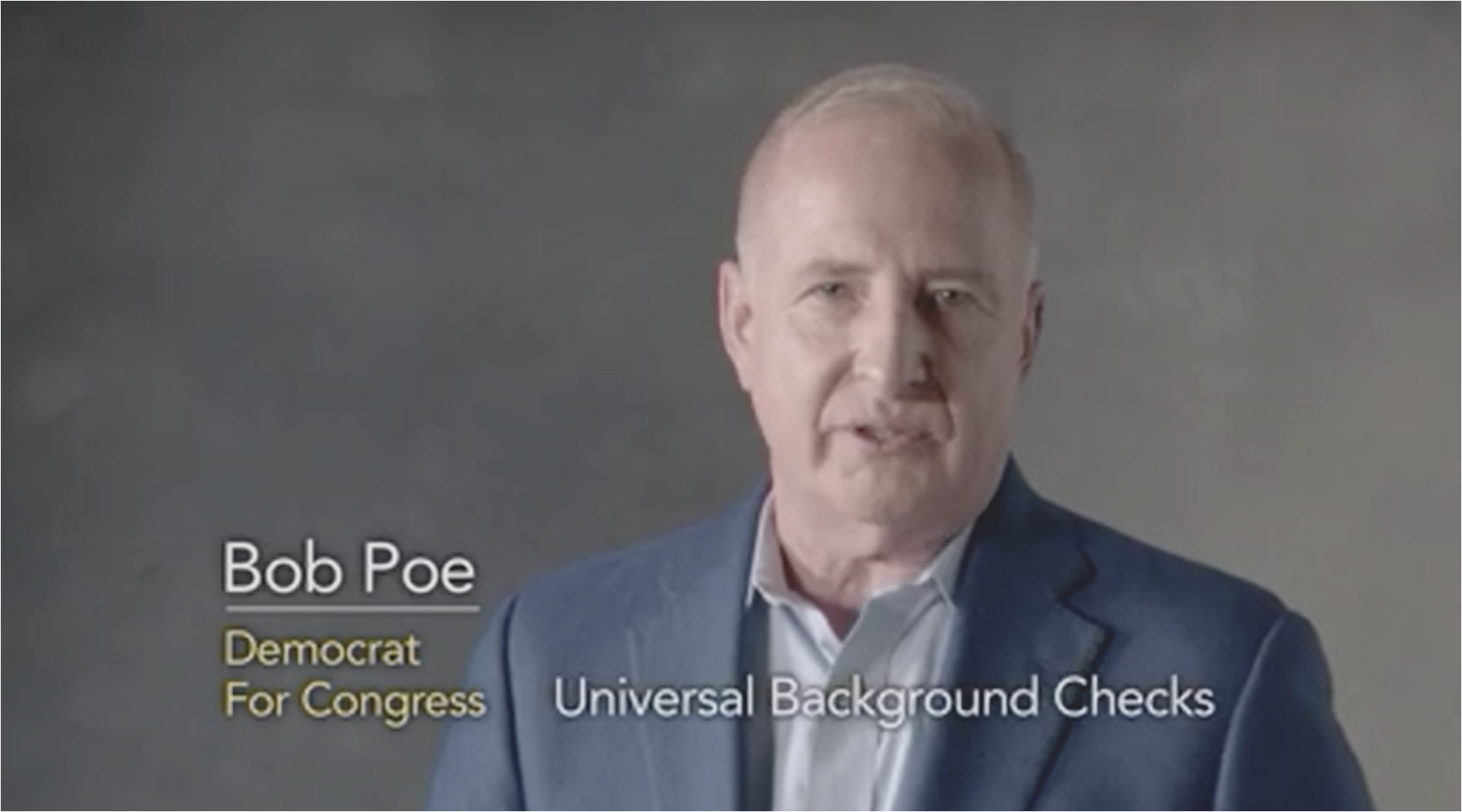 Democrat Bob Poe is releasing his first television commercial in the Orlando-based Florida's 10th Congressional District with a declaration of outrage over assault rifles and a promise to seek to ban them and to require universal background checks for gun purchases.
Poe, an Orlando businessman and former chairman of the Florida Democratic Party, is pushing the anti-assault weapon message as Orlando still reels from the June 12 massacre at the popular gay nightclub Pulse. However, the new TV commercial, "Spray," does not make any references to Pulse.
Since the massacre, Poe and the other three Democrats in the CD 10 race, former Orlando Police Chief Val Demings, state Sen. Geraldine Thompson and Fatima Rita Fahmy all have taken strong positions against assault weapons and for background checks. Poe is the first to do so in a broad, public way, on the airwaves.
The winner of the Aug. 30 Democratic primary will face Republican nominee Thuy Lowe, who opposes such gun control measures, in the November election.
The 30-second spot entitled "Spray" began airing today on Orlando-area broadcast stations and cable networks, as part of Poe's $1 million TV ad buy.
"I'm focused on gun violence because lives are at stake every day in this district, from Pine Hills to Parramore," said Bob Poe. "Meanwhile, Congress refuses to take action on the simplest common-sense gun measures, like universal background checks supported by 9 in 10 Americans. It's wrong, and it's time to fix it."
The commercial begins with a shot of an AR-15 assault rifle. "In the 30 seconds it takes to play this ad, it could spray a room with 300 bullets," Poe declares. "Right now, someone can buy this assault weapon at a gun show with no background check. That's gotta stop."
While various audio recordings in the Pulse nightclub indicated that the killer Omar Mateen was able to fire three or four rounds per second during some blasts that lasted several seconds, opponents of control laws like those Poe is proposing, dealing with semi-automatic weapons, have argued that only fully automatic weapons — already banned in the United States — could provide the kind of firepower he describes in his commercial, especially considering that firing 300 rounds would require the shooter to change ammunition magazines several times. Last month when U.S. Rep. Alan Grayson of Orlando, a Poe friend and ally, claimed commercially available assault weapons could reach 700 rounds per minute, the PolitiFact fact-checking medium rated the claim "mostly false."
Poe, however, is pushing the point in the Democratic primary that he will be the strong gun-control advocate, promising to seek universal background checks, to get illegal guns off the street, and to ban assault weapons.