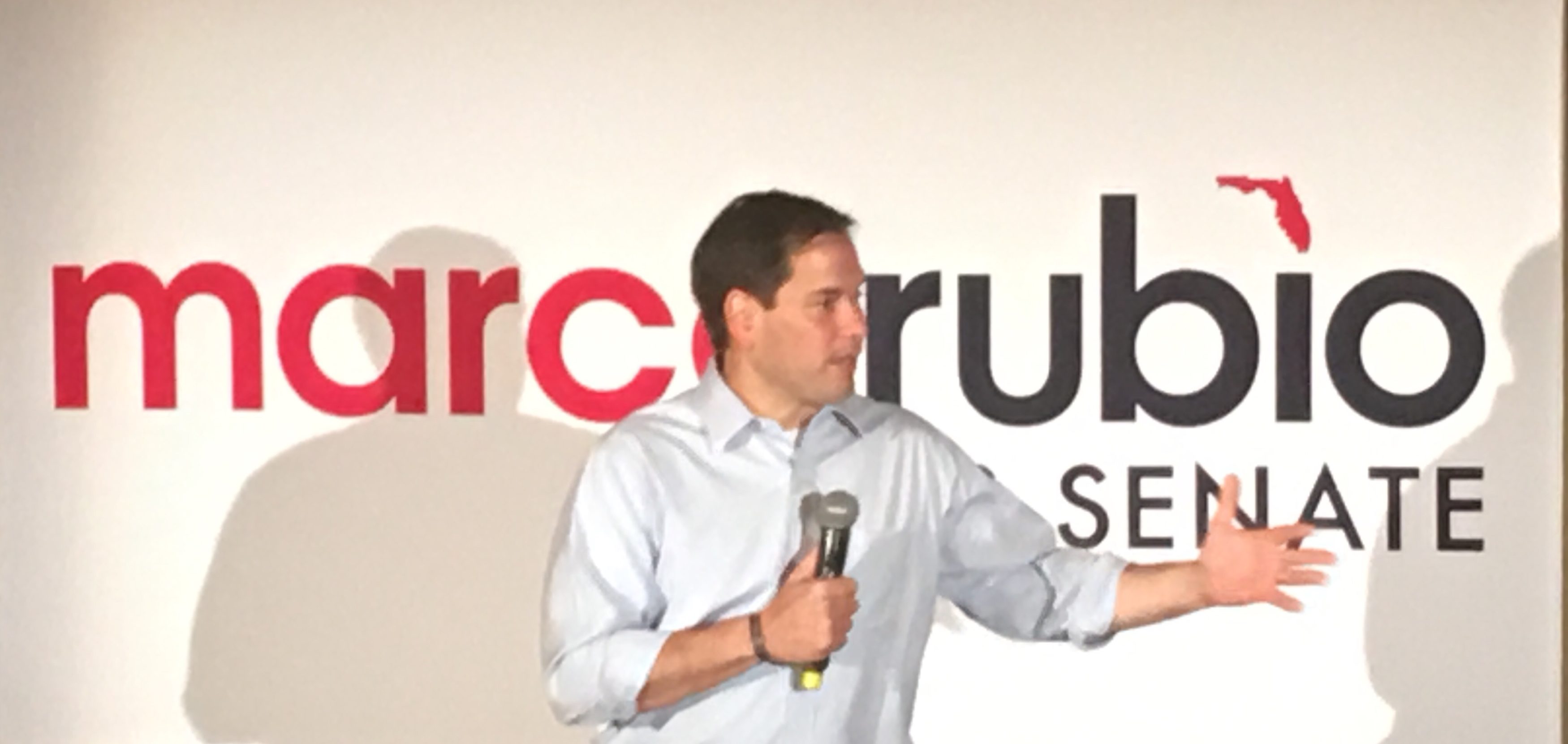 Saturday afternoon saw Sen. Marco Rubio hosting a town hall on Jacksonville's Southbank as part of a two-day swing through the city that included a fundraising event.
The turnout? Maybe 150 people. But for Rubio, this tour of the last week was a re-introduction to the grassroots as a U.S. Senate incumbent, rather than a presidential candidate, and a relaxed Rubio took the stage after an introduction from Duval GOP Chair Cindy Graves and a prayer from Jacksonville City Councilman Sam Newby.
As one might expect, he also was asked to — and did  — vow to support GOP Presidential nominee Donald Trump. Despite not agreeing with Trump on everything, Rubio said he disagrees with Hillary Clinton on everything, and beyond that, there are only two viable candidates on the ballot.
As part of making that case, he talked foreign policy and other issues, while reminding the grassroots he was one of them.
****
Rubio said he was at peace with how the presidential primary election went, before serving up a variety of mainstream conservative policy positions familiar to those who have followed him in national office and in the presidential race.
"That was not what the voters chose. That was not God's plan for our lives.," he said.
Then, Rubio had a chance to "reconsider why he got into public service to begin with," and realized that his commitment to party allowed him to make a difference.
If the GOP loses the Senate?
"Chuck Schumer becames majority leader of the Senate."

This would reap a harvest on the Supreme Court, Rubio said, with a Democratic president nominating "someone who believes it is their job to rewrite the Constitution."
Rubio believes the next president could appoint up to three Supreme Court justices, which could erode "the rights we hold dear."
"Ten years from now, 20 years from now," Rubio said, "there are only two possible outcomes."
One? "To leave our kids better off than ourselves."
The other? "History will say we are the first Americans in history to leave our children worse off than ourselves."
Rubio delivered a traditional small-government, localist Republican message, including "we don't even need a federal Department of Education," and qualms about an overly expansive federal government "doing more harm than good."
Still, there are things the government could do more of, such as military spending for better, newer equipment, a new F-35 program, and "an aircraft carrier stationed here at Mayport."
The "peace through strength" message Ronald Reagan delivered in the 1980s was on full display.
As well, Rubio noted he had just had an "honest conversation with law enforcement about what's happening," saying "nothing justifies the irresponsible rhetoric in the public domain on this issue."
Rubio, who famously bought a gun last Christmas Eve, restated his dedication to the Second Amendment, and "not just for hunting," but for self-defense and "sport shooting."
"You do have a right to protect yourself and your family," Rubio said.
"These are the challenges we face, and this is why I decided to run for re-election," Rubio said.
****
 Then the questions.
One: thoughts on the Thursday night speech of Donald Trump, with a grade requested from A to F.
"I don't know if I want to grade the speech," Rubio said. "I don't agree with Donald on everything. I disagree with Hillary on everything."
Rubio then pivoted back to the speech, addressing concerns that "no one is fighting for them."
"It also spoke to the insecurity in this country," Rubio said, including economic and national security insecurity.
"And we have national leaders saying to us that we've never been safer? We've never been better? There are people in this country … who have been running on a treadmill for 10 years," Rubio said.
Rubio then went on to balance conservative ideals with "realistic expectations of what can get done," given the "system that deliberately made it hard for the federal government to pass laws quickly because they wanted the power in the states."
A pressure the founders never anticipated? The "bureaucracy" and "bringing the bureaucratic state under control."
Rubio was asked to stand by Trump then, and he did, saying there are "only two people on the ballot with a chance to win."
To that, he got applause.
****
Rubio reiterated policy staples, including his hard line on Cuba normalization policy, saying that immigrants exploit "wet-foot, dry-foot" by injuring themselves, getting picked up by the Coast Guard, and dropped off at hospitals, where they can stay.
The president gave away the store, Rubio said, and "this deal is a one-sided deal that all it's done is empower them."
Since the opening with Cuba, Rubio said, "human rights in Cuba have gotten worse, not better."
This is part of an "abysmal" record of foreign policy, Rubio added, including the "reset with Russia" and "the deal with Iran."
"For four years of that," Rubio added, "Hillary Clinton was secretary of state."
****
Rubio also discussed Turkey and his "concerns" with Erdogan and the more Islamicist direction he's taken, "which has had an impact on a lot of things, including our relationship with Israel."
The coup? "An opportunity to grab more power for himself," another authoritarian play that "jihadists will takes advantage of" by appealing to disenfranchised "disaffected young people."
"I worry about that happening in Turkey," Rubio said, while adding our military dependence on our NATO partner is an issue to consider "for the next president."
"I am very concerned that if Erdogan uses this attempted coup as an opportunity to become more authoritarian … that Turkey will become a prime space for terrorist recruitment."
****
The last question came back to mass shootings: specifically, Orlando Pulse.
The questioner wanted "common-sense gun reform that addresses the mentally ill."
Rubio noted the "stigma" related to mental illness, to be remedied with "more treatment options" and "options for that information to be fed into the existing system."
"This individual … was also a subscriber to radical Islam … this was a terrorist attack," Rubio said.
"Let me tell you something about the Muslim community. There were two FBI investigations into this guy," and one of them was initiated by the Muslim community.
"This guy was born and raised in this country … raised in Florida … benefited from all this greatness in this country … and decided to kill 49 people."
****
Rubio took press questions after the event, and there were no message inconsistencies in those answers.
Asked again about Trump's convention speech, Rubio noted that was the "message he won the primary on," and the convention itself has "got to be better than the Democrats'," given the DNC "under Debbie Wasserman Schultz … actually questioning Bernie Sanders' faith" during the campaign.
Given the amount of delegates on hand in support of Sanders, Rubio anticipated an interesting time next week in Philadelphia.
Rubio faced a question about Ted Cruz also, who pointedly deferred endorsement of Trump Wednesday evening.
"Everyone makes their own decision," Rubio said, but it's "time to come together as a party."
Meanwhile, regarding Democratic vice presidential nominee Tim Kaine, Rubio was complimentary.
"I've worked with Tim a lot. I like him. He's a friend. And I look forward to working with him in the Senate, because Hillary Clinton is going to lose," Rubio said.
From there, questions went to more local matters, including the primary challenge Rubio faces from Carlos Beruff.
Would there be any debates?
"I just got into the race four weeks ago," Rubio said, and "I'm not sure any are scheduled."
The final question worth noting: would Rubio endorse in the 4th Congressional District race?
Short answer: no.
"I usually don't get involved in primaries. I've worked with John Rutherford; I admire him," Rubio said, noting he also knows Hans Tanzler, who is emerging as the alternative to Rutherford in that race.
However, Rubio added, he is going to endorse Ron DeSantis in Congressional District 6.
****
The crowd was a fraction of the large draws Rubio had in this region ahead of the March presidential preference primary, but those in attendance left happy with what they heard. With operatives from most other Senate campaigns either working for Rubio directly or supporting him tacitly, it's clear the party will unify behind him in short order, with the pre-March rhetoric an increasingly distant memory.