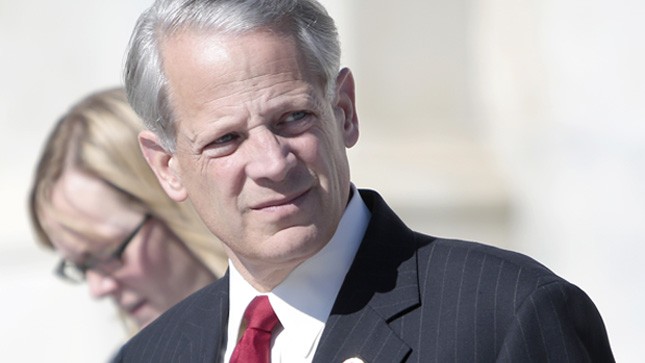 When David Jolly introduced his legislation that would prohibit federal lawmaker from directly soliciting political contributions, he cited New York Democrat Steve Israel's admonition that he had spent roughly 4,200 hours on the phone asking people for money while in office as evidence of how gratuitous lawmakers are called on to dial for dollars.
But Israel isn't a fan of the proposal.
"If I thought it would solve the problem, I would support it," he told FloridaPolitics.com while briskly walking up Arch Street in downtown Philadelphia on Monday afternoon. "But it does not solve the problem at all."
Israel is departing from his role as been the head of the Democratic Congressional Campaign Committee (DCCC), the body that aims to elect as many Democrats to the House of Representatives. He's leaving of his own volition this fall, and in his New York Times editorial that Jolly quoted from, he bemoaned the hours of time he spent begging for money in his job in congress, both on behalf of himself as well as other House Democratic candidates.
Like other Democrats who advocate for campaign finance reform, however, Israel says Jolly's STOP Act falls short.
"Does anybody really believe that a member of Congress who doesn't call for a campaign contribution, shows up for a dinner later that night, has a cocktail with friends, with little egg rolls, and $5,000 appears in his campaign account the next day, that that's just a magnificent coincidence? No, David Jolly's bill does not solve the problem."
That echoes similar criticism made by critics of the proposal, including some of the Republicans who were running against Jolly earlier this year for the U.S. Senate.
I think it was designed to project reform without substance," Israel said, as he quickly walked away with an aide.
'The fact is Steve is the face of this scandal," said Jolly press spokesman Preston Rudie. "He waited until he announced his retirement before admitting in the New York Times that he cheated taxpayers by spending 4,200 hours dialing for dollars instead of doing the job he was elected to do.  So we are certainly not going to take policy critiques from Steve. What he also fails to recognize is that the Stop Act is not campaign finance reform, but a congressional reform aimed at getting members of Congress back to work and ending the telemarketing culture of Washington.  There's a reason more than a dozen newspapers around the country including the Washington Post and countless columnists have endorsed and praised the Stop Act.  It's a positive step towards permanently changing the culture of Washington and it's what the American public craves."