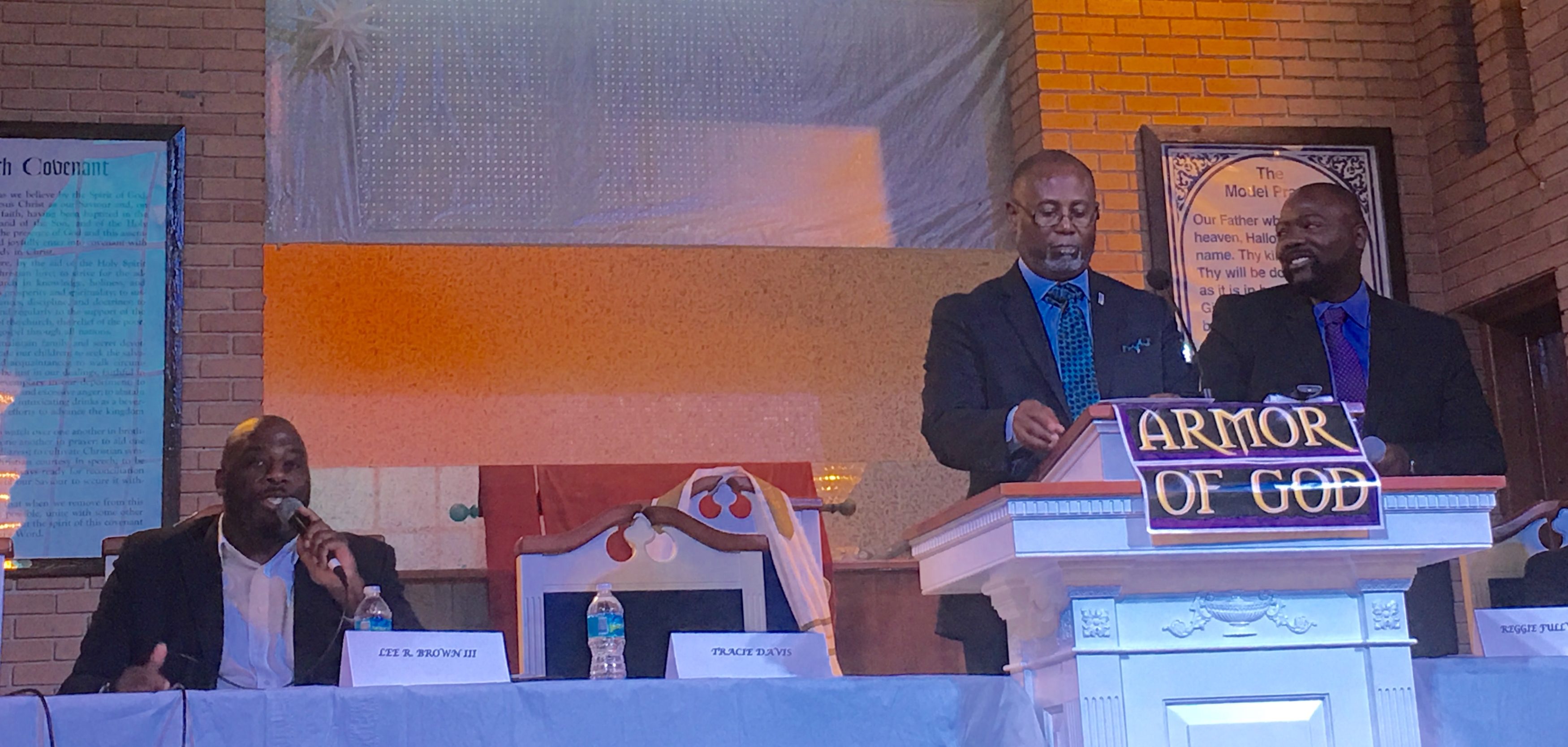 On Monday evening, as the eyes of most Jacksonville Democrats were glued to their TV screens to see Philadelphia's drama, a more local event, with more relevance in terms of local representation, was off television and in a local church.
Candidates in Jacksonville's House District 13, where incumbent Reggie Fullwood has drawn three primary challengers and a certain Republican challenger should he win, squared off in a church in the Springfield neighborhood.
Two of the other Democratic candidates, Lee Brown, and J.R. Gaillot, were at the forum, with Tracie Davis, Mark Griffin, and Keith Walters absent.
Neither Brown nor Gaillot were willing to make an issue of Fullwood's legal situation. With the two-hour discussion focused on issues only,  Fullwood was able to talk about his record of success, noting that "there's no other Democrat who has passed as much legislation as I have in a six-year period" in Tallahassee.
And for the most part, it was clear which of the three people on stage had legislative experience. And which did not.
Davis, seen as the most credible threat to Fullwood, had another engagement on Monday evening.
****
The first major topic: crime.
Brown advised "improving the relationship between the community and the police," noting "crime rates are at an all-time low" in this area of Jacksonville.
Brown also argued against mandatory sentences, noting "there's a lot of prisoners who … probably didn't deserve the heavy punishment they've received."
Gaillot advised there "aren't enough prevention programs" in the district, suggesting that more community centers would be the answer.
Gaillot also piggybacked Brown's assertion that trust is frayed between police and the community, suggesting "officers live in the community," an interesting take given that he is campaigning from Fleming Island.
Fullwood, meanwhile, noted that a challenge was "community policing, which we once had," which helps to diffuse the "tension."
Fullwood also spoke to the efficacy of civil citations, and programs like the New Town Success Zone, which offers stipends to allow college students to tutor young people.
****
All three candidates spoke to the need for independent investigations of police shootings.
Gaillot, in advocating for a civilian review board, noted the charter has to change, and that there are "tools" to force the Republicans to change that. As well, Gaillot advocated for body cameras, which are actually going to be phased in this upcoming budget year in Jacksonville's budget.
Fullwood said that "if we come up with a makeup that is fair" for a civilian review board, something that allays the fear of law enforcement and finds a "middle ground" with attorneys, pastors, and others "with some background in criminal justice," then there may be a workable solution.
"There has to be an authority or a non-biased entity," Fullwood said.
****
Also discussed: the half-cent sales tax. Not a lot of support in the room for it, which would have seemed to create an opening. Fullwood had voted for the referendum; however, the other two couldn't effectively demagogue the point against it.
Brown is "not sold," as "the current administration has not dug deep enough to find a solution."
Gaillot "can't support it because the numbers do not add up … we need to bring the unions back to the table, and we need to renegotiate it."
Of course, all unions would be collectively bargaining with the administration, should the referendum pass, as that is a condition established by the state Legislature already.
Fullwood noted that he voted for the bill in Tallahassee.
"We have to do something, and we have to do something sooner or later … this is a potential solution that keeps the city from going into bankruptcy … right now, it's the best solution we have on the table."
Fullwood, as opposed to the other two candidates, had a strong grasp of the pension situation, both historically and in terms of the plan.
****
Forum host R.L. Gundy cited the Florida Times-Union writeup of a draft report from the Sheriff's Office task force calling for a millage hike, then got responses from the panel.
Gaillot advocated for a tax increase, saying the public safety unions should be moved to a defined contribution plan.
Fullwood, mirroring the mayor's language, noted that people from outside Jacksonville would be paying the half-cent sales tax, while advocating for "small, incremental tax increases."
Brown wondered "why they're having a private review of the pension," saying "it's about transparency."
****
Then, the topic was marijuana.
Brown was "trying to figure out how to answer this question," fretting that medicinal marijuana may "morph" into something else.
Fullwood supported medical marijuana, but not recreational marijuana, citing liquid or pill derivatives as options for the medically needy.
And Gaillot doesn't smoke, not even a cigarette, but supports medical marijuana nonetheless.
"I feel that alcohol is a more dangerous drug," Gaillot said, emphasizing that he supports medical marijuana, "with the jury still out" on recreational.
****
The topic shifted then to whether there should be an appointed sheriff.
Fullwood noted "the reality is that we have an elected sheriff," noting that "right now the sheriff is accountable to the voters."
"If we're looking for more accountability," Fullwood added, "there are other ways to do it."
Brown concurred, saying that an appointed sheriff could open the door to "cronyism."
And Gaillot? He noted that consolidation "diluted the power of the African-American community," and that the consolidated city is "too big."
Thus, he proposed a "Jacksonville police department" to hire more "black and Latino police officers," which theoretically would function as a subordinate of the sheriff.
Gundy noted that, pre-consolidation, there was a chief of police. Now, the sheriff is "another mini-mayor of the city."
He then advised that the panelists "do some serious homework" about possible changes to the charter, modeled after Orange County.
****
LGBTQ rights were next.
Fullwood contended that "it's a human rights issue, and the easy answer is that no one should be discriminated against."
Gaillot billed himself as "the only candidate that has called for city council to pass the HRO."
Brown concurred.
The follow-up involved what candidates may do to pressure city council to pass it.
Brown is "amazed" that Jacksonville didn't pass the HRO. Fullwood billed it as a "human rights issue."
And Gaillot found an opportunity.
"I appreciate Rep. Fullwood's point on this," Gaillot said, "but why didn't you put pressure on Mayor Brown to get it passed" in 2012.
Fullwood noted that if Alvin Brown "made up his mind on an issue, he made up his mind on the issue."
Gaillot wasn't done.
"Where were the phone calls asking them? Where was the press conference? I have checked the records, Rep. Fullwood, and they aren't there."
Fullwood advised Gaillot to "check with Equality Florida … it's too easy to check facts."
****
An audience question popped up, correlating Corrine Brown and Reggie Fullwood's legal issues as part of a "racialized witch hunt on black leadership."
Fullwood noted there is "clear inequality with the white media."
"When there is an issue with minority elected officials or minority leaders," Fullwood noted articles on a "weekly or daily basis," suggesting an "imbalance."
"Based upon what I've seen, I do believe there are some imbalances."
Brown concurred.
And Gaillot said "that imbalance does exist, not just in the media, but in today's society."
"Knowing that, do a better job to not put yourself in the position," Gaillot said.
****
That was as spirited as the forum got. It was a cordial affair, with Fullwood's Democratic challengers not really making a mark.
On these issues and others omitted from this writeup, there was agreement on most everything. Perhaps it would have been different if Tracie Davis had attended. But the impression created, after two hours, was that Gaillot and Brown were running not because they wanted some major ideological shift in the district, but because they perceived a wounded candidate.
Unfortunately for them, Fullwood may not be as wounded as they thought when they filed some months back.
Toward the end, Gaillot conceded that "Mr. Fullwood has been an effective legislator." Which raises the question of why he's facing so many challengers.
There will be another forum in this race Aug. 4 at 6 p.m. at Edward Waters College.