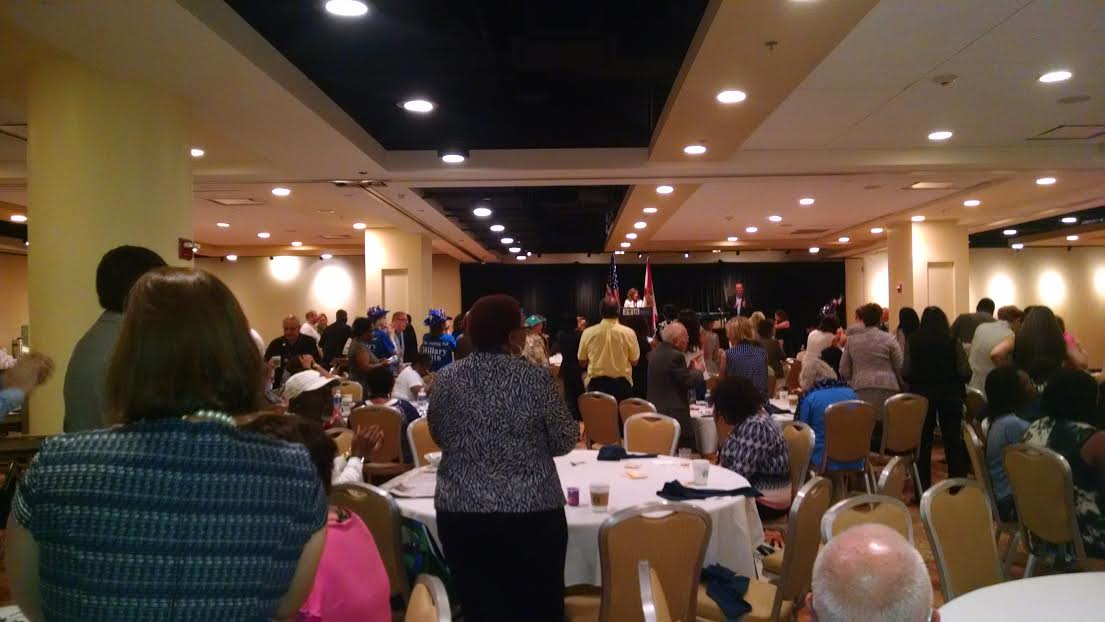 There hasn't been much talk about Bob Buckhorn and running for governor in 2018 for awhile.
That conversation might change after the Tampa mayor brought much of the crowd who gathered at the Florida Democratic Delegation breakfast to its feet at the Marriott Hotel in Philadelphia Wednesday morning.
"I might start preaching here," the mayor said before he dramatically wound up to tout how significant it was that Hillary Clinton was the party's nominee and how the state needed to change its direction in 2018.
"Nobody ever told Hillary Clinton that this was going to be easy," he said. "But I know this Florida Democrats: We didn't bring her this far to leave her now!" which got the crowd racing.
"So Florida Democrats — America needs Hillary Clinton. America's cities need Hillary Clinton. America's mayors need Hillary Clinton! And to paraphrase Alicia Keys, 'that girl is on fire.'"
The Keys phrase was a nice touch, considering the performer closed out the convention Tuesday night. However, it should be noted it's a line he often uses all the time, rewording the song's title to "this city is on fire."
Though the mayor is widely admired in Tampa for not being very partisan, in front of a group of Democrats like today (or last Friday, when he introduced Clinton before she spoke at the Florida State Fairgrounds), Buckhorn can do it as well as anyone in state Democratic politics.
Blasting Donald Trump, Buckhorn said Floridians know what it's like elect a tea party millionaire (though it's hard to classify Trump's politics, one might question whether the tea party label is entirely appropriate):
"We know what it's like to give back $3 billion in rail money that could have provided thousands of jobs and a rail system from Orlando to Tampa!
"We know what it's like to have a government that doesn't know the difference between toxic green algae and guacamole!
"We know what it's like to turn back hundreds of millions of dollars in Medicaid money that would serve thousands of us!
"We know what it's like to have a government that pays more attention to Marion Hammer, and less attention to Mother Teresa!"
He wasn't over just yet.
"This journey starts now. We're going to win in 2016, we're going to break that barrier, and then we're coming back in 2018. And we are taking that state back. Let's go get it done!"
That last line about 2018 prompted some on press row and a few Tampa-based delegates to joke that it sounded like Buckhorn had telegraphed his intentions about running for governor in two years. He's used 2018 in other stump speeches (such as after his 2015 inaugural address), but this was an audience where such a speech prompts speculation.
"Bob Buckhorn rocked the house today!" exclaimed Florida Democratic Party Chair Allison Tant as the mayor exited the stage.
One fun fact that unfolded today — Tant told the audience she once dated Buckhorn when she lived in Tampa. Buckhorn joked that he glad his wife wasn't in Philly to hear that news.
Wednesday was the day for Florida mayors to address the delegation. In addition to Buckhorn, Tallahassee's Andrew Gillum and Miami Beach's Philip Levine also spoke.