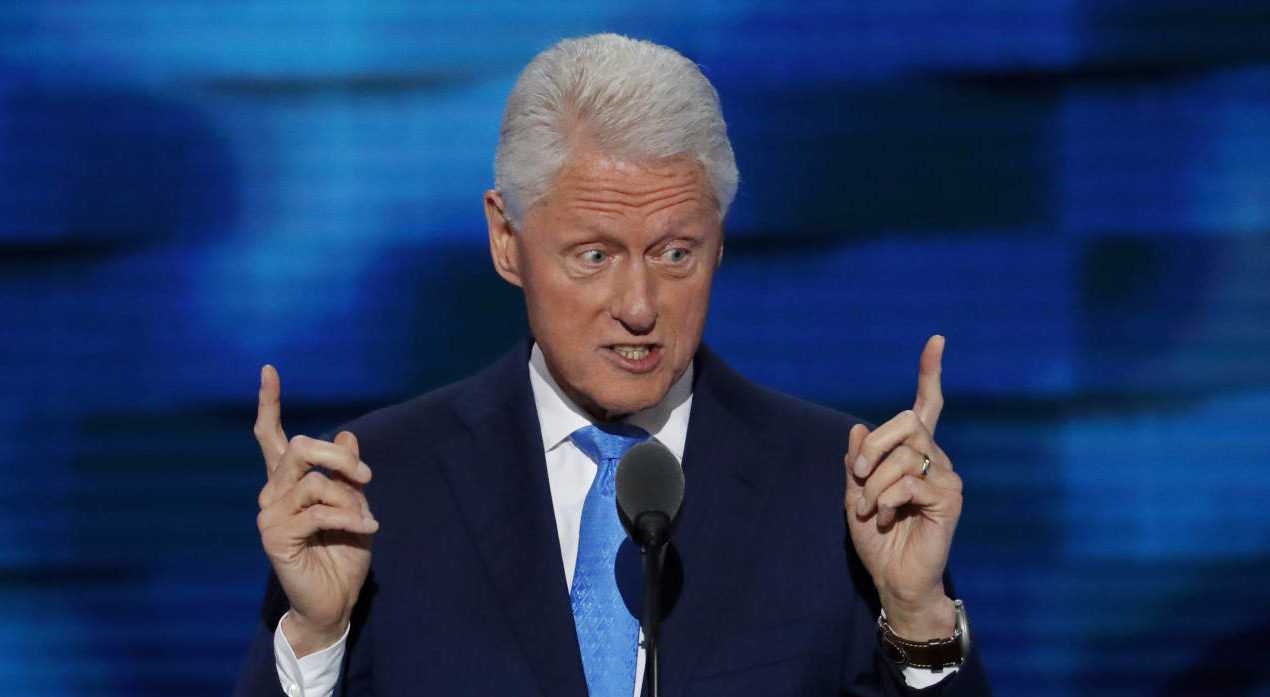 If you weren't saying it out loud Tuesday night, you had to be at least thinking about Bill Clinton's multiple marital infidelities as he spun the story of his courtship and undying love for Hillary.
I assume this was a calculated risk by Camp Clinton to show Hillary as a woman of strength, smarts and family. But the puppy-dog pursuit by the Big Dog to win her hand in marriage also, like it or not, reminded the world again that he didn't keep up his end of the "forsaking all others" part of the wedding vows.
Some things just stick to a couple's hide like they're super-glued.
At least a fair part of the Republican hatred (yep, hatred) of Hillary is her failure to punch her wandering hubby in the nose during those dark days. They paint her as a woman of opportunity, refusing to kick her husband to the curb because it would hurt her own political ambition.
At least part of that is certainly true, but we aren't electing a Sunday school teacher to sit in the Oval Office. If that were the case, Jimmy Carter would have gone down in history as one of the great presidents. And lest Republicans forget, their man has a few (thousand) skeletons in his closet as well.
That brings us to the second part of Bill Clinton's as-always lengthy turn at the microphone. If the first part reminded us his behavior toward his wife was abominable, the second laid out a compelling argument why she is more than prepared to assume the duties of the most powerful office in the world.
Let the Big Dog speak!
Democrats have generally done a good job this week skirting around the controversies of WikiLeaks, Debbie Wasserman Schultz, and upset Bernie Sanders' supporters. About 200 of them walked out of the convention Tuesday, when Clinton was formally named the nominee of the Democratic Party. Even the expected move by Sanders to declare her the nominee by acclamation failed to soothe some of his most dedicated backers.
But the Bernie or Bust crowd actually blew it. If they wanted to make a ruckus, they should have stayed in the arena and made their protest in front of national TV cameras. As it was, well, who cares?
With the story of possible Russian involvement in the WikiLeaks fiasco gaining legs, it's possible Democrats will have navigated a potentially crushing week and emerge from the convention well positioned to win.
Bill Clinton's portrait of his wife as a dedicated champion of those overlooked by society was compelling. He painted her as someone with a proven record of tackling the most difficult tasks, paying attention to details (that Trump famously has little use for), and standing strong against what she considers social injustice.
President Barack Obama will layer on to that with his Wednesday night address. It should set Hillary up in grand style for her acceptance speech to close the convention Thursday, and then it's up to her and Democrats going forward to convince America to choose her.
So far, both parties have basically run on the platform that you vote for them because the other candidate is terrible.
So give Bill Clinton credit for one thing. After a nation had lowered its collective raised eyebrows at the cuddly cute story he tried to spin at first, he laid out a solid case to vote for his wife — and not simply against Donald Trump.