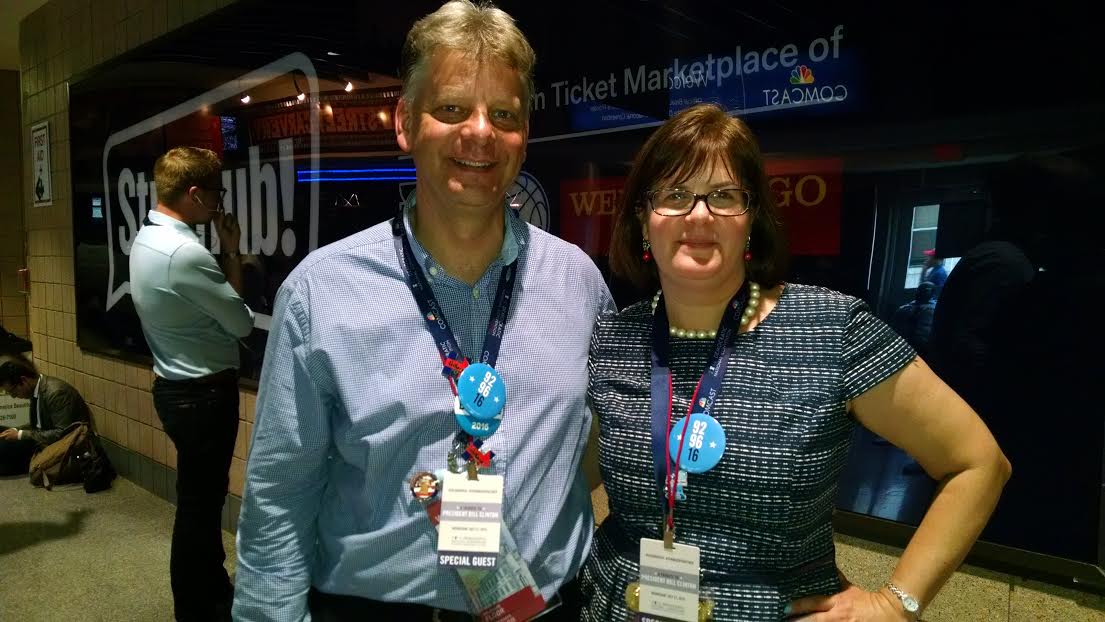 On Wednesday afternoon at the American Jewish History Museum in Philadelphia, a host of Clinton alumni — officials who worked on Bill Clinton's two presidential election campaigns in the '90s as well as former White House staffers — assembled for a reunion lunch and a call to arms about telling the public about the real Hillary Clinton.
Among those attending were officials like former NATO Supreme Commander Wesley Clark, former chief-of-staff John Podesta, former Agriculture head Dan Glickman, and a number of other members of Congress.
Also present were Pinellas County's own Judithanne and Ramsey McLauchlan. Judithanne, a political-science professor at the University of South Florida-St.Petersburg, worked on both of those campaigns, as well as working in the White House under Hillary Clinton.
The message Bill Clinton gave at the alumni lunch, she says, was that they know the 2016 Democrats presidential candidate best, and it's now time for them to step up and share what they know with the public to present the real Hillary.
"I've seen her up close," said Judithanne, who worked in one of her posts in the White House was in the correspondence office on health care reform.
"She's a very genuine, warm, caring person and I think a lot of the speeches yesterday, you saw a lot of people who could share their stories of being able to interact with her …. There's all of this noise that you get out of these right-wing extreme sources which are not authentic, as far as what she's really like. So I hope over the next few days we'll see her for her accomplishments, who she is, and the hard work behind the scenes — not celebrated for press opportunities, but just to try to make a difference in the life of kids and women — is really moving. I hope that story could get out."
In his speech to the convention Tuesday night, Bill Clinton discussed how Hillary teamed with then-House Majority Leader Tom DeLay on a bill to increase adoptions of children under foster care. Although DeLay "maybe disliked me more than any of Newt Gingrich's crowd," the former POTUS said, Hillary knew that despite their differences, DeLay was an adoptive parent (with whom) she could find common cause.
"Before Hillary Clinton was running for president, Republicans would praise her for what she did in the Senate, praise her for what she did as secretary of state, praise her for the work she did as first lady, but now that she's a candidate for president, they're kind of rewriting history," said Ramsey McLauchlan, an official delegate for Clinton this year.
No doubt the McLauchlans will be getting busy working to get their candidate elected this year. Two polls taken in Pinellas districts this spring showed Donald Trump besting the Democratic nominee.