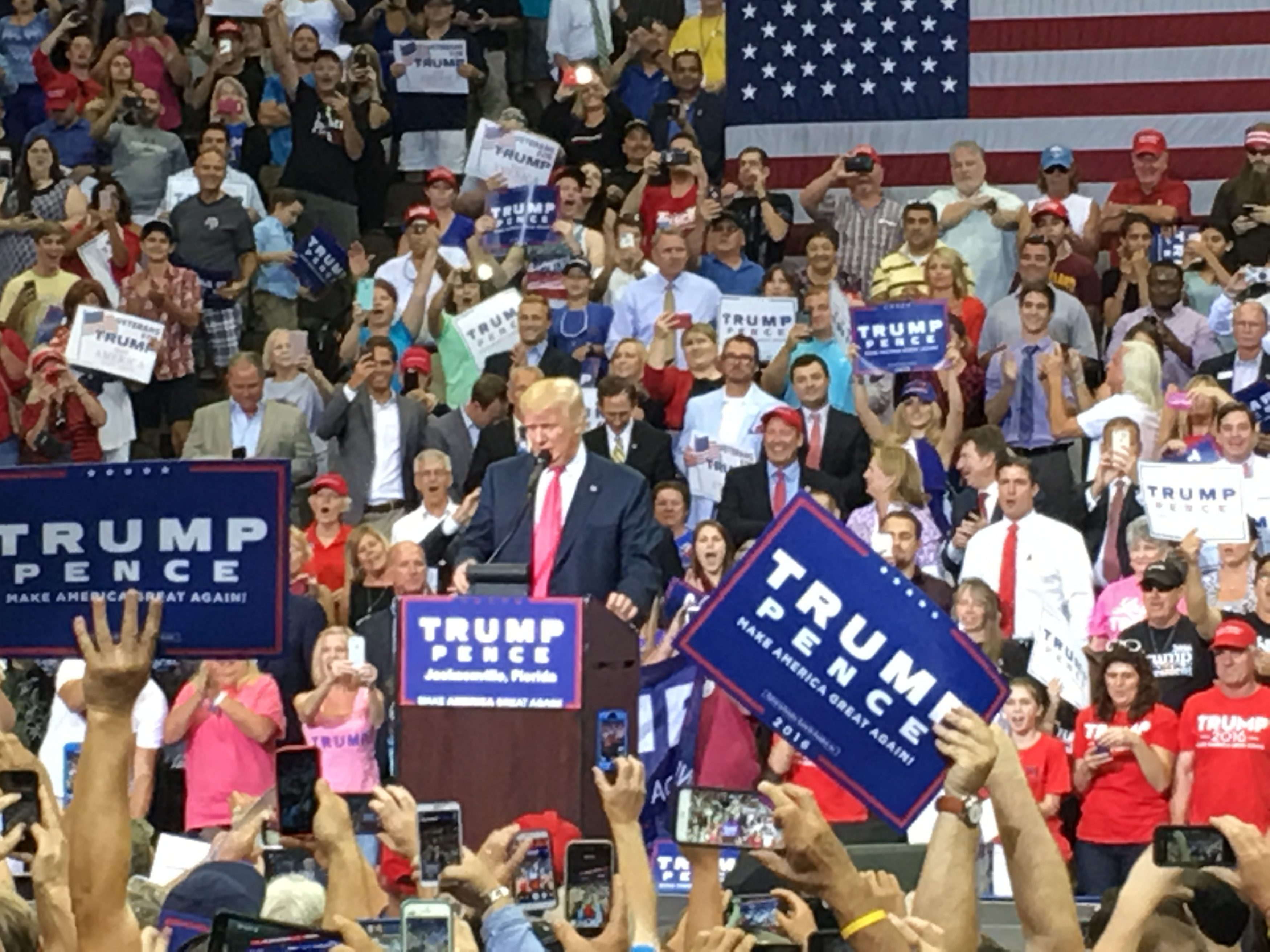 Wednesday evening, GOP Presidential nominee Donald Trump made his first post-nomination visit to Jacksonville, where there were some changes from his previous visit.
Unlike in October, when support from the establishment wing of the party was light, three rows of VIPS were assembled behind him.
And also unlike in October, the sauna conditions of the Jacksonville Landing were traded for the climate-controlled Veteran's Memorial Arena.
However, the 15,000-seat arena was packed, even if the message is still the same. Many themes overlapped. Others were relatively new to this event.
And throughout, what was clear was that Trump's "one-size-fits-all" stump speech directly contradicts the feel-good economic message Jacksonville leadership (many of whom were in the audience) cleaves to.
In a city where job announcements happen almost weekly, Trump's message of economic dislocation was a complete contrast to the official rhetoric.
After the locals spoke, and a preacher, and Attorney General Pam Bondi, whose most memorable line was "the amount of cocaine and heroin flowing into our state is ridiculous, and Donald Trump is going to stop it," the playlist of British rock and opera cuts repeated once, twice, or perhaps an infinite number of times, before Mr. Trump took the stage and assumed his persona — the embodiment of Republican grievance.
The most interesting talking points had to do with jobs and the economy, a complete negation of the positive rhetoric of free-traders since the Reagan era.
"This area has been devastated by the loss of industrial jobs," Trump said early on in the address, using a line that would be news to the jobs governor that runs his Super PAC.
But the crowd ate it up; that, and his call for a 35 percent tariff.
The economic message, which came after the sops to the crowd, painted an interesting picture.
Trump took aim at NAFTA, a product of the Clintons, saying that "we're going to take care of our miners … of our steelworkers … of people who want to work."
Then, to Brexit.
He was the only one to call it right.
"Oh, the UK will never leave. Guess what? They left."
The crowd in the arena, not especially anglophilic, cheered.
Then Trump hit the immigration restrictionist tropes:
Germany — a "disaster."
France — "it's no longer France."
Yet, compared to October, when much of the crowd wandered off as the speech went past the one-hour mark, Trump kept his audience, using the crowd-pleasing lines about walls and "crooked Hillary" to deliver a genuinely pessimistic, even apocalyptic message about the local, state, and national economy.
Trump talked about "roads," which — if he were truly aware of the pension tax push locally — he could have tied in to a comprehensive talk about infrastructural decay.
But with this crowd, why bother?
"As you stand here thinking you have a good job, many of the companies in this area are negotiating to move their jobs out of the United States."
Presumably, that's news to Mayor Lenny Curry.
"We're going to make things in this country again, folks. We're going to make things in Jacksonville," Trump said.
And all this without "low-interest loans" and "tax abatements."
"One of the reasons we have these full stadiums … people in this room have been working harder than 18 years ago … and largely because of Obamacare, you're working two jobs."
"The phony 5 percent number is a phony number. The real number is closer to 20 percent," Trump said, in an un-Chamber friendly statement.
Jacksonville Republicans are in an interesting place. They are embracing a nominee that seems to go against most of their messaging, which historically has been that of economic incentives and corporate recruitment, a stark contrast to the Trump depiction of a country careening toward disaster.
But the alternative, of course, is Hillary Clinton.
Trump hit his usual spots in this speech, of course. But a leitmotif is the collapse of the American economy. Which is not convenient for those incumbent locals in the crowd who want to be re-elected in a few years.