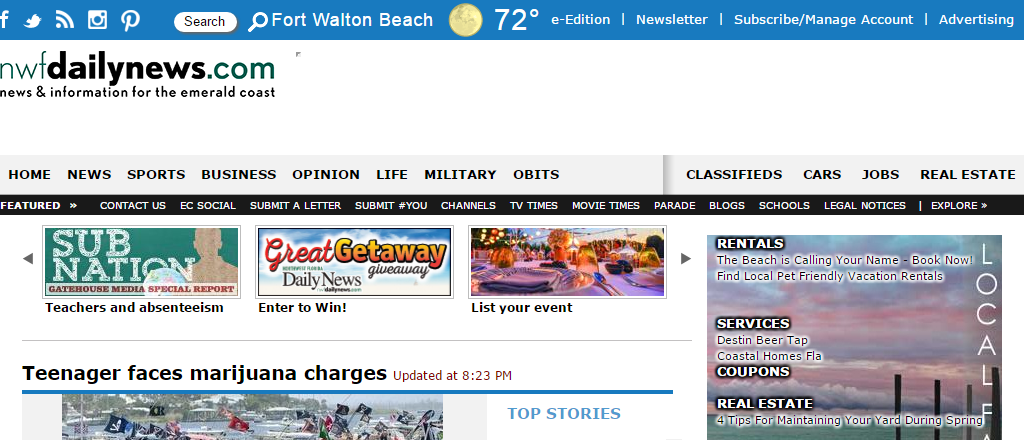 In the age where cannabis is finally being re-recognized as treatment for a vast plethora of human ailments and regaining the stature it had for centuries before it was degraded by lies, bigotry and greed, it's time that the media grow up, and start by using the appropriate nomenclature for the plant that has been used by humans for over 12,000 years and recognized as medicine for 4,000 years.
To paraphrase Mrs. Willy Loman, via playwright Arthur Miller, "Respect must be paid to such a plant."
Recently, the first scheduled delivery of medical cannabis to Okaloosa County from a Florida grower/dispensary was announced.
Although not the first in Florida, it will be a significant first for that county and celebrated by being shipped directly to the Shalimar office of Republican Rep. Matt Gaetz, who championed the "Charlotte's Web" bill in 2013 along with Rep. Katie Edwards, a Democrat from Sunrise, that took all these years to be finally implemented.
The delivery will come from Tampa-based Surterra, the second dispensary to be approved to ship the high cannabidiol (CBD), low tetrahydrocannabinol (THC) medicine. The first was Trulieve, out of Tallahassee, which sent its first shipment to a patient in Pasco County, who was suffering from chronic muscle spasms and seizures due to dystonia.
The patient in Okaloosa is a 9-year old boy named J.J. with Dravet syndrome, a disorder that can cause hundreds of seizures per day.
The boy's father, Jonathan Sampley, of Milton, is ecstatic over the thought that a package is coming that contains the medicine that will stop his son's suffering and possibly save his life.
Rep. Gaetz is excited to see his work finally come to fruition, calling this event the "end of the beginning," of the long fight to get his bill implemented.
It sounds like a feel-good story with a happy ending.
Unfortunately, the problem with the article that publicized it was that the journalist for the Northwest Florida Daily News decided to editorialize and throw dirt on the face of the story at the very beginning of his narrative, changing the nature of the piece from exultant to surreptitious.
It's all in the words you use — or misuse — as the case may be.
The first line read, "The first legal dope deal in the history of Okaloosa County could take place as early as next week at the office of state Rep. Matt Gaetz."
Congratulations, you have just turned a celebratory event into a thinly veiled back alley crime, the players into quasi-criminals and set the tone for the rest of the article.
Florida has had a very hard time catching up to states like Colorado, which has had medical cannabis for 10 years, and the media is just not helping Florida is gearing up to attempt to pass a constitutional amendment regarding medical cannabis on this November's ballot, known as Amendment 2.
Even though the ballot measure is looking favorably in the polls, it is getting pushback by major donors and the media. The media is supposed to be impartial, but their verbiage constantly does more harm than good.
It is possible that medical cannabis is just a joke to far too many so-called journalists who can't help cranking up the pun machine to use as many cannabis-related epithets as possible in headlines and lead-lines in articles, such as "New marijuana law smoked through the Legislature" and "Creating Medical Pot Laws a Joint Effort." Etc., etc. etc.
After a while, one might want to reach for some medical cannabis to relieve the nausea from the overuse of tired metaphors and lack of true thought and journalism.
To be fair, it may not be the fault of the reporter for falling into the same trap set back in the 1930s that normalized the demonization of cannabis in this country with the "Reefer Madness" movement. He needs to understand the prohibition and demonization was developed from the work of the first Commissioner of the Federal Bureau of Narcotics Harry Anslinger, who stated, "Reefer makes darkies think they are as good as white men," along with hundreds of other racist statements and inculcated the common use of the word "marijuana" in the United States, which was intended to degrade cannabis by inciting anti-­Mexican sentiment.
It was also funded by industrialists like yellow journalist William Randolph Hearst, who had a grudge against Pancho Villa for annexing 800 acres of his land, was terrified of how the hemp industry could ruin his timber fortune and who had a deep abiding hatred of the Mexican people.
Unfortunately, this reporter, by use of his slang expression instead of an objective term, may have unintentionally become part of a racist movement, a victim of a systematic prohibition based on lies and hate speech that has been allowed to continue for almost a century.
Exemplary journalists need to update their cannabis lexicon and eliminate all of the old words that still contain the stigma that was attached to them to promote the prohibition that began almost a century ago.
Those words include pot, marijuana, dope, weed and anything that doesn't sound like a medicine when you are talking about the use of cannabis as a medicine. You would be hard-pressed to find slang expressions for chemotherapy or other conventional anti-seizure medications.
There are more reasons to demonize the products of big Pharma that became an anathema, such a drug which was designed as a tranquilizer for horses, only to become the street drug PCP, or "Angel Dust." Or OxyContin, which became over­-prescribed and turned into "hillbilly heroin" and the actual gateway for today's genuine runaway heroin addictions.
It's time for a change. I could ask the reporter for an apology to J.J., to his father and to Rep. Gaetz and Edwards. But a forward-thinking change in the media's use of language would be much better, and last much longer.
Spread the word. Respect must be paid to such a medicine.
___
Gary Stein, with a Master's in Public Health, is the author of the soon-to-be-published book, "The Great Green Hope." It tells the story of cannabis; its use in clothing, rope, paper, the first American flag and early medicines, and the story of its bizarre path to prohibition fueled by greed, racism, and lies. It also talks about the most important reason for legalization — stories about real people who were treated or cured by medical cannabis and those who are suffering, dying, or getting arrested trying to have access to medicine while the battle continues to help babies and children with seizure disorders, victims of cancer or ALS, veterans with PTSD, and elderly people with chronic pain. It also discusses current and upcoming research as we rediscover what our ancestors knew.