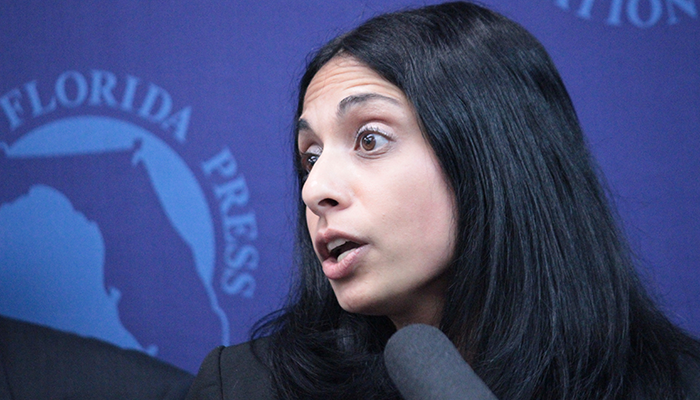 With two weeks before the primary election, the proxy war is in full swing in the strongly conservative-leaning 2nd Congressional District.
Right Way Super PAC is out with a new advertisement blasting Mary Thomas' connections to former Gov. Charlie Crist.
She was a state government lawyer under Crist and now works in the Rick Scott administration.
Why use Crist as bad guy? Because in a Florida GOP primary, one's past relationship with Charlie matters.
Slinging mud by showing fealty to the former governor (and former Republican) helps drive up the other side's negatives.
In a Republican primary, the challenge is "to show you're more conservative than the other" person, says Darryl Paulson, a retired professor of government at the University of South Florida St. Petersburg.
Crist is a convenient boogeyman because the accusation by association is that one's opponent is "not a real Republican," he adds.
"It's a potent message, especially to conservative activists" who will go to the polls for a primary contest, Paulson says.
The latest ad is a counterpunch to one that slammed Thomas' rival, Panama City surgeon Neal Dunn, as a "Charlie Crist Republican."
That ad was by Club for Growth Action, the super PAC affiliated with Club for Growth, an economic conservative group. Club for Growth PAC, another separate entity, endorsed Thomas.
Here's the script for the latest ad, now running on broadcast and cable in the Panama City market, with wider play expected today:
"Conservatives can't trust career bureaucrats like Mary Thomas.
"When Charlie Crist pushed his radical climate change agenda, it was Thomas that filed lawsuits against Florida cities.
"Even after Crist left the Republican Party, Thomas kept collecting her government paycheck as a senior member of his administration.
"Now that she's running for Congress, Thomas is hiding her job for Crist. That's why Mary Thomas can't be trusted in Washington."
As always, remember super PACs can raise unlimited sums from corporations, unions, and individuals and can spend without restriction to advocate for or against candidates or causes.
They are not, however, permitted to give money to or coordinate directly with parties or their candidates.
Thomas faces Dunn and Ken Sukhia, a former federal prosecutor, in the Aug. 30 primary.
Thomas faces Ken Sukhia and Neal Dunn in the Aug. 30 primary.