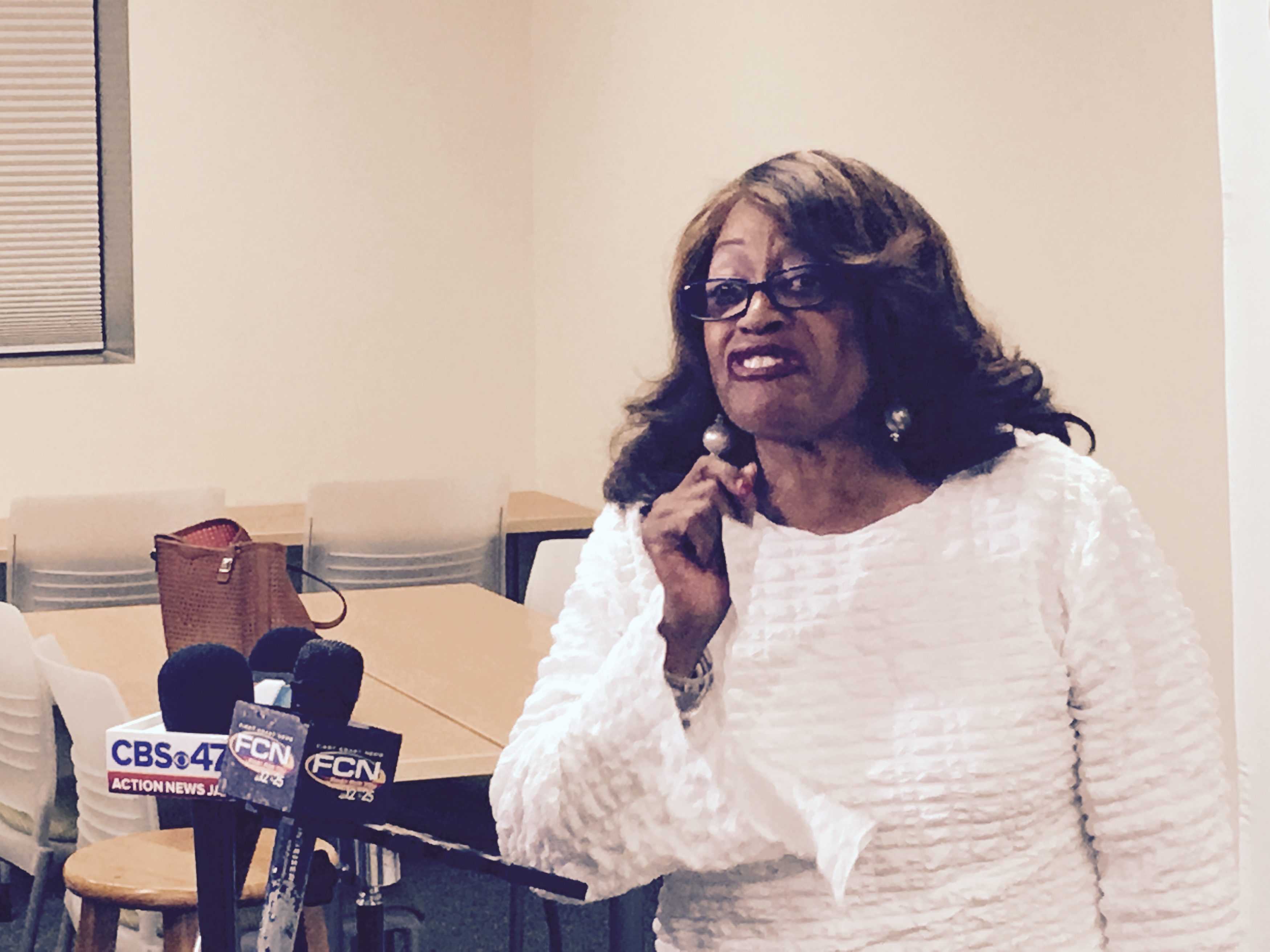 "What if I said I thought you was a pedophile? You'd think something was wrong with me."
Those words, voiced on the debate stage Thursday night at Jacksonville University by incumbent 5th District Rep. Corrine Brown, recurred during a post debate presser where FloridaPolitics.com and other outlets asked Brown about her legal troubles, her financial troubles, and, most compellingly, where the buck actually stops in terms of the suspect accounting of One Door for Education, for which she faces 22 federal counts.
"If I said 'young man, you a pedophile', that's a charge," Brown said to a reporter, by way of attempting to establish that an accusation is not tantamount to conviction, "because somebody makes an accusation against you doesn't make you guilty."
Of course, we mentioned the difference between loose talk and a 49-page indictment detailing dozens of transactions over an almost four-year period.
She then, in the way some incumbents in Jacksonville do, attacked the media.
"I'm not going to say y'all lazy, but you need to do your job," Brown said, deflecting a question regarding who is responsible for the alleged malfeasance of One Door for Education if she isn't.
Perhaps thinking the third time was the charm for the pedophile analogy, Brown used the phrase again, before saying something that was, at least if the 10 p.m. newscasts were any indication, too hot for TV, referring to the charges as "some bullshit," a "Peyton Place witch hunt."
But wait. There's more.
Brown also compared herself to former D.C. mayor Marion Barry, arrested in 1990 for smoking crack in a Washington, D.C. hotel room, then muttering "[expletive deleted] set me up" repeatedly.
"The prosecutors told one of my attorneys that Corrine Brown wouldn't win re-election," saying she was "just like the mayor of D.C."
In addition to the hot quotes, there was also bathos, with an exhausted Brown having to sit down before talking to the media and during her availability.
When asked about her anemic $25,000 cash-on-hand in the campaign, and the loss of a third set of lawyers on Thursday, Brown said "yes" that she was having a cash issue.
"It's a very challenging balance running a campaign and [paying] legal bills," Brown said, "but I've done everything I need to do to campaign."
Time will tell if that's the case.
She said that she has a "lean, mean [legal] team," but given that she lost her last lawyers within two days of hiring them, as they cited "hostility and distrust" from Brown, there are questions.
Among them: who really knows what that team looks like, how competent it will be, or if they will be able to work better with Brown any better than the pair that dropped the case Thursday.