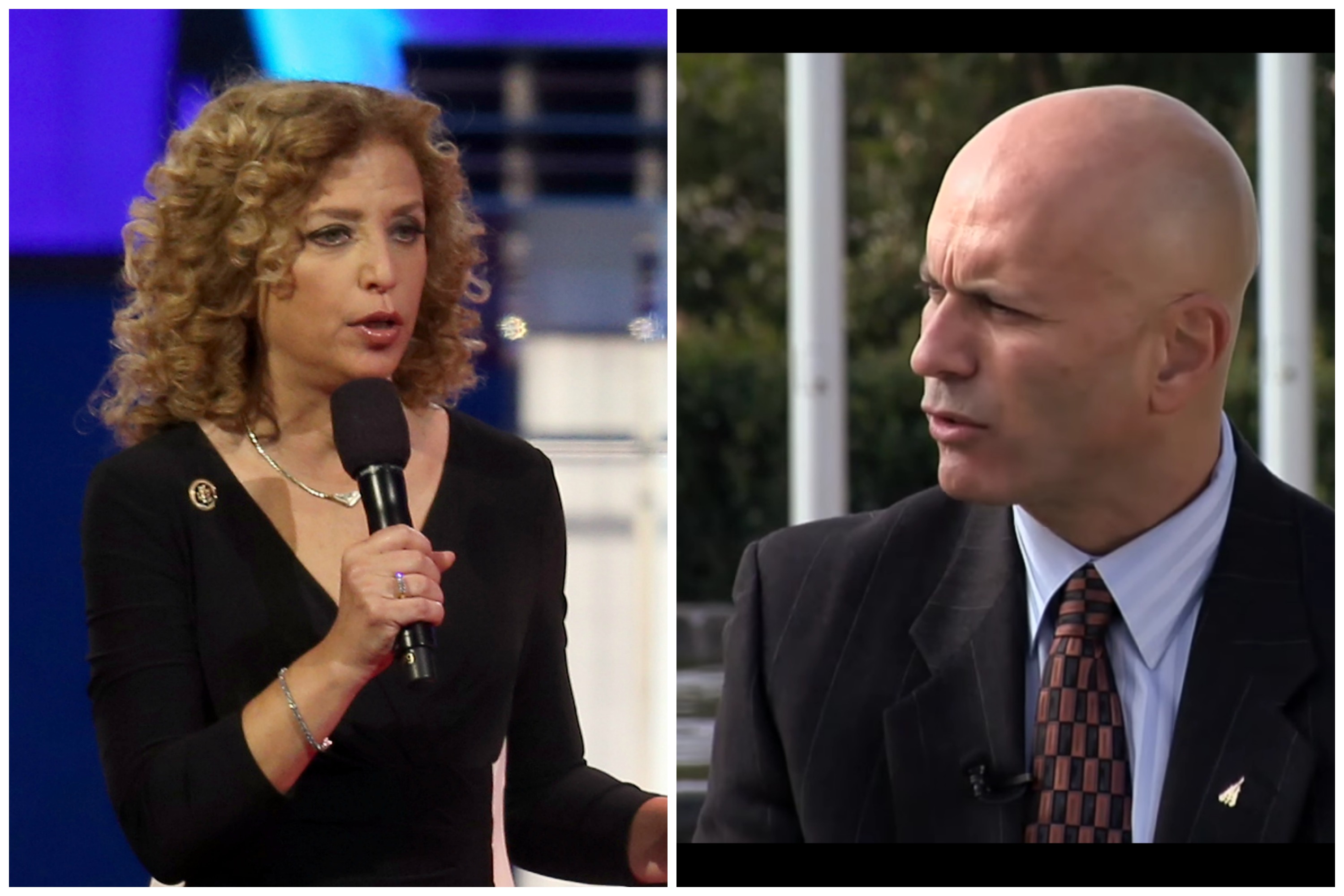 U.S. Rep. Debbie Wasserman Schultz is ahead of Tim Canova by 10 points, according to a South Florida Sun Sentinel/Florida Atlantic University poll released Sunday.
The poll finds the Democrat incumbent leading Canova 50 percent to 40 percent.
The numbers come as early voting is underway in Florida's 23rd Congressional District, which encompasses Broward and Miami-Dade counties, where Wasserman Schultz is attempting to win a seventh term in office. In Canova, she's had her most formidable challenger ever.
In an email fundraising request issued Sunday, Canova said he was halfway toward achieving the goal of raising $50,000 this weekend, "which will help provide us with the resources we need to counter the huge corporate donations and the obscene Super PAC spending from our opponent in this race."
The Sun Sentinel/FAU poll showed Wasserman Schultz had a favorable/unfavorable rating of 58 percent to 35 percent. Just 7 percent said they had never heard of her.
Canova, a law professor at Nova Southeastern University making his first run for elected office, has a favorable/unfavorable ranking of 46 percent to 22 percent. Nearly a third of the electorate — 32 percent — said they were undecided or had never heard of Canova.
Sun-Sentinel reporter Anthony Mann writes that the polling appears to show the controversy surrounding Wasserman Schultz' leadership at the Democratic National Committee over the past year has been "marginally negative" for her. Wasserman Schultz stepped down as head of the party on the eve of the Democratic National Convention last month after a series of embarrassing emails from DNC staffers revealed a bias against Bernie Sanders during the primary process.
The Sun Sentinel/FAU poll found 87 percent of Democratic voters in South Florida said they were aware of the release of DNC emails and 93 percent said they were aware of Wasserman Schultz's resignation as party chairwoman. The poll also found 35 percent of Democratic likely voters said revelations that DNC staffers favored Clinton over Sanders made them less likely to vote for Wasserman Schultz.
Another 29 percent said the revelations made them more likely to vote for her and 36 percent said it made no difference.
There have been two previous polls published in the race. An internal poll released by the Canova campaign had him within eight percentage points.  A poll by a super PAC supporting Wasserman Schultz released last week had her up by 33 points.
The Sun-Sentinel survey was conducted by the Business and Economics Polling Initiative. They surveyed 400 likely Democratic voters in the 23rd Congressional District for the Sun Sentinel from Aug. 18-20. The margin of error for the poll is plus or minus 5 percent.