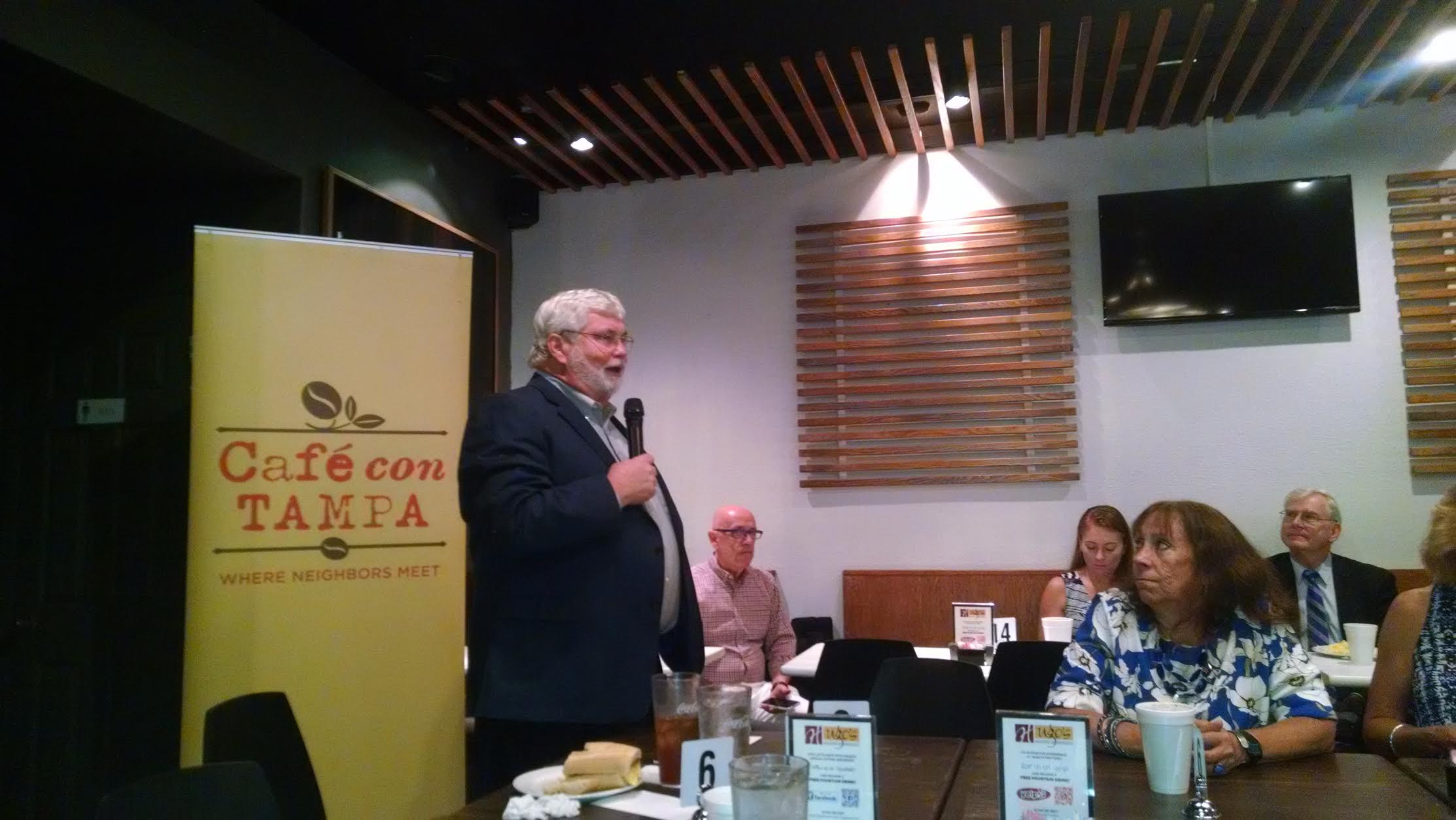 Incoming Florida Senate Appropriations Committee Chairman Jack Latvala said Friday a lack of mass transit in the Tampa Bay area has become a bigger problem than ever, and he blasted his fellow Republicans in Tallahassee for failing to lead on the issue.
"We've got a lot of folks in my party that just bury their head in the sand when it comes to transportation," the always outspoken Clearwater Republican said, addressing dozens of people who gathered at 8 a.m. to hear him speak at the weekly "Cafe con Tampa" breakfast in Tampa's Hyde Park.
Latvala said unless something changes soon, the lack of a capable transit system in the region will ultimately force the Tampa Bay Rays to leave the market.
"It's not going to be a question of whether the Tampa Bay Rays are in St. Petersburg or in Tampa, it'll be a question of whether they're in Hartford (Connecticut), or Montreal. We WILL lose our baseball team," he said with obvious disdain. "What a blow to the image of our area. All because of people who keep their head in the sand."
Latvala said the lack of transit options was exposed nationally when the Republican National Convention was held in Tampa exactly four years ago. "Trust me, we will NEVER have another one because of the transportation embarrassments of the delegates getting back at to their hotel at three o'clock in the morning because of our lack of a transit and transportation system in the Tampa Bay area," which happened on one notorious night of the 2012 RNC.
As has been widely reported, two transit referendums have gone down to defeat in the Tampa Bay area over the past six years. Resistance amongst the current Hillsborough Board of County Commissioners and elements on the left and right in Tampa ended any plans to put another type of sales tax on the ballot this fall. Several Democrats running for state office on the campaign trail this summer have talked about pushing for the Legislature allow large cities like Tampa and St. Petersburg to have the ability to place their own referendums on the ballot.
"I never had a problem allowing people to vote on whether they wanted to tax themselves," Latvala said when asked about that proposal. "If people are tired of sitting still on the interstate and they want to do something, then why as government leaders should we tell them they don't have the option of voting for that? Because we've got our head in the sand."
He later added he didn't think the measure had any chance of passing in the Legislature, though he did praise Tampa Mayor Bob Buckhorn and St. Pete Mayor Rick Kriseman for continuing to push that and other transit measures forward.
Four years ago, Latvala said it was time to examine consolidating HART and PSTA, the transit agencies in Hillsborough and Pinellas counties, respectively. Two separate studies were taken on looking at a merger. The first showed a savings of $2.4 million, but a second KPMG study in 2014 showed those savings to be more modest at $330,000.
When anti-tax activist Tom Rask mentioned to Latvala that HART was opposed to the measure, Latvala simmered. "Of course both agencies are opposed to it, because people are going to lose their jobs!" He said both agencies had CEOs who made six-figure salaries, had lobbyists who came close to costing nearly $100,000, as well as various administrative staffs that could be reduced. "I cannot imagine you would not support something to reduce bureaucracy!," he barked at Rask.
Rebecca Smith, a Republican running on Tuesday in the House District 60 race, challenged Latvala about his emphasis on mass transit, instead waxing rhapsodically on a future of autonomous vehicles. Latvala was unmoved, saying, it sounded like she was from the "Jeff Brandes school of mass transit" (the St. Petersburg Republican is an enthusiastic champion of such technology).
"You're still talking about a vehicle on the road," he countered. "The only difference is that they don't have a driver."
Latvala said he's taken it relatively easy regarding contemplating state issues this summer, but now will begin digging in as he becomes Senate Appropriations Chair after the November elections. He said transit and the Rays' fate will two of his biggest priorities moving forward.