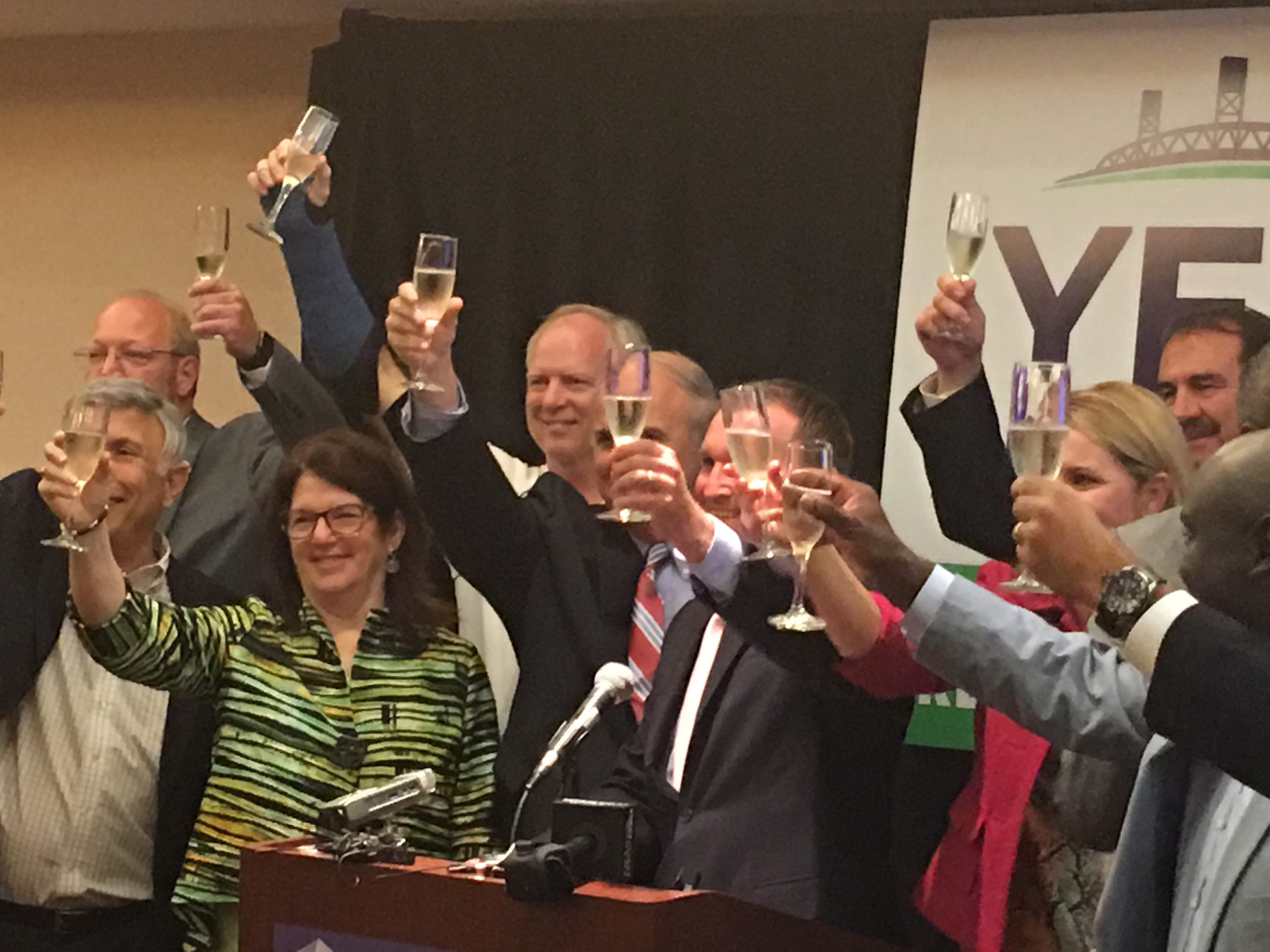 County Referendum 1 — which will authorize the extension of Jacksonville's half-cent sales surtax and dedicate it to funding the $2.8 billion unfunded pension liability — was passed Tuesday by a resounding number.
At the time of publication of this post, the referendum was up 65 to 35 percent, with all but two precincts reporting.
Jacksonville Mayor Lenny Curry spent the better part of a year manufacturing consensus for the once unlikely seeming proposal of getting the Better Jacksonville Plan tax extended, and using the secured revenue to stabilize the pension debt.
Currently adding up to 20 percent of the city's general fund budget, pension obligations have caused an erosion of city services — public safety, infrastructure maintenance, and everything in between.
Now? There is a stable future for the city's general fund, after an aggressive lobbying effort by the city in Tallahassee, then an equally unstinting effort to do the hard work of explaining relatively complex accounting concepts to Jacksonville's residents.
Curry brought together a coalition that the city hasn't seen since consolidation, with unions and union bosses; African-American pastors and community leaders; and other unlikely supporters, including every Democrat on the city council, lining up behind the mayor.
Notable Democrats, such as Councilmen Tommy Hazouri and John Crescimbeni, former Councilwoman Denise Lee, and former Jacksonville Sheriff Nat Glover, helped to make a case for the passage of the referendum.
Also in play was a deep-dive data operation, with specific appeals made to medium-propensity voters, to female homeowners between the ages of 35 and 46, and to other blocs of voters, where support could be firmed up and maximized.
The opposition, meanwhile, was diffuse and outmatched, largely comprised of pols from a bygone time and the kind of people who line up at city council public comment to recite grievances.
And regarding targeting constituencies, they were hopelessly outmatched.
Former GOP councilmen Bill Bishop and Stephen Joost opposed the referendum, as did State Sen. Audrey Gibson and State Rep. Mia Jones.
But they didn't take the lead in the effort, leaving it instead to former state legislator Andy Johnson, who spent days leading up to the election drawing dark conspiracies of paid-off media and pastors, obviously frustrated his message wasn't gaining traction.
Effectively, there was no attempt to build a meaningful coalition against the referendum, and limited resources for the kind of ad buys necessary to counter a $2.1 million marketing budget for the referendum.
Smiles were all around, even before the Champagne toast.
Local GOP legend Mike Hightower extolled the mayor at great length, calling him "extraordinary, daring, and courageous."
"He put on the table," he said. "He was willing to put everything on the table."
"Look at the people in the room. We can leverage consolidation," Hightower added.
Nat Glover, a Democratic campaign co-chair, lauded the mayor for his "faith and courage" to "step out and take this on early" in his first term.
Curry, for his part, said he had "complete and total faith in the people of Jacksonville" and "knew they'd do the right thing."
He lauded Tommy Hazouri, the former mayor and critic turned ally in this effort. Curry then discussed his administration's "plan to move this forward against all odds."
"Campaigns are tough," he said, "you've got to execute and win."
Curry praised Tim Baker and Brian Hughes for leading him to this victory.
Just as the one last May.
"This is a historic day for our city," Curry said, as Champagne flutes were passed around.
Collective bargaining looms with the unions. But a political victory — almost 10 points over the Better Jacksonville Plan — is a stunning, audacious moment.