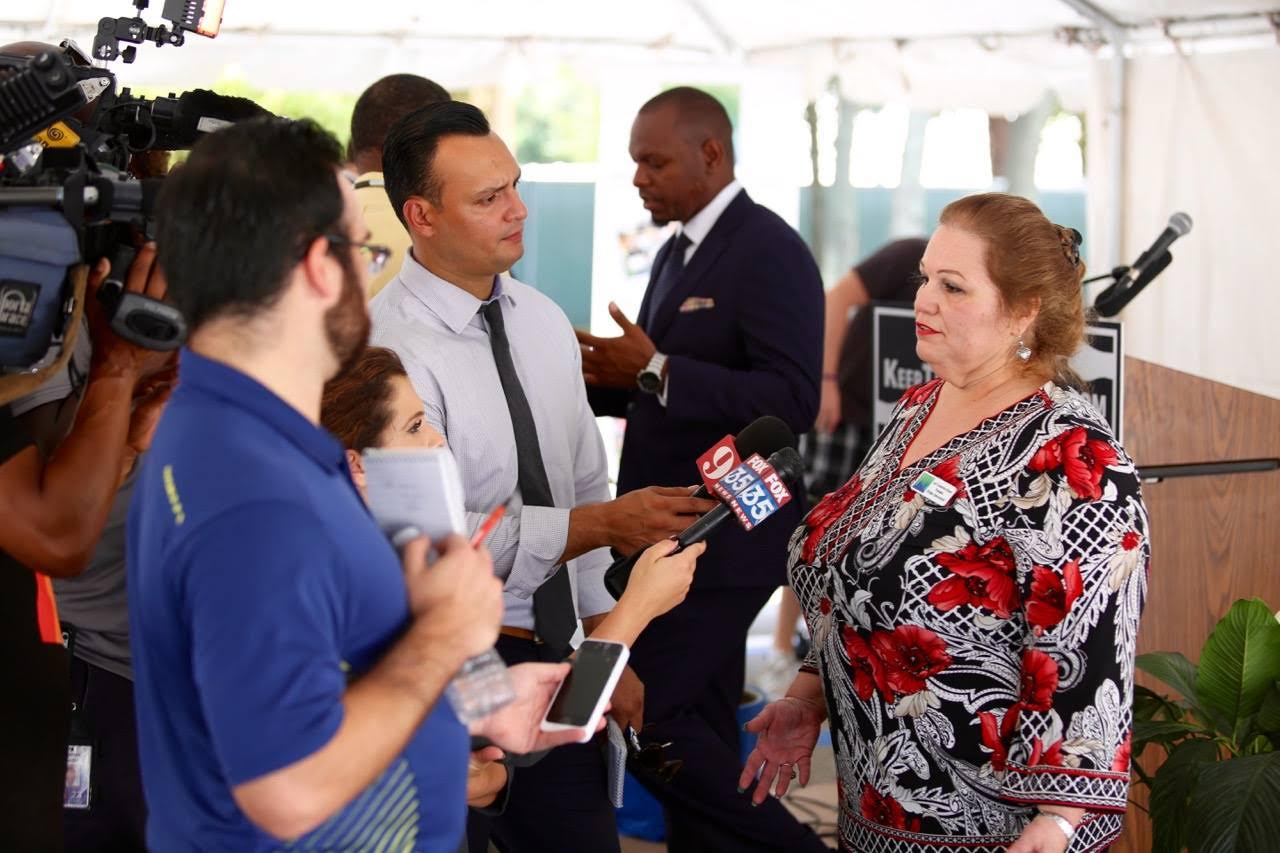 Bridges of America and the Department of Corrections are at it again.
As Florida Politics' Jim Rosica reported Monday, Bridges and the DOC are once more warring over transitional programs for the state's inmates.
This isn't the first time Lori Costantino-Brown, president and chief executive officer of Bridges of America, and Corrections Secretary Julie Jones had a high-profile scuffle.
A similar battle broke out earlier this year over Broward Bridge, a residential program offering transitional counseling, drug treatment, and other services to inmates on work release.
The state wanted to pull the plug; Bridges waged a PR battle to keep the facility open.
That tussle ended when DOC agreed to place inmates then using Broward Bridge in other treatment centers around the state.
Yesterday, a group of state and local elected officials, as well as reformed ex-prisoners who know firsthand what the Bridges of America Orlando Transition Center can do, appeared Monday morning to protest the possible closing of the center by the Florida Department of Corrections.
Last week, the Florida Department of Corrections announced a new program called Spectrum, which will offer many of the same services Bridges provides, but inside the state's prisons, according to the Orlando Sentinel.
"Expanding substance abuse treatment at all levels of incarceration helps us treat the greatest number of inmates who are at the highest risk to reoffend." Jones said in a statement. "Preparing these inmates with the proper tools to fight their substance abuse issues allows us to prepare them for successful transition into community work release."
It's unclear why Jones continues to piss in Brown's Cheerios. A bureaucrat like Jones doesn't take that kind of piss without first getting permission from someone inside the governor's office or encouragement from an overeager staffer. Which one is influencing Jones' decision making remains unclear.
Meanwhile, the numbers are on Brown's side. The center costs taxpayers less money and reduces recidivism.
But there is more to this policy debate than dollars and figures. There's a human side.
At Monday's news conference, reformed ex-prisoners Jeffery Vannocker, James Rogers, and Jacob Dribbler made impassioned, emotional appeals as to why the center — and why the program — worked, through sharing their stories.
"Being at this program helped me in so many ways," Vannocker said. "It was able to open my mind artistically. I did a lot of family days, and they got me into work releases and an excellent job. The counselors helped me with anger management, criminal thinking errors, stuff along those lines. When I got back into the real world, it helped me get ready for society, and the pressures you're not used to being incarcerated."
He said one of the most memorable experiences he had with the center was seeing his daughter on Christmas, one year after initially not being allowed to.
"I was afforded the opportunity to learn quite a bit about myself, and why I was acting and behaving the way I was," Rogers said. "Learning came through the process of group therapy, receiving feedback from peers, and one-on-one counseling, receiving feedback from counselors who not only had been there before, but also were educated to help us understand the reasons for our criminality and substance abuse."
Left unsaid by Vannocker, Rogers, or Dribbler is what happens to countless prisoners who attempt to re-enter society but do so from inside the prison rather than in an outpatient center. Once they have jobs, they are extorted by their fellow prisoners and, sometimes, the prison guards. They are attacked mercilessly by other inmates who have no chance of making it to the outside.
There is a horrible irony in that the prisoners who are closest to their freedom and redemption are also some of the most vulnerable.
Bridges of America wants to protect these second-chance seekers. The Department of Corrections should not stand in its way.
Material from correspondents Jim Rosica and Lawrence Griffin was used in this post.