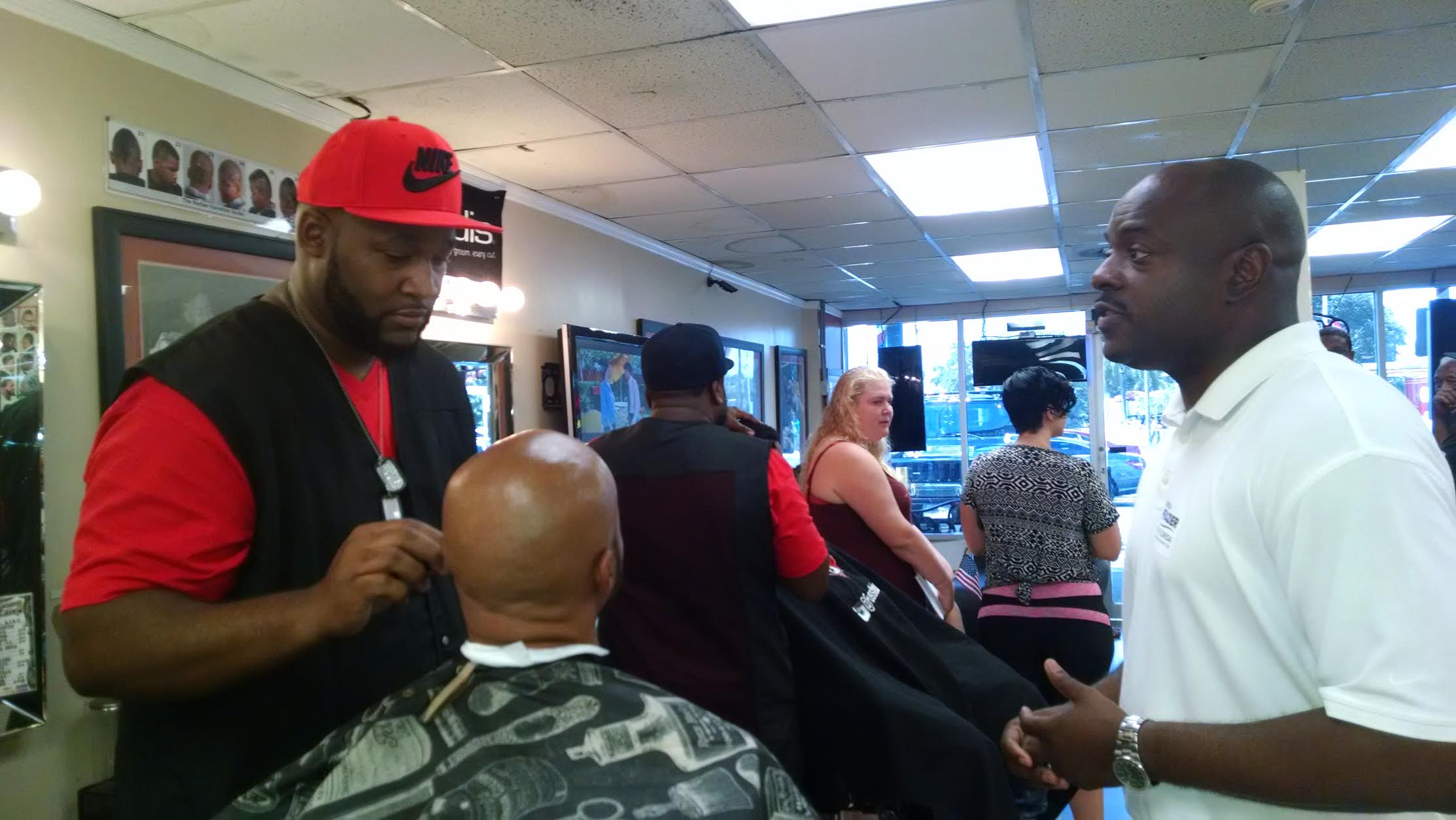 With the registration deadline to vote in the November election approaching next week, the Democratic Party and their allies held a couple of events in Tampa this weekend to attempt to get as many voters as possible on the rolls.
While U.S. Senate hopeful Patrick Murphy fired up volunteers as they prepared to register voters Sunday in Ybor City, another event — designed to get more black voters registered — was held Saturday at a barbershop. For Our Future, a liberal super PAC created by Tom Steyer and four major labor groups, sponsored the event.
Among African-American voters in Florida, Hillary Clinton isn't hitting the same historical marks in polling to date that Barack Obama did in 2008 and 2012. Obama received 95 percent of votes cast by blacks in 2008 and 2012. But a recent poll from Florida Atlantic University found she is only polling at 68 percent among black voters, while Donald Trump is polling at 20 percent.
And while some attending the voter registration drive at the Boys 2 Men barbershop in Tampa's Sulphur Springs area said it might be impossible to get to that Obama-level of support, there was also a sense of concern with a little more than five weeks before Election Day.
"We're worried if people are actually going to show up. I think a lot of people were thinking that Trump couldn't get elected," said Ralph Smith with 100 Black Men of Tampa Bay. "Really, if you don't come out and vote, then he is going to get elected. "
"We've seen in this area elections decided by less than 100 votes, so everybody's vote is important," Smith added, "and we need to get everybody out, especially our millennials."
Smith was referring to last month's race for state Senate District 19. House District 61 Rep. Ed Narain lost to Darryl Rouson by just 77 votes. Narain also was at Boys 2 Men Saturday, along with the man who will succeed him in HD 61 — Sean Shaw.
"Growing up in black barbershops, this is where you have debates," said Narain, who had just spent the morning campaigning in Brandon for HD 59 Democratic candidate Rena Frazier. "This is our sanctuary, where we can have these conversations, and nobody walks away with hard feelings."
Just before making that comment to a couple of reporters, Narain had spent the better part of 10 minutes attempting to persuade a barber (who only wanted to be identified as Ron) to cast a vote for Clinton.
But while Ron acknowledged Clinton had demonstrably defeated Trump in Monday night's debate, he also said he would not be voting for president at all, preferring to concentrate on local issues.
Ron also mentioned the election "could be rigged."
Narain and Ron got into a spirited discussion about the controversial "stop-and-frisk" police strategy which Trump said he would employ if elected. Despite Ron's rejection of such a policy, Narain wasn't able to convince him to vote for Clinton.
There have been reports the Clinton campaign team hasn't been as impressive as Barack Obama's operation in 2008 and 2012 in getting out the message about the vote. The newly elected Shaw didn't disagree.
"I have not seen the same level of activity as I did with President Obama, but I have seen activity," Shaw said. "I would say she is doing a good job. I would like to see her do a better job, but it does not match up to the level of activity that we saw with President Obama's campaigns."
Both Shaw and Narain agreed Obama was a "once-in-a-lifetime" candidate for the black community in 2008 and that no Democrat would be able to provide the same level of excitement in black voters this election cycle.
Donald Dowridge Jr. believes it is important for people like himself to educate young voters about Trump. He blasted the GOP presidential candidate for his outreach to black voters, which includes his classic phrase, "what do you have to lose? " while simultaneously describing urban areas in America as "war zones."
"You can't say that every African-American in this country is poor, not working, getting shot, (becoming) thieves," Dowridge said. "You can't say that about all of us, so when you want to blanket all of us, you might as well get a black Glad bag to put all of us in … and throw us in the garbage, because we're not all gangbangers we're not all, poor, whatever he said, so there are some issues, but they are not overwhelming.
"He puts it as overwhelming," he continued.
"His comments were insulting, and they were demeaning," Narain added. "Basically, he made an assumption that all African-Americans live in war zones and that a national stop-and-frisk policy, which was found to be unconstitutional in New York, would be the best way to curb violence in the black community."