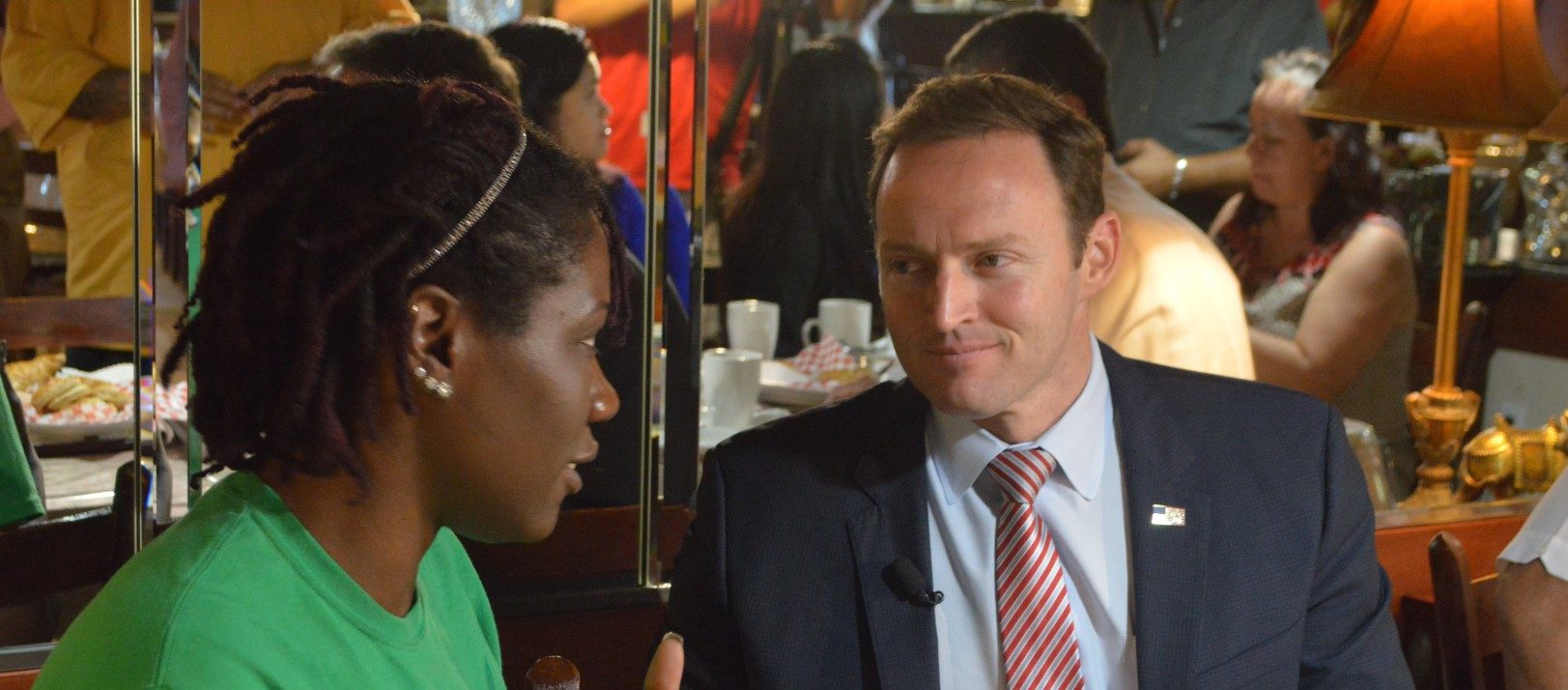 At the Cafe Coabana, a crew of Young DREAMers got to sit down with U.S. Senate hopeful Patrick Murphy Monday morning for a roundtable event, sharing some of their stories.
For close to an hour, Murphy listened to their tales of trouble and hardship — some came from Puerto Rico, others from Mexico, while still others were U.S.-born citizens from immigrant parents. They listed some of their concerns: the often-low wages undocumented immigrants earn, the threat of being deported, and the lack of health care.
Their demands were simple — reform the immigration system, stop deportations, and make it easier to become a citizen. Murphy listened intently and addressed them at the event's conclusion.
"Immigration reform is not just an abstract policy idea or a partisan political issue," Murphy said. "This is about allowing our neighbors and friends, Floridians who contribute to the diversity and strength of our state, to come out of the shadows. It's about keeping Florida families together and letting DREAMers go to college, contribute to the economy, and even serve overseas. I will stand with these passionate advocates and fight to fix this broken system."
He also hit his opponent, Marco Rubio, for "flip-flopping" on the issue of immigration. Rubio, Murphy said, had initially claimed he was all for reforming immigration, but once he ran for President, he changed his stance and became very harsh on it.
Also, Rubio's endorsement of Donald Trump showed Murphy that Rubio didn't have the best interests of immigrants in mind, Murphy said.
Rubio spokeswoman Olivia Perez-Cubas said Murphy's campaign was "floundering," and his attacks were baseless.
"Patrick Murphy's campaign is floundering, so he's distorting Marco's record like he distorted his own resume," she wrote. "Murphy has done nothing for Hispanics in the last four years, and he's been lying about his resume in an attempt to cover up his lack of accomplishments. He even had to hire a special consultant just 47 days out from the election to tell him what Hispanics care about, making it clear his ineffectiveness extends to the Hispanic community as well. Floridians have a clear choice between re-electing a senator with a strong record of fighting for them, or Patrick Murphy, who has proven untrustworthy and ineffective."
One DREAMer, Jessica Guevara, age 15, said her father was currently involved in an immigration court case that could eventually see him deported. Though she is a U.S.-born citizen, she could be forced to go with him because her mother is out of work, too, and she is a minor.
"Congress should pass immigration reform," she told FloridaPolitics.com. "My dad could be deported anytime soon. I could go home today and not see him."
Though the DREAMers have gotten the court to put the case on hold, they haven't stopped it yet, she said — so deportation is still a very real possibility.
Another DREAMer, Enrique Martinez, said he was nine years old when he came to the U.S. from Mexico. He didn't gain his citizenship until later in life when he married and got citizenship that way. Though his wife has passed away since then, he was able to keep his residency.
Martinez said he hoped whoever won the U.S. Senate race would address immigration in a responsible and compassionate way.
"We don't want anything from you," he said. "We just want you to let us show you we can be productive members of society."